My dear sister Lisa has been living in Los Angeles for the past ten years or so. It is hard when your very best friend lives so far away but fortunately she comes up to visit four or five times a year and we usually make it down to see her at least twice. It is not, of course, the same as living in the same city but with our visits and our phone calls and our emails and Skype time we manage to spend a lot of time together. I still miss her though.
Whenever she comes to visit one of the first things on her Vancouver to-do list is to go for breakfast at a sweet little restaurant just three blocks from my house called Little Nest. In some ways it seems a very odd choice. My sister never had any children by choice and isn't really that into kids with the exception of her beloved nephew Max.
Little Nest is literally teeming with children. Newborns, babies, toddlers and kids are everywhere. This may sound like a bit of a chaotic nightmare but in fact it is not. It is an amazing space for parents who can relax and not have to shush their children or keep them imprisoned on their lap or worry about a baby crying. The menu is not dumbed down for kids, the food is fabulous, the room is funky and the atmosphere is warm and social even if you don't come with a small human attached. Lisa loves it.
Mary Macintyre is the owner and a pastry chef and her cakes and baked goods are inspired, beautiful and delicious. I love the pistachio cake with rose scented citrus icing but the pear and Marsala wine cake or the flourless chocolate and almond cake with chocolate ganache glaze are close runners-up.
When Lisa and I go for breakfast we usually share a ricotta filled muffin or a slice of the pistachio cake with our coffees while we wait for the main event: one "Eggs of the Day" and one Little Nest Breakfast. We always order two different breakfasts so that we can share. I love sitting there eating and talking and watching the kids swirl around the room. It is a place that always makes me feel happy.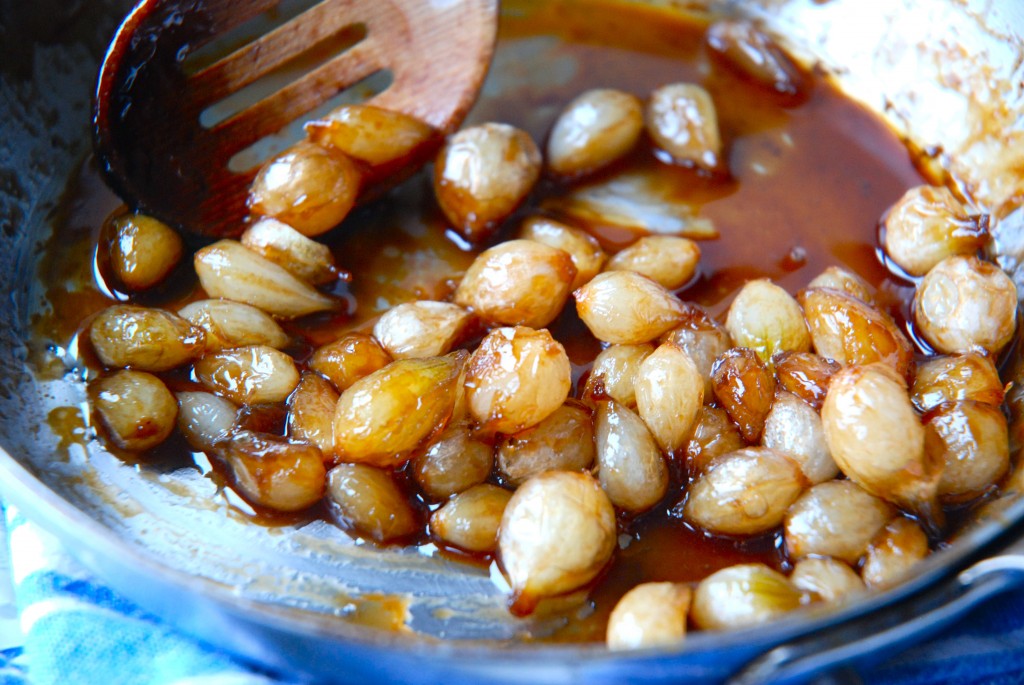 The last couple of times I have had the poached eggs with creamy polenta, caramelized pearl onions and arugula. I think Mary uses some Taleggio cheese with the polenta but Parmesan works well too.
My sister is in Holland at the moment riding bikes, playing music and showing films at the Rotterdam Film Festival. I have been thinking of her all week and missing our breakfasts at Little Nest. But then I thought about how Glen loves Little Nest too and so I decided to surprise him with my rendition of this comfort breakfast at home on Saturday morning. It was almost as good as being there.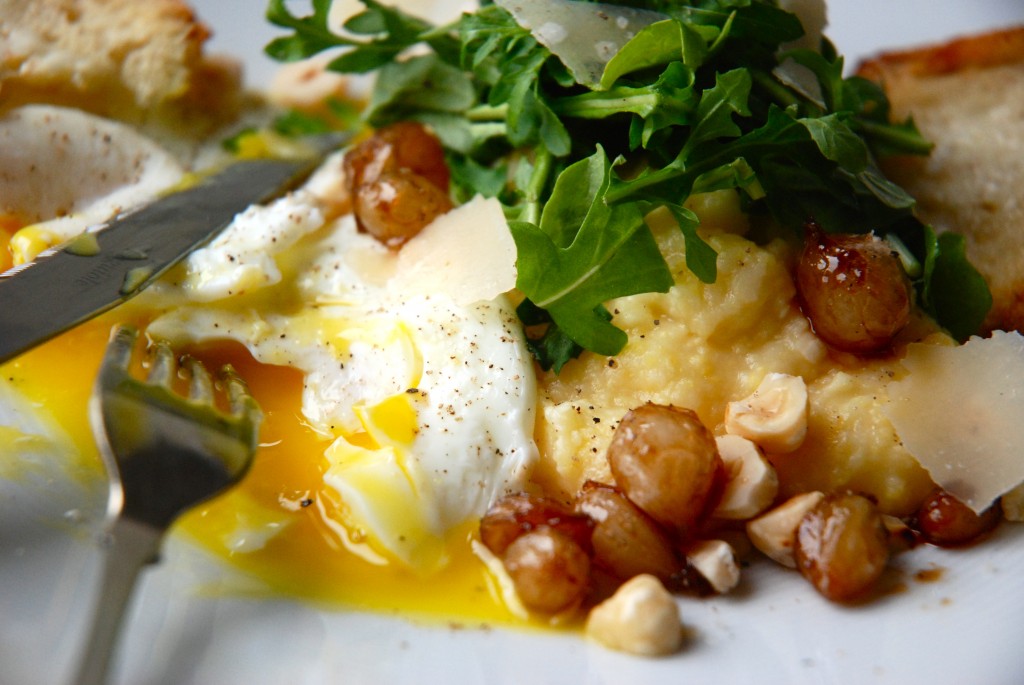 Poached Eggs with Creamy Polenta, Agrodolce Pearl Onions and Toasted Hazelnuts
The recipe calls for peeled pearl onions for the agrodolce. This can be easily achieved by immersing the onions in boiling water for 2 to 3 minutes, then plunging them into an ice bath.  When they are cool enough to handle simply cut off the root end of the onion and squeeze gently. The onions will pop out of their skins. Any left over agrodolce onions are also a great addition to a cheese board or charcuterie platter.
Also the polenta and onions can be done more or less at the same time in two pots side by side on the stove. Start your polenta first, then get the onions going. Put on the water to poach your eggs and by the time the polenta is ready the onions will be too and then it is just a 2 minute dip for the eggs and breakfast is ready!
For the polenta:
1 cup of polenta (also labelled as corn grits)
4 1/2 cups of water
1 teaspoon of fine grain sea salt
4 tablespoons butter
1/4 cup grated fresh Parmesan (or more to taste)
For the agrodolce onions:
1 cup of peeled pearl onions (you could use white, yellow or red)
1 tablespoon butter
1 tablespoon brown sugar
1 tablespoon balsamic vinegar
Fine grain sea salt and freshly ground pepper
For the eggs and salad garnish:
8 large eggs
few drops of white vinegar
1/4 cup of toasted and skinned hazelnuts, coarsely chopped
4 small handfuls of baby arugula leaves
A few drops of lemon juice and a sprinkling of hazelnut oil (or olive oil) to season the arugula leaves
1/3 cup Parmesan, shaved with a vegetable peeler
Fine grain sea salt and freshly ground pepper
Toasted baguette or bread of you choice (optional)
To make the polenta:
In a medium  pot combine the polenta, water and salt and mix well. Bring to a simmer and whisk the polenta for a few minutes to help bring it together and until the water returns to a boil. Reduce the heat to a slow simmer using a wooden spoon to stir the polenta at frequent intervals. Be careful, as the polenta will sometime spit at you!
Continue to cook and frequently stir for 30 minutes or so until the polenta has become creamy and thick and has lost its raw bite. You can add a bit more water if needed and continue to cook until the desired flavour and texture is achieved. Once it is done add the butter and the grated Parmesan and stir to combine. Season to taste with salt and pepper, cover and keep warm until needed.
For the agrodolce onions:
In a medium sauté pan melt the butter and then add the brown sugar over medium heat. Stir until the sugar has dissolved and add in the peeled pearl onions. Swirl the onions in the brown sugar and butter and then carefully add the balsamic vinegar. Cook over medium-low heat for 15 to 20 minutes until the onions are tender and glazed with the sauce. Keep warm until needed.
For the eggs:
Fill a medium sauce pan 3/4 full of water. Bring to a simmer and add a drop or two of vinegar to the water. Crack an egg into a ramekin and once the water is simmering use a wooden spoon to stir the simmering water creating a "swirl". Carefully slide the egg into the swirling water and repeat with 3 more eggs (it is better to do the eggs in two batches). Continue to gently swirl the water in one direction. Cook for 1 1/2 to 2 minutes or longer if you prefer a firmer yolk. Remove with a slotted spoon and place eggs on a tea towel to drain off excess water, transfer to a warmed plate and season with salt and pepper. Repeat with the remaining 4 eggs.
To assemble:
Place some of the creamy polenta on a warmed plate and nestle in some of the pearl onions and sprinkle on some of the toasted hazelnuts.  Slide on a couple of the seasoned beside the polenta and then top with a small handful of the arugula that has been tossed with a few drops of lemon juice and a bit of the hazelnut oil salt and pepper. Top with some shavings of Parmesan. Serve with toast if desired.
Serves 4.