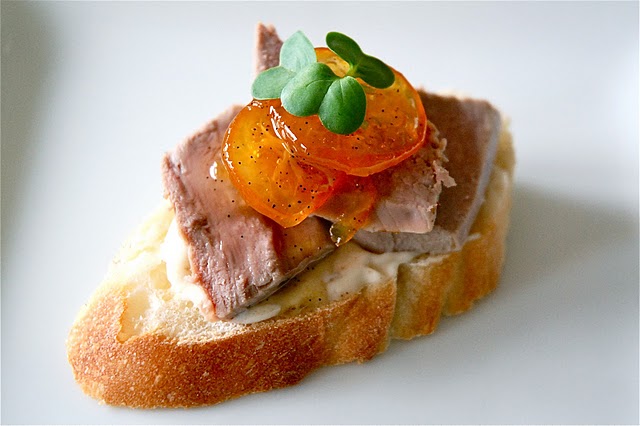 Here is a recipe that made an earlier appearance on this blog way back in March. I wanted to include it again for this canapés series as it is an easy two-bite wonder to balance out some of the more labour intensive hors d'oeuvres featured here.
I originally posted this recipe as part three in a series of "things to do with kumquat marmalade" and will post the recipe below for those who want to give it a whirl. You can, of course, skip making the marmalade and simply purchase a good quality store bought orange or citrus version. Then this recipe becomes all about some careful shopping and some last minute assembly.
I live about a twenty minute walk away from Chinatown in Vancouver where I was able to pick up 1/2 a BBQ duck for just under $8 (I used a whole duck for the recipe below) but your local Chinese restaurant should be able to sell you something similar pricewise. If you are heading to Chinatown you may want to pick up some five spice powder for seasoning the mayonnaise and some radish sprouts for the garnish while you are there. You can also buy the duck the day before you want to use it as it keeps well refrigerated.
Duck and kumquat have a natural affinity as the French well know (think canard a l'orange) but I love this new, easy, delicious Asian twist on an old favourite.
BBQ Duck with Kumquat Marmalade Canapés

For the kumquat marmalade:
1/2 lb kumquats
1/4 cup orange segments, skin and membranes removed
1/2 vanilla bean, split with the pulp extracted from the pod and then set both the pulp and the pod aside
1 cup of granulated sugar
Juice of 1 lemon
For the canapés:
1 baguette sliced into approximately 40 slices
1 BBQ duck, meat removed from the bones and sliced or shredded
1/2 cup of mayonnaise
1 teaspoon Chinese five spice powder (or more to taste)
Fine grain sea salt and freshly ground white pepper
Kumquat marmalade or good quality store bought orange, kumquat, mixed citrus marmalade
Radish sprouts for garnish
To make the kumquat marmalade:
Wash the kumquats well and slice into 1/4 to 1/2 inch coins. Remove the seeds and discard. Place the kumquat coins, the orange segments, vanilla bean pod and the pulp, sugar and the lemon juice into a medium saucepan over medium heat. Bring the mixture to a boil and then reduce to a simmer. Allow to simmer for 20 minutes until the mixture thickens. Remove the vanilla bean and allow the marmalade to cool. Place in a glass container and seal. Refrigerate until ready to use.
Makes approximately 1 cup.
To assemble the canapés:
Mix the five spice powder into the mayonnaise and season well with salt and white pepper.
Place the slices of baguette on a serving platter and lightly coat each slice with a thin layer of the five spice mayonnaise. Top with a small amount of the duck meat and then top with some marmalade. Garnish with radish sprouts and serve.
Makes approximately 40 canapés
Kumquat marmalade recipe from the Lumière cookbook by Rob Feenie.
Printable recipe