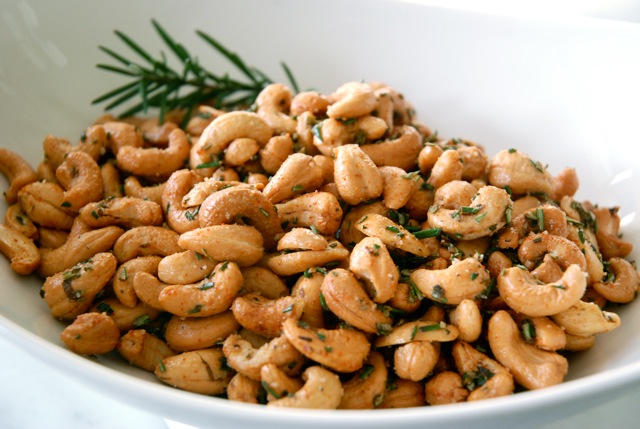 Okay, so I know that this is technically not a canapé but no holiday cocktail party would be complete without a bowl or two of these salty, spicy, herbal cashews. And if you have invited a few friends over for a cocktail before going out for dinner and are in a particularly minimalist mood you could open up a bottle of wine or Champagne, whip up a batch of these nuts and call it a day.
These are also great to take along when you are invited to a party as a gift for the host/hostess or for something to share with your fellow party guests. You can put them in a clear cellophane party bag and tie with some festive ribbon or use a pretty glass jar with a hand drawn label and you have a lovely gift to give to friends.  
These are best served warm but still absolutely delicious served at room temperature and take all of 5 minutes to make. Every time I set a bowl of these out at a party at least a 3 or 4 people ask me for the recipe and I wish I could claim that I was clever enough to have come up with this particularly winning flavour combination myself. If I did I would be sure to be as rich and famous as Ina Garten who is the author of this recipe. Apparently this recipe was inspired by the bar nuts at the famous New York City restaurant Unions Square Cafe. Delicious!
Spicy Rosemary Cashews

1 pound roasted unsalted cashews
2 tablespoons minced fresh rosemary leaves
1/2 teaspoon cayenne pepper
2 teaspoons light brown sugar
1 tablespoon fine grain sea salt
1 tablespoon unsalted butter, melted
Preheat the oven to 350 degrees. Spread the cashews in a single layer on a rimmed sheet pan. Roast in the preheated oven for 5 to 7 minutes until the cashews are warm and a bit toasted. While the cashews are in the oven place the remaining ingredients in a medium bowl and mix to combine. Once the nuts are warm and toasted remove them from the oven and transfer them into the bowl with the spice butter and mix well. Serve warm or at room temperature.
Serves 8.
Recipe from Barefoot in Paris by Ina Garten. Printable recipe