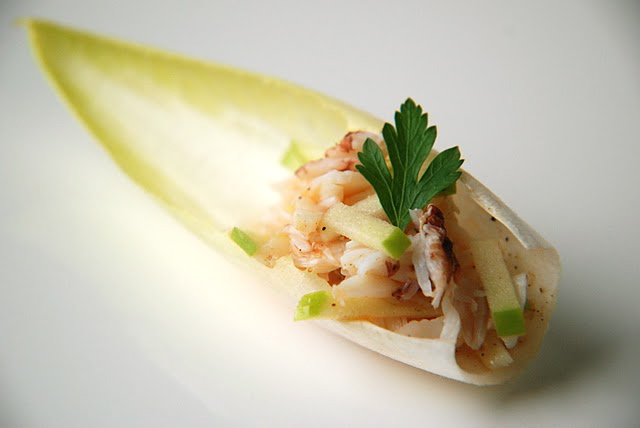 How about something light and fresh tasting that still manages to be special and festive? I have nothing against mini meatballs, piggies in a blanket, or a nut studded cheese ball but it is always nice to round out the heavy duty, rib-sticking hors d'oeuvres with something that is lighter and brighter, crunchy and fresh.
Endive leaves are the perfect vessel for all kinds of fillings. I have seen the beautiful elongated petals filled with gingered salmon tartare, figs with goat cheese, candied pecans and a port reduction or a truly decadent lobster salad with citrus segments and frisée.
I love the combination of crab meat and crunchy green apple and to keep it light I have opted to dress this "salad" with reduced grapefruit juice and a bit of olive oil, vinegar salt and pepper. The citrus is a nice counterpoint to the rich crabmeat and the tang of the apple.
Because there are so few ingredients for this canapé it's important that they are really fresh, especially the crab meat. We are lucky in Vancouver to have access to fresh Dungeness crabs and I am thrilled that I was able to buy the amazing crab meat for these hors d'oeuvres at a new seafood shop that has opened up just one block away from my house. A quick shout out to the amazing folks at The Daily Catch located at 1418 Commercial Drive. They recently opened their lovely shop and only supply seafood that is 100% Ocean Wise which is based on the conservation program out of the Vancouver Aquarium. I met one of the owners, Ryan, the other day and he seems like a really good guy who truly cares about sustainable seafood. I am very glad that they are a part of the neighbourhood.
This wouldn't really be considered a do-ahead recipe although you can reduce the grapefruit juice an advance and make the vinaigrette. Then it is just picking over the crabmeat for stray bits of shell or cartilage, cutting the apple (and putting it in some acidulated water to keep it from browning) and slicing the endives and separating the leaves. Toss your salad components, fill the leaves and serve.
One quick note on the Belgian endive (also labelled as chicory or witloof). Endive are grown indoors, underground and completely in the dark which gives them their light cream/light yellow colouring and mild bitter flavour. Exposing them to light causes them to turn green and increases the bitterness. Buy endives that are only tinged with yellow (they are often stored in boxes and covered in blue paper to protect them from light) and tightly closed and store them away from light until ready to use.
Crab Salad with Green Apples and Grapefruit Vinaigrette in Endive Petals
4 heads of Belgian endive
Juice of 1 large, ruby grapefruit
2 teaspoons of sugar
Juice of 1 lemon
1 Granny Smith apple
1/2 lb (250 g) fresh cooked lump crab meat (I used Dungeness crab meat) picked over for cartilage and shell fragments
1 1/2 tablespoons of extra virgin olive oil
1/2 tablespoon white wine or Champagne vinegar
Fine grain sea salt and freshly ground pepper
Parsley leaves to garnish (optional)
In a small saucepan combine the grapefruit juice with the two teaspoons of sugar, Bring to a boil over medium-high heat and then turn the heat down to low and allow to simmer for 4 to 5 minutes and a light syrup forms. Remove from the heat and allow to cool.
Once cooled you can whisk in the vinegar, olive oil and season with salt and pepper. Set aside.
Fill a small bowl with water and add the lemon juice. Cut the apples into quarters and then remove the core from each of the quarters. Put them in the bowl with the acidulated water to prevent them from turning brown. Using a sharp knife or a mandolin (USE the plastic finger guard!) thinly slice the cored apples into thin slices. Then using a sharp knife cut the slices into a julienne that will fit into the endive petals. Once you have sliced the apples return them to the acidulated bowl of water.
In a medium bowl place the crab meat, the grapefruit vinaigrette and some salt and pepper. Dry off the apple slices on a kitchen towel and place in with the crab mixture. Gently fold in all of the ingredients to mix well and taste for seasoning.
Cut 1/2 inch (12 mm) off of the stem end of each of the endives. Separate the leaves (you may have to cut off a bit more of the stem end as you go) and choose the 20 largest, unblemished leaves. (You can reserve the smaller ones for a salad, sliced up and tossed with a grainy mustard vinaigrette which is really delicious.)
Place the endive petals on a serving platter and place a spoonful of the mixed crab mixture in each leaf. Garnish with a grind of black pepper and a sprig of parsley.
Serve.
Makes 20 canapés.
Recipe adapted from Christmas Entertaining by Williams-Sonoma
Printable recipe