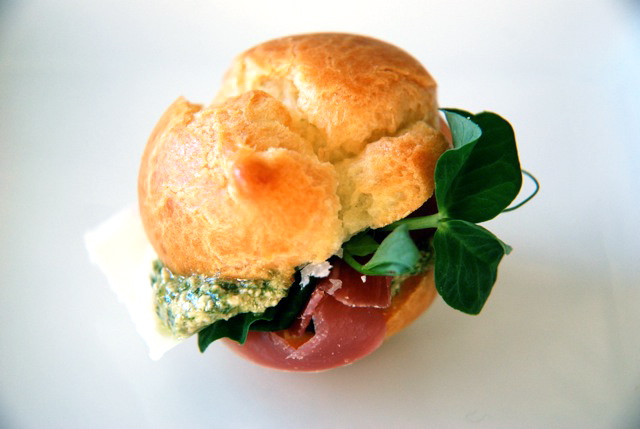 I love these little puffs made from pâte a choux dough as they are so very versatile. For today's canapé I am using them as a vessel for a tiny Italian themed "bunwich" with some prosciutto, pesto and a shaving of Parmesan cheese. But these can go in so many delicious directions. Think of pairing them with a herbed crème fraîche, some silky smoked salmon and chopped capers or a shrimp salad with tarragon and a touch of mayonnaise, curried egg salad with frisée or even some thin slices of ham with a sharp cheddar and some honey and Dijon mustard.
I will include a recipe to make the gougères but if the thought of working with choux pastry makes you want to run screaming from the kitchen you can find these little puffs at many Italian or French bakeries. When you buy them from a bakery they are often called choux puffs or unfilled profiteroles and they won't have the cheese in the mixture but they still work well in this recipe. In Vancouver they are available at La Baguette on Granville Island (often freshly baked but if not then in their freezer labelled Choux and $4.99 per dozen) and also as a pre-order from Fratelli's Bakery on Commercial Drive.
They can be assembled, depending on your filling, an hour or two in advance and are a great job to pass along to those people hanging out in the kitchen with you who want to help. I always really love those people…
Gougères with Prosciutto, Parmesan, Pesto and Pea Shoots
The puffs can be made in advance and frozen. Just thaw them before assembling.

For the puffs:
1 cup of milk
1/4 lb (113.4 g) unsalted butter
1 teaspoon fine grain sea salt
1/8 teaspoon freshly ground black pepper
1 cup flour
5 large eggs, 4 will be used for the dough and the
1/2 cup grated Gruyère or Parmesan cheese
For the filling:
10.5 ounces (300 g) of thinly sliced Prosciutto di Parma (or other good quality dry cured ham)
1 cup homemade or good quality purchased basil pesto
5 ounce (140 g) block of Parmesan cheese shaved into thin slices using a vegetable peeler.
1 ounce (28 g) fresh pea shoots
Freshly ground black pepper
To make the choux puffs:
Preheat the oven to 425 degrees with two racks. Line two baking sheet pans with Silpats or parchment paper and set aside.
In a medium sauce pan heat the milk, butter and salt and pepper over medium high heat and bring to almost a boil. Remove from heat and add the flour all at once and using a wooden spoon stir vigorously. Return the pan to the burner and over low heat continue stirring the flour mixture for 2 minutes or so. At this point the mixture will come together in a smooth mass and there will be a thin coating on the bottom of the pan. Take the pan off the heat and dump the contents into a food processor that has been fitted with a steel blade. Add 4 of the 5 eggs and the cheese and pulse until the eggs are well incorporated and the batter is thick and smooth.
Using a pastry bag (or two teaspoons) pipe the dough into mounds 1 inch in diameter and 3/4 inch high with each mound being about 1 inch apart onto the prepared baking sheets. Once you have all the mounds piped wet you index finger with some water and gently smooth down the swirl on the top of each puff (and to smooth the edges if you have used two teaspoons instead of a piping bag).
Make an egg wash with the remaining egg mixed with 1 teaspoon of water. Using a pastry brush lightly brush the choux mounds with the egg wash.
Bake in the preheated oven for 12 minutes and then rotate the trays and reduce the heat to 375. Continue to bake until the puffs are golden and just starting to brown approximately another 10 – 12 minutes. Remove from the oven and cool on a wire rack.
To assemble:
Slice the puffs open and spread a teaspoon or so of the pesto on the bottom of the puff. Fold up a small portion of Prosciutto (about 1/2 a slice) and place it on top of the pesto. Layer on a shaving of the parmesan, a pea shoot or two and then a grind of black pepper. Put the top of puff back on and place on a serving platter. Repeat with the remaining puffs and serve.
Makes approximately 40 canapés.