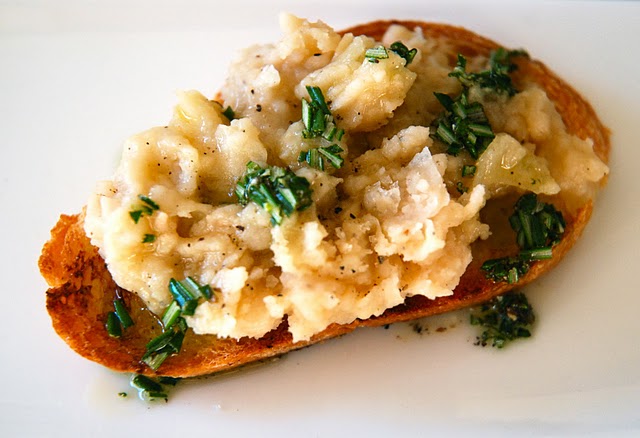 This is a recipe that has a lot of things going for it. It is healthy, easy to make, a good vegetarian/vegan option, cost effective and really delicious. No difficult to find ingredients and no special equipment is needed. It is from Jamie Oliver's "Jamie's Italy" cookbook and was passed along to me by my friend Sarolta.
You can toast your baguette slices early in the day either on a grill or in the oven and you can also make up the rosemary oil ahead. The beans are best served warm so it is good to make them just before serving. We have, however made them up ahead of time and then warmed them up for a minute in the microwave before serving. If you are going this route it is a good idea to add, as Jamie would say, a good "glug" of olive oil before you reheat it so that it is not too dry.
White Bean Crostini with Rosemary
As is Jamie Oliver's way, there are no real measurements in his recipe just instructions to add "a good swig" of the vinegar and "a couple of glugs" of olive oil. I am far too uptight to roll that way so I have given amounts but take these as a starting point only and feel free to adjust according to your own palate preferences.
For the crostinis:
1 baguette sliced into approximately 40 slices
1/4 cup extra virgin olive oil
1 clove of garlic, peeled and cut in half
Fine grain sea salt and freshly ground pepper
For the rosemary oil:
1/2 cup extra virgin olive
2 tablespoons of fresh rosemary leaves, finely chopped
Fine grain sea salt
For the white beans:
2 x 14 ounce (398 ml) cans of white cannellini beans drained and rinsed
1/4 cup of extra virgin olive oil
4 medium garlic cloves, peeled and thinly sliced
4 tablespoons red wine vinegar, or more to taste
Fine grain sea salt and freshly ground black pepper
Preheat the oven to 350 degrees. Place the baguette slices in a single layer on a baking rack placed on top of a cookie sheet and drizzle on a little bit of olive oil on each side and season with salt and pepper. Toast in the preheated oven for 5 to 7 minutes until lightly browned. Remove and once the baguette slices are cool enough to handle take the cut garlic and rub the toasts on one side with the cut cloves. If making ahead they can be stored in an airtight container for a day or two.
Place the finely chopped rosemary in a small bowl and stir in the olive oil and some salt. Set aside.
In a large sauté pan add the 1/4 cup of olive oil and place over medium heat. Add the sliced garlic and  fry until lightly golden. Add the drained and rinsed beans and simmer gently for 10 minutes or so. Season the beans well with salt and pepper and add in the red wine vinegar. Then, using the back of a fork mash the beans until you have a coarse purée.
On a platter place the toasted baguette slices and top with a smear of the hot bean mixture. Drizzle on some of the rosemary oil and serve.
Makes approximately 40 canapés.
Adapted from Jamie's Italy by Jamie Oliver.
Printable recipe