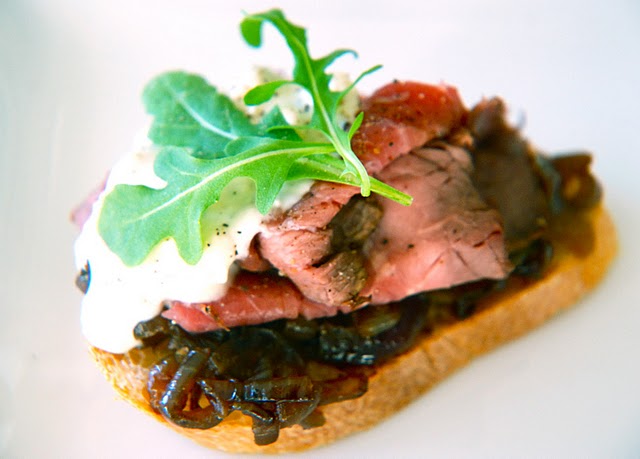 A bit late in the day for this recipe but I just got cleaned up (with a lot of help from Leigh-Anne) from last night's fundraiser. We hosted the First Annual Kitchen Culinaire Food Bank Fundraiser and while I can't speak for anyone else I can say that I had a fantastic time.
I was so thrilled and touched and inspired by how many people managed to make time during the busy holiday season to come out and support a charity that is the closest to my heart. I am very excited to report that we raised $1000 for the Vancouver Food Bank and I want to send out a heartfelt thank you to everyone who came out last night and contributed. We cooked some hors d'oeuvres, drank some wine, mixed and mingled and had more than a few laughs. Truly wonderful. Thank you, thank you, thank you.
One of the recipes that we demonstrated last night was this classic cocktail menu canapé. Perfect with a lovely glass of Cabernet from California, Malbec from Argentina or a Bordeaux from France this roast beef canapé is all about making the components ahead of time and a bit of last minute assembly.
The red onion jam takes a bit of time as you really want the onions to caramelize long and slow. Feel free to add a touch of sugar or balsamic or a splash of red wine to the onion recipe and also feel free to make the onions, and the Stilton cream, a day (or two) ahead of time.
Roast Beef Canapés with Stilton Cream and Red Onion Jam
Both the red onion jam and the Stilton cream can be made a day or two before serving.
3 large red onions, thinly sliced
3 tablespoons olive oil
Fine grain sea salt and freshly ground black pepper
1 baguette, sliced into approximately 40 slices
6 ounces (168 g) of Stilton cheese, crumbles
1/2 cup of sour cream
1/4 cup of mayonnaise
14 ounces (400 g) sliced roast beef
2 ounces (60 g) baby arugula leaves
To make the red onion jam:
Heat the 3 tablespoons of olive oil over medium heat and add the thinly sliced onion. Season with salt and pepper and reduce the heat down to medium low. Allow the onions to slowly caramelize and stir occasionally until they are soft and well browned. This may take up to one and a half hours. The longer and slower that you caramelize the onion the better the flavour. Allow to cool and set aside.
To make the Stilton cream:
In a medium bowl combine the crumbled Stilton, sour cream and mayonnaise. Season well with salt and pepper. Set aside.
To assemble:
Place the sliced baguette slices on a serving platter. Place a heaping teaspoon of the red onion jam onto the base of the baguette slice. Take a small portion of the roast beef and roll it up to add a bit of height. Top with a dollop of the Stilton cream and place a few leaves of baby arugula on top. Season with a bit of salt and a few grinds of freshly ground pepper.
Makes approximately 40 canapés.
Printable recipe