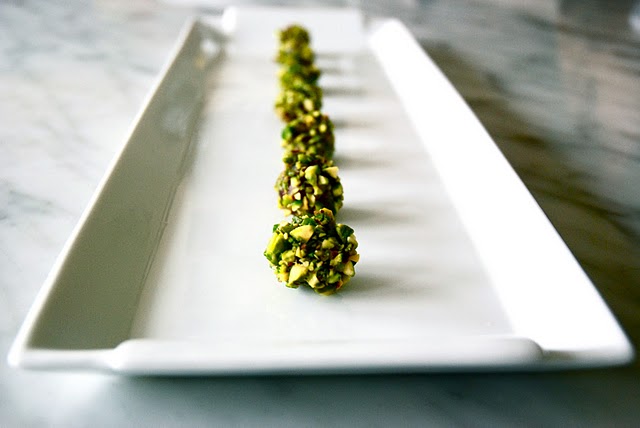 Tonight I am hosting the first annual Kitchen Culinaire Food Bank Fundraiser. Every year we host some kind of Christmas party but this year I thought it would be a nice twist to invite our friends not only to stop by and have a cocktail and a bite (or two) but to also help us raise some funds to help out our local food bank.
As an added incentive for people to come out (what? our sparkling company isn't enough?) we are going to do an informal cooking class and demonstrate six different hors d'oeuvre recipes over the course of the evening.
Still lots to do before people start arriving this evening but wanted to share one of the recipes we will be serving and teaching tonight.
This is a bit of a ubiquitous recipe but with its endless variations it is a good one to have in your repertoire. The version I will post today is based on a recipe from Trish Magwood's Dish Entertains cookbook but take this as a starting point only. You can use dates instead of grapes (as Trish does) you can add minced rosemary or black pepper to the chèvre or even replace the chèvre with a blue cheese like Gorgonzola or Roquefort. Don't want to use port? Replace it with a bit of cream to thin out the cheese mixture for easier rolling.
Then their are the nuts. Toasted walnuts, pecans, almonds, macadamias are all great choices. A note on making these ahead: many recipes say they can be done two days in advance but I find that there is no crunch left to the nuts if you pre-make these. For me it is best to make just an hour or two ahead of time. Also, lots of people use nuts that have been ground almost to a powder. I tend to like my nuts coarsely chopped so that you really get that crunch with the softness of the cheese and the burst of the grape. Personal choice.
One final note: these are a fun, interactive recipe to teach but they are quite messy. If you do enlist someone to help you make these ensure you pour them a nice glass of wine first…
Pistachio Dusted Red Grape and Chèvre "Truffles"
4 ounces (125 g) of chèvre, softened
2 ounces (60 g) cream cheese, softened
2 tablespoons port
Fine grain sea salt and freshly
40 seedless red grapes
3/4 cup lightly toasted pistachios
In a medium bowl combine the cream cheese and the chèvre using a fork to ensure they are well mixed and that there are no lumps. Add the port and stir combine and season with salt and pepper.
Coarsely chop the pistachios either by hand or by using a food processor. Transfer to an shallow wide dish.
Wash the grapes and dry them well. Here comes the messy part. Drop 4 or 5 grapes into the chèvre mixture and using your fingers coat the grapes. Then, working one at a time drop the grapes into the toasted and chopped pistachios and roll the grapes until they are well coated.
Transfer to a parchment lined baking sheet. Continue coating and rolling the grapes and then transfer to the refrigerator until ready to serve.
Makes 40 hors d'oeuvres.
Adapted from Dish Entertains: Everyday Simple to Special Occasions.
Printable recipe