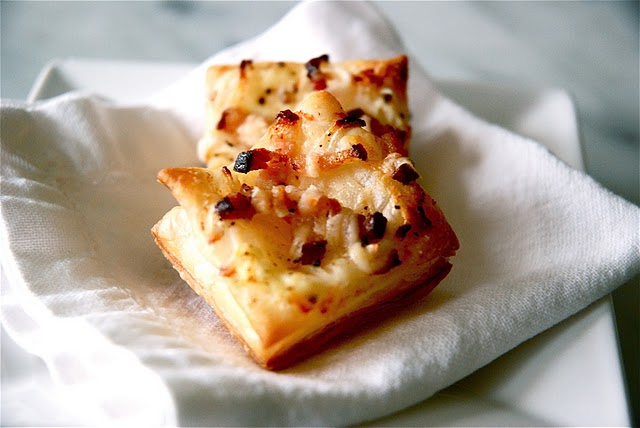 Here is a recipe that has appeared before on this blog but it was way back last January. And no list of seasonal canapé recipes would be complete without these wonderful, flavourful, easy-to-do-ahead, straight forward tartlets.
I make these tarts a lot. I make them in large sheets to take to a potluck where I then cut them into medium squares. I make them into 5 inch rounds and top each one with a micro green salad that has been lightly tossed with a truffle vinaigrette and serve them as a first course at a multi-course dinner party. And I make them as these delightful little two bite squares.
I will often roll out the puff pastry the day before, cut it into the squares using a pizza cutter, place them on a sheet pan lined with parchment and then into the freezer they go. You can also get a jump on things by cutting the bacon, slicing the onions and grating the cheese the day before. They can be assembled in the morning of the day they will be served, wrapped and refrigerated until needed. Pop them in the oven just before your guests arrive and they will fill your house with the rich scent of bacon and cheese.
These also travel well and so they are a great choice if you are asked to bring an appetizers/hors d'oeuvre to a party.  You can always skip the bacon and add more cheese and onions to transport these into vegetarian friendly territory.
Wine/Beer Pairing: German-style lager beer and for wine I love to serve these with an Alsatian Pinot Gris. A nice choice would be:
Pfaffenheim Pinot Gris, 2007
Alsace, France 13% alcohol $19.99
Alsatian Onion and Bacon Tart
1 10 x 13 inch pre-rolled puff pastry sheet or 1/2 a package frozen puff pastry, thawed
2/3 cup fromage frais (Little Qualicum Cheeseworks makes a nice one) or Quark Cheese or even Boursin
Pinch of nutmeg
3 strips of bacon (applewood or double smoked works well), cut into thin batons
1/2 medium onion, sliced very very thin (I use a mandolin for this part)
1/4 cup Parmesan cheese, coarsely grated
Fine grain sea salt and freshly ground pepper
On a lightly floured flat surface, roll the pastry to 1/8th of an inch in thickness. Cut into squares (approximately 2 inches).
Place on a parchment or Silpat lined heavy baking sheet. The squares may not all fit on one sheet. Chill until the pastry is very cold as this will facilitate the spreading of the cheese.
Using an offset spatula, spread a small amount of the fromage frais or Quark onto the puff pastry.
Scatter on the onion slices and bacon and sprinkle on some Parmesan cheese. Season with salt and pepper and nutmeg to taste. Wrap with plastic and refrigerate until needed.
Preheat the oven to 400 degrees and bake the tartlets for 20 minutes or until golden brown. Serve warm.
Makes 42 – 2 inch square tartlets, 6 – 5 inch round tarts or 1 – 16 x 12 large tart.
Adapted from the recipe "Alsace Tart Flambée from Rob Feenie's Lumière cookbook.
Printable recipe