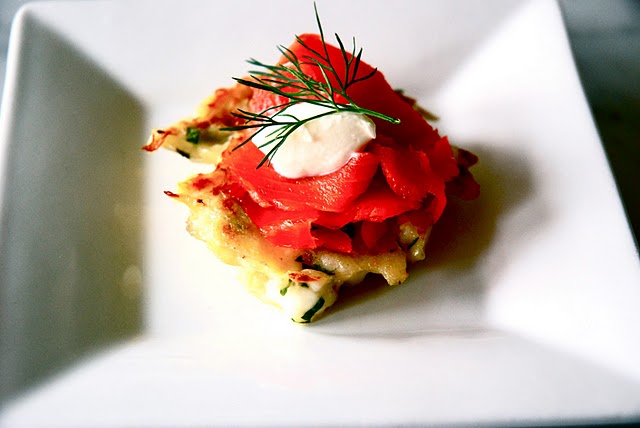 I'm excited to share a great hors d'oeuvre recipe with you today. However, I am even more excited to extend an invitation for my friend Ross' Eastside Culture Crawl Studio Opening coming up this weekend, November 26th through the 28th.
Anyone who lives in East Van or happens to love art in Vancouver will be quite familiar with the Culture Crawl. Now in its 14th year it's a free, 3 day visual arts festival that allows the public at large to engage with artists who open their studios and sell their art directly to those who attend. It is a wonderful way to spend an evening (Friday night only) or weekend afternoon (Saturday and Sunday) walking from open studio to open studio, chatting with the artists and seeing where and what they create. It's also a great way of supporting local artists while getting a bit of a jump on your holiday shopping. Picking up a little work of art for yourself isn't a bad idea either!  The studios are all in East Van and many are within walking distance of one another so there are lots of folks who plan a tour of those studios they want to check out. For a full list of participating artists go to eastsideculturecrawl.com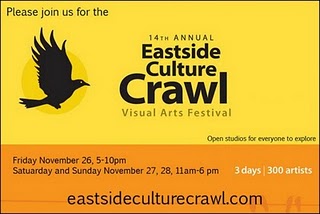 My dear friend Ross, in addition to being a talented photographer, also happens to be an amazing mixed media artist and will be throwing open the doors of his fabulous studio at 830 Union Street to partake in his 3rd Culture Crawl event. I love his work and have half a dozen of his pieces displayed in my home. And apparently I'm not the only one that admires his artistic aesthetic. His works, in the last year, have been exhibited at a number of galleries including Diane Farris Gallery, Presentation House and Hycroft Gallery and have also been included at such Charitable Art Actions as Art For Life, Unite with Art, and Splash which benefits Vancouver Arts Umbrella.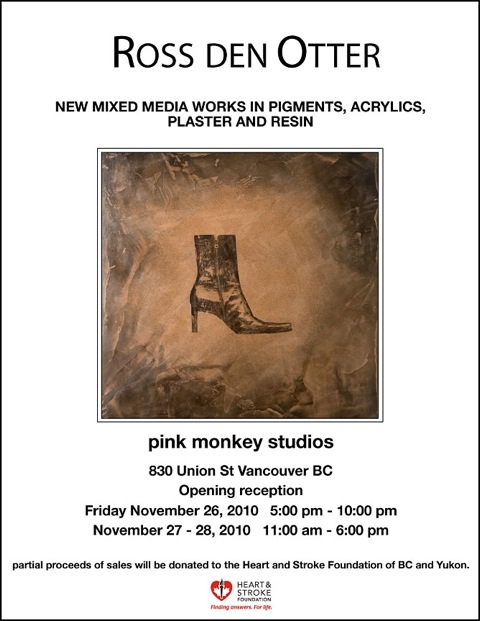 In addition to his beautiful Culture Crawl art offerings (of which partial proceeds will be donated to the Heart and Stroke Foundation because that is just the kind of cool and thoughtful guy he is) he and his lovely wife Sarolta will be hosting an opening reception on Friday, November 26th from 5:00 pm until 10:00 pm in their studio space at 830 Union Street. And they have asked me to do the food! This will be my 3rd year of cooking at this event (with lots of help in the kitchen from Sarolta and our good friend Leigh-Anne) and it is always a great evening filled with lots of interesting people, beautiful art, some good conversation and laughs and (hopefully) some lovely nibbles.
Our tentative hors d'oeuvre menu for the evening includes:
Alsatian tarts with double smoked bacon
Tuna tartare on cucumber rounds with black sesame seeds
Gougères with prosciutto and shaved parmesan and tomato pesto
Rare roast beef canapes with Stilton cream and red onion jam
Sharp cheddar and apple panini with Dijon and honey
White bean and rosemary crostini
Black pepper pear canapes with melted brie
We will also be serving some of the delightful potato feta pancakes with wild smoked salmon, creme fraîche and dill that you see above.
So, if you are able to make it by the studio on Friday evening please make sure you swing by the kitchen to say hi.  I will be the one wearing the apron, covered in flour (we are also making some mini pizzas with Cambazola, caramelized onions and thyme). It would be very nice to meet you.
Potato and Feta Pancakes with Wild Smoked Salmon, Crème Fraîche and Dill
This recipe works well as an hors d'oeuvre or, made somewhat larger, as a first course.

For the pancakes:
1 pound (1/2 kg) potatoes (preferably Yukon Gold)
1 small onion
2 eggs
2 tablespoons chopped mint
1/2 cup feta cheese, crumbled
1/4 cup flour
Fine grain sea salt and freshly ground pepper
2 tablespoons of grape seed oil
2 tablespoons of butter
To serve:
3 1/2 ounces (100 g) wild, cold smoked salmon
1/4 cup of crème fraîche
Sprigs of dill for garnish
Peel and grate the potatoes and the onion using the large holes on a box grater. Place in a colander over a medium bowl, stir in 1/2 teaspoon of salt and allow to drain for 15 to 20 minutes. You will have a bunch of brown water that will have drained into the bowl by the end of the 20 minutes and then then you will want to squeeze any remaining moisture from the potato mixture and place this drained and squeezed mixture in a clean, large mixing bowl. Add the eggs, mint, feta and flour and combine well. Season with some salt (not too much depending on how salty your feta is) and some freshly ground pepper.
Place a few sheets of paper towel on a large ovenproof plate and set aside. Heat half of the oil and butter in a large non-stick or cast iron frying pan over medium heat. Add approximately 1 tablespoon (if making the hors d'oeuvre size) of the potato mixture per pancake to the pan. Using a small offset spatula or the back of a fork gently press the potato mixture to make a flat pancake. Cook on both sides until golden brown, approximately 2 to 3 minutes per side. Once cooked remove the pancakes from a pan and place on the paper towel lined plate and keep in a warm oven while making the remaining pancakes.
To serve, place the pancakes on a serving platter and top with some of the smoked salmon, a small dollop of crème fraîche and a sprig of dill.
Makes 16 to 20 hors d'oeuvre size pancakes or serves 6 as a first course.
Adapted from Bills: Breakfast, Lunch + Dinner by Bill Granger.
Printable recipe