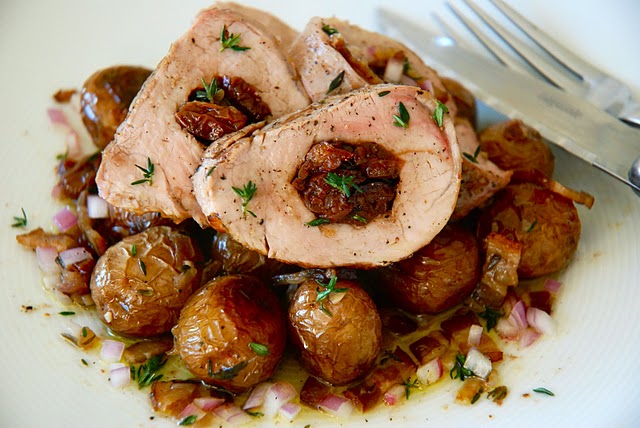 Last night we hosted a very special birthday dinner here at the house. It was a small group of us, only nine people, but the birthday girl was surrounded by her daughter, two granddaughters, a dear friend, a grandson (through marriage), two great grandsons and her boyfriend of 50 years.
It was my Baba's 97th birthday. Some of you might remember Baba (Ukrainian for Grandma) from an earlier post where she came over to my house and showed my sister and me how to make a couple hundred pierogies. That link is here.
Well, it was wonderful for me to return the cooking favour and host a dinner to celebrate her big day. And with my Baba there really is a lot to celebrate. She is truly one of the most amazing women I have ever known. At 97 she still lives in her own home with Jimmy, her "boyfriend" of 50 years, and she walks every day and shops and cooks, knits and reads and is up on current events and has a well formed and intelligent opinion on almost everything. We keep trying to persuade her to tie the knot with Jimmy, her longtime love, but she continues to put us off, telling us that perhaps when she turns 100 she will indulge us with a winter wedding.
When you are cooking for the over 90 crowd it is best to keep things pretty simple. Last year I roasted a couple of chickens and Baba declared them "almost as good as the ones at Swiss Chalet!" This year I decided to switch gears and make something that Swiss Chalet doesn't serve (I wasn't up for the competition) and went with this stuffed pork tenderloin. This is a great recipe as you can change and adapt it with what you happen to have on hand and/or the occasion at which it will be served. Last night I used dried cherries but if I was doing this for a holiday dinner (like Thanksgiving or Christmas Eve) I might want to use a combination of dried apricots, currants, cranberries and add in some fresh sage. The lovely thing about this recipe is that you can stuff the tenderloins ahead of time and then just sear them off and roast them right before serving. The bacon vinaigrette is the perfect combination of salty/savory bacon and a piquant, acidic kick from the sherry vinegar. I served last night's pork and roasted potatoes with carrots but green beans with pine nuts or braised radicchio would be wonderful here. An unfussy yet still celebratory menu.
We ate and drank (sparkling apple juice) and laughed and talked and the great grandchildren ran around hooting and hollering. We lit candles, sang happy birthday, ate cake and toasted to the joy of having so many generations in one room. And I felt very, very lucky.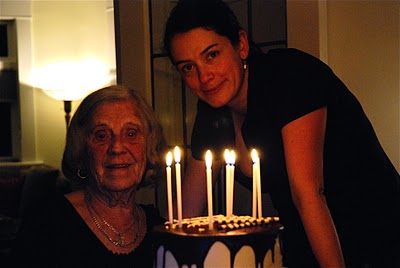 Dried Cherry Stuffed Pork Tenderloin with Roasted Baby Potatoes and Bacon Sherry Vinaigrette
2 pounds baby red potatoes
1/2 cup plus 2 tablespoons olive oil, divided
1 tablespoons toasted sesame oil
Fine grain sea salt and freshly ground black pepper
1 cup dried cherries
2 tablespoon fresh thyme leaves, minced, divided
1/2 cup water
1 20 ounce pork tenderloin, cleaned and halved
3 tablespoons of canola or grape seed oil
1/2 cup, uncooked bacon batons
1/2 cup red onion, small dice
1 teaspoon minced garlic
2 1/2 tablespoon sherry wine vinegar
Preheat the oven to 400 degrees.
Toss the potatoes with the olive oil, sesame oil and the salt and pepper. Place in a roasting pan or a sheet pan and roast in the preheated oven for 45 minutes or until golden, crispy and cooked through.
Meanwhile prepare the dried cherry stuffing. Put the cherries and 1 tablespoon of the minced thyme leaves in a medium saucepan. Add the 1/2 cup of water and bring to a simmer over medium heat. Allow to simmer for 5 minutes and then turn off the heat. Let stand for 15 minutes. Season with salt and pepper and set aside and allow to cool.
To prepare the pork tenderloin, start from the end of each half tenderloin. Cut a slit using a slender, sharp knife through the centre. You may need to do this from each end if your knife is not long enough. Turn the tenderloins on their sides and cut another slit to create an X in the centre of each loin. Using your fingers insert on either end of the loin and rotate you fingers to help stretch a hole through the centre.
Then, once again using your fingers, stuff as much filling as possible into each loin. Season the outside of each loin with salt and pepper.
Place a large, oven proof sauté pan over medium heat and allow to get very hot but not smoking. Add the canola oil and then the stuffed pork loins. Sear off the loins on all sides until well browned. Place the pan in the oven and roast the tenderloins for 25 minutes until the pork registers at least 150 degrees. Allow to rest for 10 minutes before slicing. The pork will still be a bit pink inside. If you want your pork well done cook for an additional 5 minutes or so.
While the pork is in the oven prepare the bacon sherry vinaigrette. Render the bacon in a medium sauté pan over medium heat. Add the red onion and garlic and cook for a few minutes until the onion is translucent and the garlic is fragrant. Add the remaining 1 tablespoon of minced thyme and cook for 1 more minute. Remove from the heat and add the sherry wine vinegar. Slowly whisk in the remaining 1/2 cup of olive oil and season with salt and pepper.
To serve place 1/4 of the potatoes on a dinner plate. Slice the pork tenderloin into 1/4 inch thick slices and place 3 slices on top of the roasted potatoes. Spoon some of the bacon and sherry vinaigrette over the pork and around the place and season with some freshly ground black pepper. Serve.
Serves 4.
Recipe adapted from The Kitchen Sessions with Charlie Trotter.