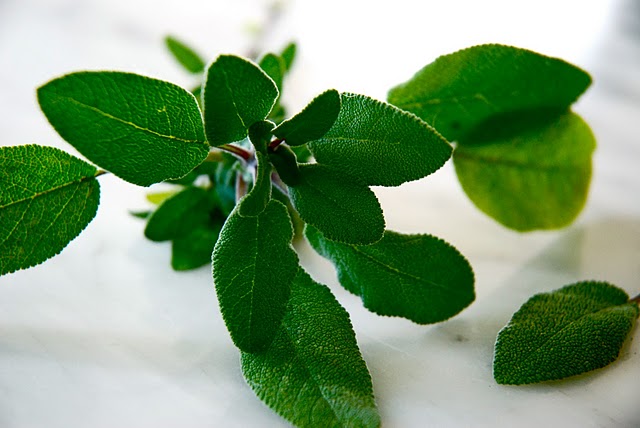 Just a quick post today to share a "recipe" that is the garnish for a butternut squash and mascarpone ravioli (with a twist) that I am hoping to post tomorrow.
I have a bit of an issue when it comes to garnishes. It personally drives me crazy when an absolutely random ingredient is used as the garnish on a plate or, even worse, if that garnish is not even edible. This reminds me of a local restauranteur who used to jab these huge sprigs of rosemary in the middle of an otherwise lovely plate of food. I could never figure out what the heck I was supposed to do with it. Smell it? Tuck it behind my ear? Use it as a toothpick at the end of the meal? He has, thankfully, stopped doing this and his restaurant is thriving. Coincidence? I think not.
The Chef at the restaurant where I worked didn't want to see anything come back on the plates. He would position himself near the kitchen entrance so that he could witness the plates returning from the dining room on their way to the dish pit. He would question the waiters as to why some salad greens or a part of an entrée or a few bites of dessert were not happily ingested. He cared deeply about his food and wanted the people he was feeding to love it as much as he did. In this kitchen there were never any inedible garnishes on the dishes. The man loved a clean plate. And God help the cook on the grill station if he/she forgot to clip off the piece of kitchen string that was used to tie the tenderloins during cooking. If Chef happened to catch a glimpse of that on an otherwise clean plate the entire kitchen would get very, very quiet before it got very, very loud with a expletive laced dressing down for the poor person responsible.
But I digress.
A garnish, in my books, should always be edible and always be a thoughtful and delicious compliment to a dish. These crispy sage leaves are just that.  The ravioli dish that I will share tomorrow features a rich and creamy roasted butternut squash, mascarpone and Parmigiano Reggiano filling. It is simply seasoned with some freshly ground nutmeg, salt and pepper. The herbal, salty crunch of quickly fried fresh sage leaves is the perfect companion to the ravioli.  I find that using regular (read: not fried/crispy) fresh sage leaves, even thinly sliced, is too overpowering in flavour as well as in texture. As these crispy leaves are so light and delicious make sure that you make more than the recipe calls for as more than a few will certainly be eaten out of hand. They can be made a few days in advance and stored in an airtight container at room temperature.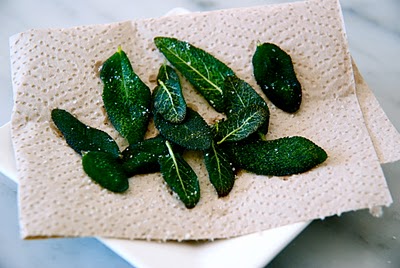 Crispy Sage Leaves
These leaves crisp up after they have been removed from the hot oil and begin to cool down.
They can be made a couple of days ahead of time and stored in an airtight container at room temperature.
2 tablespoons extra virgin olive oil
25 medium or large fresh sage leaves
Fine grain sea salt
Wash your sage leaves and then ensure that they are very thoroughly dried. Set aside.
Line a plate with several layers of paper towel and set aside.
Place a small saucepan over medium heat and allow to heat up for a minute or so. Add the olive oil and then carefully add one of the fresh sage leaves. Check to see that your oil is hot enough so that the sage leaf fries in about 5 seconds per side or so. You may need to use the back of a fork to keep the leaf flat and submerged in the oil. After 5 seconds flip the sage leaf over and fry for an additional 5 seconds. The leaves should emerge a bright green with no hints of browning. Remove from the oil using tongs and place on the sheets of paper towel.
Once you have the proper temperature add 4 or 5 sage leaves at a time and cook the remaining leaves in batches. If the leaves are turning brown or cooking too quickly turn the heat down to medium low. Once they are cooling on the sheets of paper towel season with salt.
Makes 25 leaves.