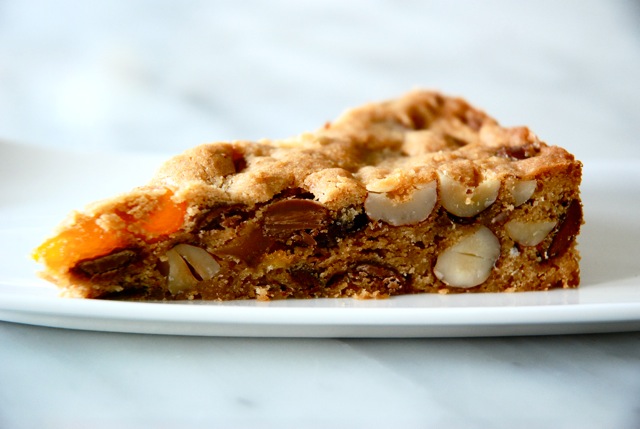 With Halloween being just one week behind us it seems a little bit crazy to be putting up a recipe that features chocolate in any form. Last Sunday and Monday I made a valiant effort to reduce the number of little chocolate bars that were hanging around and Max and Glen joined in to help. I ate mini Kit Kats and Oh Henrys and Aeros and even a Tootsie Roll or two. We still have a massive bowl of treats staring at me from the kitchen counter and yet by Wednesday I was longing for something with some good chocolate in it. Maybe with some nuts and/or dried fruit. Something homemade. Something that would be perfect with an afternoon cup of tea. I like a Kit Kat as much as the next person but it doesn't really go with a steaming cup of Earl Grey.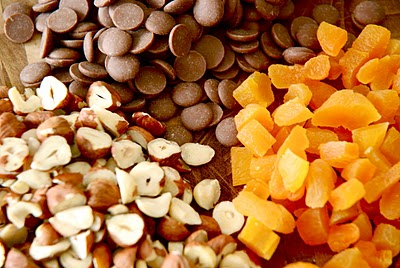 I have been dying to try out this recipe that is from one of my favourite new food blogs called pastry studio. The site is beautiful and spare and the recipes are so inspiring, every one a little jewel. From what I can piece together it is written by a (female?) pastry chef who lives in San Francisco. The photos are lovely, the writing is intelligent and the recipes are a wonderful mix of relatively easy to more challenging yet still doable. There is even a little "bench notes" section that gives a bit of extra information about the recipe and sometimes clarifies a method or ingredient choice.
| | |
| --- | --- |
| | |
This is the first recipe that I have made from pastry studio and it was everything I had hoped for. A chocolate chip cookie amped up with hazelnuts and dried apricots and cut into slices as small as a sliver or as large as you please. The original recipe calls for the addition of crystallized ginger which would add a nice spicy note but neither Max nor Glen are crazy about ginger so I left it out. The dried apricots and chocolate are magic together and the crunchy, earthy, toasted hazelnuts are so perfect for fall. A new seasonal favourite.
Chocolate Chip, Apricot and Hazelnut Cookie Slices
The original recipe calls for baking these for 22 to 24 minutes but I found I needed to bake mine for 30 to 32 minutes. To check for doneness insert a wooden skewer in the centre of the pan and ensure it emerges clean. Allow to cool completely in the spring form pan.
1/2 cup hazelnuts
4 ounces of unsalted butter, at room temperature
3/4 cup dark brown sugar
1 egg at room temperature
1 teaspoon good vanilla
1 cup of flour
1 1/2 teaspoon baking powder
1/4 teaspoon salt
1/2 cup dried apricots, coarsely chopped
1 scant cup of semisweet chocolate chips
Preheat the oven to 350 degrees.  Butter a 9 inch springform pan and line the base with parchment paper.
Spread the hazelnuts in a single layer on a rimmed baking sheet and roast in the preheated oven for 10 to 12 minutes until the papery skins look cracked. Allow to cool just slightly and then gather the still warm nuts in a kitchen towel. Rub the nuts in the towel in a circular motion on a countertop to remove the bitter, papery skins. There may be some nuts that you need to pick out and rub individually and keep in mind, for this recipe, a bit of the skin left on the hazelnut is fine.  Once the skins have been (mostly) removed transfer the nuts to a cutting board and coarsely chop and then set aside.
In a medium bowl, whisk together the flour, baking powder and salt. Set aside.
Place the butter and sugar in the bowl of an electric mixer fitted with the paddle attachment and beat on high speed for 2 to 3 minutes. Scrape down the beater and bowl with a rubber spatula and add the egg. Beat until the egg is well incorporated and then add the teaspoon of vanilla. Combine well.
Add in the flour mixture and mix until just combined and a few dry streaks of flour remain. Remove from the mix and using a rubber spatula fold in the chocolate chips, chopped apricots and hazelnuts.
Transfer the batter into the prepared springform pan and using an offset spatula smooth the batter into an even layer.
Bake until slightly golden 30 to 32 minutes or until a wooden skewer comes out clean when placed in the centre of the batter. Allow to cool completely on a wire rack.
To un-mold, run a knife around the edge of the pan and release the springform ring. Invert the pastry onto a large plate or platter and remove the bottom of the pan and the parchment paper. Invert again onto a cutting board to cut into slices.
Makes 16 slices.
Recipe from pastry studio.
Printable recipe