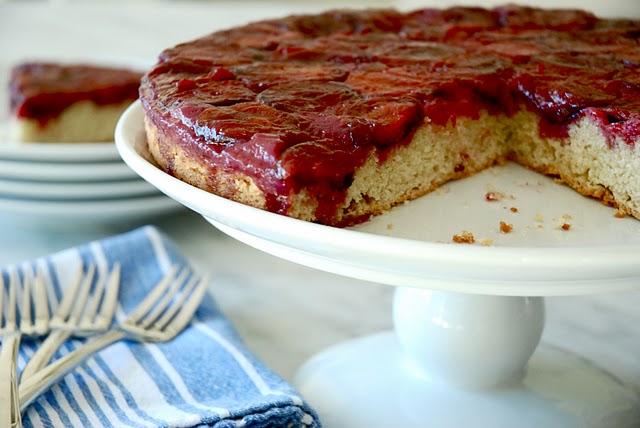 My neighbourhood in Vancouver is fondly known as "The Drive" and living just off of Commercial Drive has a number of culinary perks. For one, there are 19 coffee bars in the span of 22 blocks and so a very good espresso is always just a block or two away. The very best Parmigiano Reggiano in all of the city (in my humble opinion) can be found a mere 5 blocks from my house and then there is the amazing array of imported pastas and prosciutto, smoked meats and fragrant olive oils to be had. At Norman's Market, which is just a block away, the fall figs are now in great abundance and the tiny artichokes and bulbs of fall fennel and fuzzy, fragrant quince are beginning to appear. And then there are the Italian prune plums.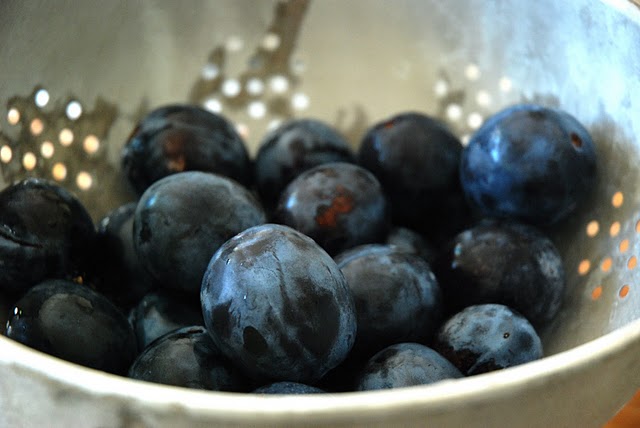 We have a tree in our garden but this year it yielded no plums. This happens every few years and makes me feel just a little bit sad but I have learned that a barren year often yields a bumper crop in the following season. So I am patient and in the off years and I head down the street to Norman's Fruits and Vegetables and pick up some of these tart/sweet beauties and pair them with everything from grilled meats to ice cream. However, this upside-down tart is one of my favourite ways to incorporate them, baked with a spiced, tender cake and topped with some whipping cream and accompanied by a cup of tea. This is a lovely cake to have on hand during the week when you may have a friend stop in for coffee/tea or to end a rustic, informal dinner.
| | |
| --- | --- |
| | |
The tart is formed from a base of cut prune plums placed on top of some melted butter which is  evenly sprinkled light brown sugar. On top of this is a cardamom and nutmeg scented cake batter. Bake for an hour, allow to rest for an hour and turn upside down to allow the jewel like plums to shine on the top while the tart/sweet juices run down the cake.  The tart/cake keeps well for a few days so can be nibbled on for breakfast after the kids have been dropped off at school or in the afternoon for a pick me up with a cup of tea or, if you are like me, a double shot of espresso to power you through the rest of the day. I tend to make this cake a whole bunch of times when the prune plums are in season as I love the play between the tartness of the plums and the sweetness of the cake. It is not a fancy tart but a deeply satisfying one…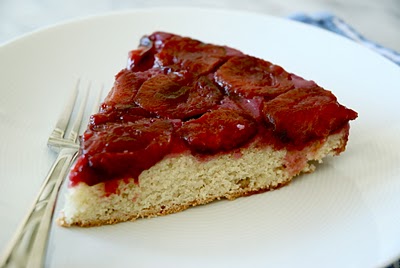 Upside-Down Italian Prune Plum Cake
10 tablespoons (1 1/2 sticks) unsalted butter, at room temperature plus more for greasing the pan
1/3 cup, packed light brown sugar
20-22 Italian prune plums, halved and pitted
1 1/2 cups of all purpose flour
1/2 teaspoon ground cardamom
1/2 teaspoon ground nutmeg
3/4 teaspoon baking powder
1/4 teaspoon baking soda
1/4 teaspoon fine grain sea salt
3/4 cup plus 2 tablespoons granulated sugar
3 large egg yolks
1 teaspoon pure vanilla extract
1/2 cup sour cream
Preheat the oven to 375 degrees. Butter an 8 1/2 by 2 1/2 inch round spring-form pan and line it with parchment paper.
Melt two tablespoons of butter and pour it into the pan on top of the parchment paper. Sprinkle the light brown sugar evenly over the butter and then arrange the halved and pitted Italian plums, cut side down on top of the brown sugar. Ensure that you tightly pack the plum halves in as they will shrink during baking.
In a medium bowl sift together the flour, cardamom, nutmeg, baking powder, baking soda and salt. Set aside.
In the bowl of a stand mixer beat the remaining 8 tablespoons of butter and the granulated sugar until light. Beat in the egg yolks one at a time until well incorporated and then add in the vanilla extract. Add half of the flour mixture and beat until well combined. Add in the sour cream and then add in the remaining flour mixture.
Pour in the cake batter on top of the plums and using an offset spatula evenly spread the cake mixture over the plums.
Place the pan on a rimmed baking sheet to catch any juices and transfer to the preheated oven baking approximately 1 hour or until a cake tester comes out clean after inserting it into the middle of the tart.
Transfer to a wire rack to cool for 1 hour and then remove the ring and invert the tart onto a serving platter. Serve warm or at room temperature.
Serves 10.
Recipe adapted from Martha Stewart Living 2002 Annual Recipes.
Printable recipe