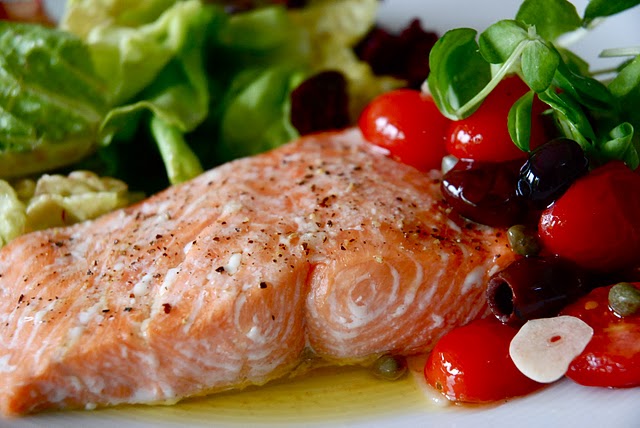 Sorry that it has been a bit quiet around here the last while. Truth is, I have barely cooked in two weeks so there was very little to share.
Last week Glen had a hiatus from work and so the two of us took a mini vacation to Las Vegas. Now, Las Vegas is not at the top of my list of vacation destinations. However…  Glen loves Vegas. And I love Glen. And so I go with Glen to Las Vegas.
As I am not a lucky gambler I try to keep myself as far away from the tables/slot machines as possible. I tend to do a lot of walking, a bit of shopping, some people watching and make sure that I bring a good book with me. When I am not walking/shopping/watching/reading I am most certainly eating. I have been going to Las Vegas with Glen for 15 years (how's that for love!) and while some things never seem to change in Sin City the culinary scene has undergone a dramatic transformation. The days of choosing between the 99 cent shrimp cocktail and the midnight buffet are over. Now the challenge is to decide whether you want to eat in a restaurant whose menu was designed by Thomas Keller, Joel Robouchon, Alain Ducasse or Michael Mina. For our three night visit we checked out Bouchon at The Venetian, Circo at The Bellagio and Mix and THEhotel at Mandalay Bay. We ate, drank, savoured and enjoyed every mouthful. Then we came home and rolled right into Thanksgiving weekend. Cut to a rapidly expanding waistline…
For the last few years we have gone for our turkey dinner to my Mother-in-law's house who is an amazing cook. Anneliese manages to put on a delicious meal for the entire family and always makes it seem so effortless.  Glen's sister, Kerstin, always makes Thanksgiving dessert, which is pumpkin pie with a pecan, praline crust. This is the best pumpkin pie that I have ever, ever tasted. There would be a family riot if she ever decided to opt out on this one and thankfully she always makes a couple of pies so that we can take a piece home to go with our coffee in the morning.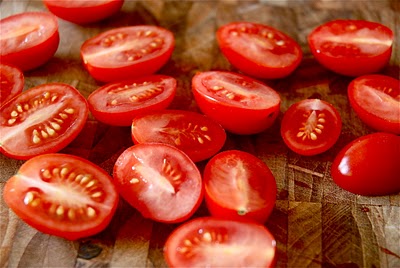 As you can imagine, such a week of eating, eating and then more eating took a bit of a toll on my digestive system not to mention my waistline. Getting back into my own kitchen on Monday I was craving fresh salads and crunchy fruit and something healthy for dinner that was still full of flavour. This salmon provençal paired with a crunchy Bibb lettuce salad was perfect. The garlic and tomatoes are gently poached in some olive oil. Add in a pinch of hot chilli flakes, some pitted Niçoise olives, a few capers and some fresh basil and serve with a roasted fillet of salmon. My kind of delicious, simple health food.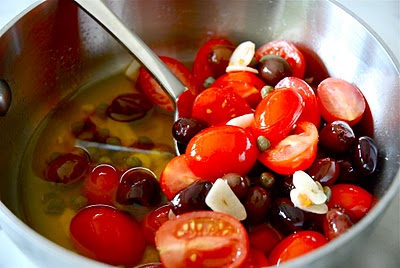 Salmon Provençal
1 cup of grape or cherry tomatoes, cut in half
1 or 2 medium garlic cloves, very thinly sliced
1/3 cup pitted Niçoise olives
1/4 cup good extra virgin olive oil
1 tablespoon capers
Pinch of chilli flakes
2 tablespoons basil, thinly sliced
4 salmon fillets, approximately 6 ounces each
Fine grain sea salt and freshly ground pepper
Pea shoots to garnish (optional)
Preheat the oven to 400 degrees F.
Lightly season the fish with salt and pepper. Place the fish on a cooling rack that is over a baking sheet. Once the oven has preheated roast the fillets until the fish just begins to flake, 10 to 12 minutes.
Meanwhile, in a medium saucepan place the cherry tomatoes, sliced garlic and Niçoise olives with the extra virgin olive oil and heat over low heat. Add the capers and chilli flakes and continue to cook over low heat for 5 minutes or so until the garlic and tomatoes are beginning to soften. Season with pepper and a bit of salt if needed (with the olives and the capers it may be salty enough). Remove from the heat and stir in the basil.
To serve, spoon a couple of tablespoons of the tomato mixture over each of the salmon fillets. Garnish with pea shoots if desired.
Serves 4.
Printable recipe