We are right in the thick of gearing up for Halloween night around here. For Glen and Max Halloween is one of the most important holidays of the year, right up there with Christmas and Max's birthday. They plot and plan possible costumes that Max might wear, they discuss how many fog machines and coloured lights will be needed and where these should be placed. They dig graves and get out the power tools and make head stones and graveyard crosses that they splatter with red paint. They trample every last flower, herb and vegetable in the front garden in their quest to hang fake cobwebs from the trees and fence posts. They meticulously position the mini wind machines that so gracefully blow the gauzy robes of the half dozen ghoulish monsters and demons dangling from the trees. There are cauldrons of dry ice and rolls of "do not cross" police tape and countless skeletons hanging about, vampires and black cats and of course a bunch of carved pumpkins too.
I buy the candy.
Last year when my neighbour complimented me on the Halloween decorations I admitted to her that I really had nothing to do with it, that it was all the hard work of  Max and Glen. She replied "Yeah, you can kind of tell. It doesn't have that matchy-matchy Martha Stewart vibe that you have going on…" Ouch!
Anyway, in addition to buying the candy, I also make the dinner.
Tonight we are having the grandparents and some friends over and since we will be consumed with running back and forth to the door to hand out the treats (we generally get around 200 kids) I need to keep it relatively simple. I am going to make a big pot of garlic pasta (to keep the vampires away) and a couple of mushroom and radicchio lasagnas (because my sweet friends Sheryl and Jenny dropped off some stunning Chanterelles that Jenny foraged for herself on the Sunshine Coast!) and the roasted beet salad that you see above.
Blood red beets seem appropriate for the holiday and this salad is great because all of the components can be prepped ahead of time. It can be served on a big platter family style, which is what I will do tonight, or individually plated for a more elegant approach.  And after all of those mini chocolate bars that I will inadvertently scarf down tonight, a few nutrient rich beets on the menu seems like a very good idea. Happy Halloween.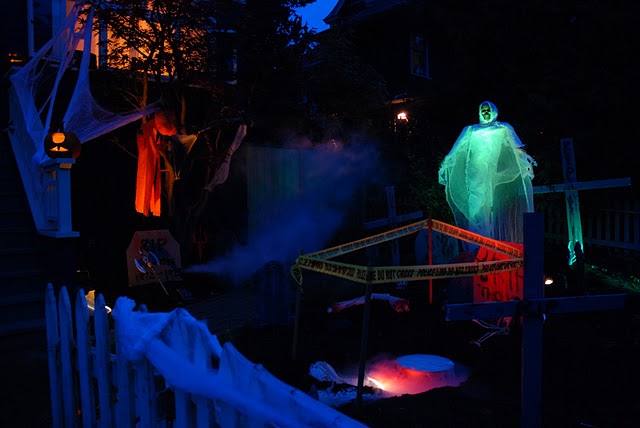 Roasted Beet Salad with Mâche, Green Beans, Toasted Walnuts and Roquefort Cheese
I have this recipe listed under the gluten free category but some people who have celiacs disease cannot handle blue cheese. You can always substitute goats cheese to ensure this is a safe recipe for those who are eating gluten free.
6 medium beets, washed well
1 1/4 cup walnuts
3/4 lb haricot verts
1/2 cup sherry vinegar
1 tablespoon Dijon mustard
1 cup grape seed oil
1/3 cup cold pressed walnut oil
Salt and pepper to taste
1 lb mâche salad or mixed greens or baby arugula, washed well and dried
1/3 lb blue cheese such as Roquefort (or even Stilton) broken or cut into 16 pieces
Preheat the oven to 375 degrees. Wrap the beets in aluminum foil. Bake until tender 1 to 1 1/2 hours, until soft and yielding when pierced with the tip of a knife. Cool, remove skins and cut into wedges or a large dice. Chill until needed.
Spread the walnuts on a baking sheet and toast them in the oven for 3 to 5 minutes or until they give off a nutty aroma. Do not allow the nuts to brown.
Meanwhile, prepare an ice-water bath and bring a large pot of salted water to a boil over high heat. Add the beans and cook until tender 3 to 5 minutes. When the beans are done plunge them into the ice water to stop the cooking process and set the colour.
For the vinaigrette whisk together the mustard, vinegar, salt and pepper. Slowly whisk in the grape seed and walnut oils.
In a medium bowl toss the beets with some of the vinaigrette. Season with salt and pepper and set aside.
In another medium bowl toss the beans with some of the vinaigrette. Season with salt and pepper and set aside
In a third bowl dress the greens with some of the vinaigrette and season with salt and pepper.
If serving the salad family style place the beets, greens, beans in separate piles on a large platter. Garnish with the toasted nuts and blue cheese. Serve.
If serving on individual plates place 1/8 of the beets in the centre of each of the salad plates. Top with a small bundle of the green beans and top with some of the mâche salad. Arrange 2 pieces of the cheese on each plate and top with a few of the toasted walnuts. Serve.
Serves 8.