The birthday party for my parents on Sunday night was a big success. They invited some very lovely friends, and there was plenty of animated conversation, lots of laughs, a few cocktails, and some good food. Mom and Dad were happy.
We started out with some drinks and a few hors d'oeuvres. As I get older I have come to realize that less really is more when it comes to the appetizers. You don't want people to be so stuffed from the array of snacks presented that they feel overwhelmed by the time the first course arrives before them. You really do want people to feel a bit hungry when they sit down at the table.
We started the dinner with these savory, fresh and seasonal tarts. The crunch of the flaky puff pastry combined with the sweetness of the caramelized onions, the silky texture of the tomato confit and the melted goat cheese and the herbal hit of the basil pesto is really wonderful. These are a substantial first course yet still light and can be scaled down to be served as an amuse bouche or as an hors d'oeuvre. These are perfect as a light lunch as well.
There are a few steps involved in this recipe but many can be done ahead of time. Make the tomato confit and your caramelized onions the day (or two) before and then it is easy to bake off the puff pastry rounds in the morning and assemble the tarts just before serving. If you happen to have any leftover tomato confit you can always use it up in salads, sandwiches, pizzas or omelettes. Or you could put it in a little jar and give it as a present to someone you like (or love) as a gift. I always love food gifts…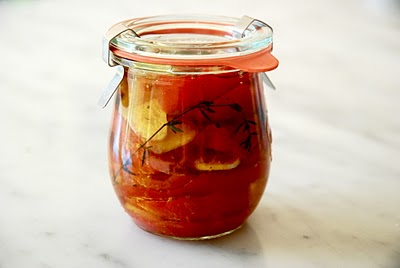 Onion Tarts with Tomato Confit, Goat Cheese and Pesto
Both the tomato confit and the caramelized onions can be made up to two days before serving.
For the tomato confit:
14 Roma tomatoes
2 garlic cloves, peeled and thinly sliced
6 sprigs of thyme
2 large or 4 small fresh bay leaves
3/4 cup extra virgin olive oil
Coarse sea salt and freshly ground pepper
For the caramelized onions:
4 medium onions, peeled and thinly sliced
1/4 cup of extra virgin olive oil
6 sprigs of thyme, tied in a bundle with kitchen string
Fine grain sea salt and freshly ground pepper
For the tarts:
1 pre-rolled sheet of puff pastry, thawed if frozen
150 grams of goat cheese or other soft cheese such as Boursin
2/3 cup basil pesto
6 sprigs of fresh basil for garnish
For the tomatoes:
Preheat the oven to 200 degrees.
Place a medium pot, filled with water, on high heat and bring to a boil. Core the tomatoes and with a sharp pairing knife cut an X into the base of each tomato. This will aid in the peeling of the tomatoes once they have been blanched.
Prepare and ice bath and set aside.
Once the water is boiling blanche the tomatoes (you may need to do this in two or three batches depending on the size of your pot) the tomatoes for 5 to 10 seconds. You don't want to cook the tomatoes at this stage just heat them enough that the tomato skins easily slip off. Remove the tomatoes into your prepared ice bath and allow to cool. If the skins don't come off easily you can re-blanche them until they do.
Peel the tomatoes and then cut them lengthwise. Using a melon baller remove the seeds from the tomatoes and place in a oven proof dish, in a single layer, cut side up. Season with coarse salt and pepper and sprinkle the sliced garlic on top. Place the bay leaves and thyme sprigs on top and pour the olive oil over the top of the tomatoes.
Place in the pre-heated oven and cook for 1 1/2 to 2 hours until the tomatoes are soft but not falling apart.
If making ahead, allow the onions to cool and then place in an airtight container and refrigerate until needed.
Heat the olive oil in a large saucepan over medium heat. Add the onions and season with some salt and pepper. Add the thyme bundle and sauté over medium heat stirring, using a wooden spoon, occasionally. The onions will initially become translucent and then slowly start to brown. Turn heat down to medium low and continue to cook  slowly until onions begin to turn a dark brown. This may take 20 to 30 minutes. You will need to stir the onions frequently and ensure that you scrape the bottom of the pot with the wooden spoon to prevent burning. When the onions have reached a beautiful deep brown colour remove from the heat and discard the thyme bundle. Check and adjust seasoning. If making ahead, allow the onions to cool and then place in an airtight container and refrigerate until needed.
Preheat oven to 400 degrees.
Unfold the pastry and place on a lightly floured work surface. Place a 4 inch ring form or a small upturned bowl or even make yourself a template out hard plastic that measures 4 inches in diameter and cut out 6 rounds from the sheet of pastry. You could always just cut them into 4 inch squares if you don't have a 4 inch round form etc. Place pastry rounds/squares on a sheet pan lined with parchment paper or a silpat and then if you have another silpat place that on top of the pastry rounds. The weight of the silpat will limit the amount of rise the puff pasty will do while baking in the hot oven. We want the pastry to puff up but not so much that we have a sky high tart base. If you don't have a silpat then just prick the pastry all over with a fork before they go into the oven.
Bake the tarts for approximately 10 to 12 minutes until they are golden brown. Remove and allow to cool.
To assemble:
Preheat the oven to 375 degrees. On a parchment lined baking sheet place the pre-baked pastry rounds. Top with some of the caramelized onions (about 2 tablespoons or so per tart), then some goat cheese (again a tablespoon or two depending on personal taste) and finally place two to three of the pieces of the tomato confit depending on their size. Place in the preheated oven for 10 minutes or so until all of the components are heated through and the cheese is melting.
To serve:
On each of the six serving plates place two tablespoons of pesto and using a spoon spread the pesto out in a circular pattern to line the base of each plate. Top with the warmed tarts and garnish with some black pepper and a sprig of basil. Serve warm.
Serves 6.
Printable recipe