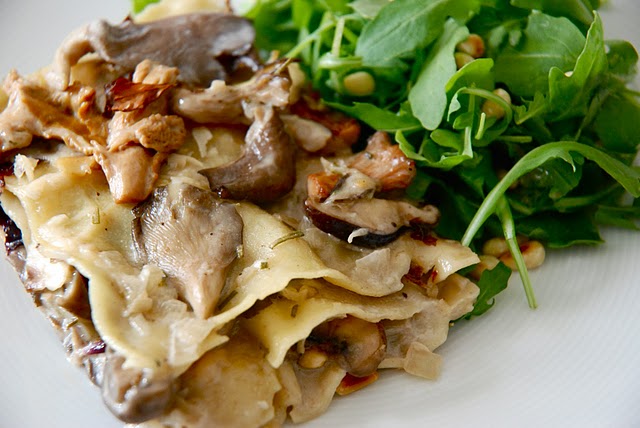 My trip to the Trout Lake Farmer's Market this past Saturday morning was the highlight of the weekend. The weather was beautiful, both Max and Glen happily agreed to walk there with me, and once we arrived Glen even stood in line (he usually hates lineups) to buy me a ham and cheese buckwheat crêpe from the crêpe guy.
In addition to the great company there were all of the amazing fall fruits and vegetables on display.  I always like to do one walk through the market and check out what everyone is offering and then go back and do my buying on round two. I noticed that in addition to the the lady who sells the organic cultivated mushrooms there were two other guys selling some really wonderful wild chanterelle and pine mushrooms. I bought some from each vendor. Then I spied the most beautiful, vibrant elongated radicchio and it reminded me of a recipe that I used to make fairly often, a mushroom and radicchio lasagna with rosemary.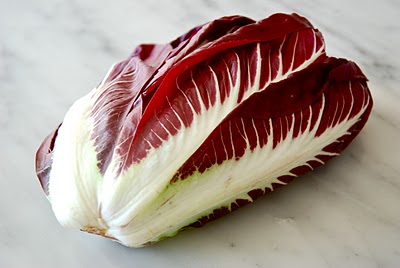 This recipe was passed on to me by my friend Molly who is a very, very good cook. Not in a show-offy kind of way but in a very thoughtful, simple yet deeply satisfying kind of way.  She shops and preps and cooks with care (and love) and this is what makes her food so special and delicious. (She also happens to be a furniture maker and owns a wonderful store in Vancouver called Molly's Furniture Salad).
This lasagna is based on a dish she had in Rome with her husband eleven years ago. Eleven years ago! Sometimes I have trouble remembering what I had for breakfast.  Not only does Molly remember this meal vividly, like a culinary snapshot burned in her mind, but she still lights up with enthusiasm when asked to share the recipe.
I hadn't made it for some time and so I called her up for the recipe details. Off the top of her head she recited the ingredient list of onions, mushrooms, radicchio, rosemary, fresh lasagna noodles and cream and Parmesan (I think). With so few ingredients there is the the natural reaction to start adding extra stuff. What about sausage or spinach, tomatoes or goat cheese? All would be great BUT it really is a wonderful, delicious dish as is.
| | |
| --- | --- |
| | |
One of the things that appeals to me so much about this lasagna is its simplicity. Instead of making a béchamel or using ricotta cheese or tomatoes the sauce is accomplished simply by adding some cream to the sautéed onions, mushrooms and rosemary. Reduce ever so slightly and layer between fresh sheets of egg pasta and the radicchio and then bake. It must be said that the stunning colour of the radicchio is lost during the baking but what it looses in beauty it more than makes up for in depth of flavour. The pleasing bitter bite compliments the earthy mushrooms and rosemary perfectly.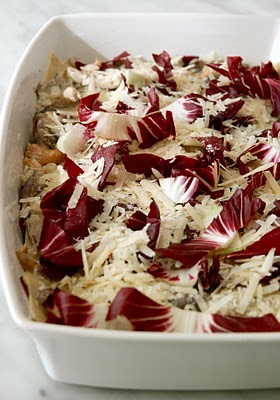 I did add some Parmesan and a couple of cloves of garlic and I think I reduced the sauce just a bit more than Molly does but it was still very good. I used a mix of mushrooms but if I was feeling particularly flush I would love to try this using only chanterelles (at $14 per pound).  The initial version enjoyed in Rome so many years ago is slightly different again with the al dente cooked lasagna noodle draped over a small pool of cream on the plate and napped with some more of the sauce and a sprinkling of cheese. It seems like this would be an elegant way to serve it for a dinner party.
For this more rustic version I served it alongside an arugula salad topped with toasted pine nuts. Simple, seasonal and deeply satisfying.
Mushroom Lasagna with Radicchio and Rosemary
2 lbs mushrooms (I used a mix of Chanterelles, Pine, Oyster, and Shiitake), brushed clean, tough stems removed and sliced. I left my pieces on the larger side but uniform so they cooked evenly.
1 onion, medium dice
2 garlic cloves, minced
2 tablespoons butter
1 tablespoon extra virgin olive oil
1 heaping tablespoon minced fresh rosemary
1 1/2 cups of whipping cream
2 cups of radicchio, cored and sliced
1 3/4 cups grated Parmigiano Reggiano
6 sheets of fresh, egg lasagna noodles (mine measured 4 1/2 x 14 and came to about 3/4 of a pound)
Fine grain sea salt and freshly ground pepper
Preheat the oven to 375 degrees.
In a large sauté pan melt the butter and add the olive oil and chopped onions. Sauté over medium-low heat until the onions are soft and translucent but take care not to allow them to brown. Add in the minced  garlic and the rosemary and cook, stirring for a minute or two until the garlic becomes fragrant. Add the mushrooms and 3/4 teaspoon of salt and some freshly ground pepper. Increase the heat to medium and cook the mushrooms until they become soft and release their juices approximately 10 to 15 minutes.
Add the cream and increase the heat to medium-high and allow the cream to come to a simmer for 2 to 3 minutes. Check and adjust seasonings. The longer you simmer the thicker your sauce and the "drier" the lasagna.  This is all about personal preference, just don't make your mushrooms sauce too thick or there won't be any liquid to cook your noodles. Also, keep in mind the sauce will further reduce in the oven.
Using a baking dish that measures 9 x 15, spoon 1/2 cup of the mushroom mixture into the base of the dish. Top the mushroom mixture with two of your pasta sheets, 1 cup of the mushroom mixture, 1 cup of the sliced radicchio and 1/2 cup of grated Parmigiano . Repeat. Top the third layer of noodles with all of the remaining mushroom mixture and 3/4 of a cup of cheese. A couple of grinds of black pepper works well here.
Bake, uncovered in the preheated oven for 35 to 45 minutes until the cheese has melted and the lasagna is bubbling. Allow to rest for 5 or so minutes before cutting. Serve hot!
Serves 6.
Printable recipe