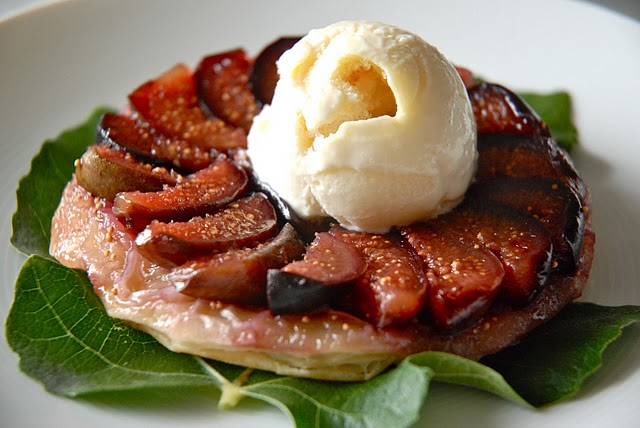 We luckily had a week long run of sunny weather which provided just enough warmth for some of the figs from our backyard tree to ripen. I mentioned in a previous post that seven years ago I picked out and planted a beautiful brown turkey fig tree that is a prolific producer of richly flavoured figs… as long as you live in California. The Vancouver summers are just not long or warm enough to guarantee an ample and consistent crop. Over the years my yields have increased (slightly) and on a good year I might get enough of these beauties to make jam, fig sauce for chicken and pork, figs for a half dozen pizzas with prosciutto and blue cheese and a fig tart or two.
This year the pickings were pretty slim. When it was all said and done I probably ended up with a few dozen ripe figs. I really can't complain as I live in a neighbourhood where lovely figs are available at the corner greengrocer but there is something so special and inspiring about cooking with fruit that you have grown yourself. I have since planted two green Italian figs, which are far better suited to our climate, but will have to wait for a couple of years for my first crop to materialize.
Having so few figs makes them all the more precious and so I decided to use some of this year's crop in one of my all time favourite fig recipes. This recipe is a take on the upside down apple tart known as tarte tatin that was invented so long ago by the Tatin sisters, Stéphanie and Caroline.
My introduction to this fig tatin was at the hands of super talented pastry chef Rhonda Viani when I worked at the restaurant.  Rhonda is not only very gifted at her craft but sweet and funny and managed to make the long hours in the kitchen so much more enjoyable.
All of Rhonda's desserts were/are an amazing combination of stunning, jewel like beauty and seasonal, regional, delicious flavours. Her version of this lovely tart at the restaurant included a Sambuca ice cream but to keep things simple I have opted to serve this with a straightforward vanilla. The Sambuca still makes an appearance here though, tossed with the cut figs before they are layered into the individual baking dishes. Don't be afraid of the Sambuca, the flavour works beautifully with the caramelized figs and the puff pastry base.
As is Rhonda's style this recipe has very few ingredients but they really do need to be super fresh and of the highest quality. Enter the few, precious figs from my garden…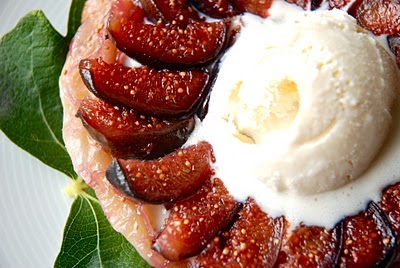 Fig Tatin with Vanilla Ice Cream
4 x 5 inch circles puff pastry, thawed if frozen and docked with a fork and well chilled
12 fresh figs, quartered
1/4 cup Sambuca or other anise flavoured liqueur
Butter for greasing ramekins
Sugar for ramekins
Ice cream for serving
Preheat oven to 400 degrees.
In a medium bowl gently toss the quartered figs with the 1/4 cup of Sambuca. Set aside. Butter and sugar four 4 1/2 inch ramekins or brûlée. Arrange the figs, skin side down in concentric circles.
Place a well chilled puff pastry round on top of the figs in each ramekins. The pastry will extend a bit beyond the ramekin but will shrink slightly during the baking of the tarts.
Bake in the preheated oven for 20 minutes or until the puff pastry is puffed and golden. Allow to cool slightly and then invert onto a serving plate. Serve immediately with the vanilla ice cream.
Serves 4.
Adapted from the Lumière cookbook.