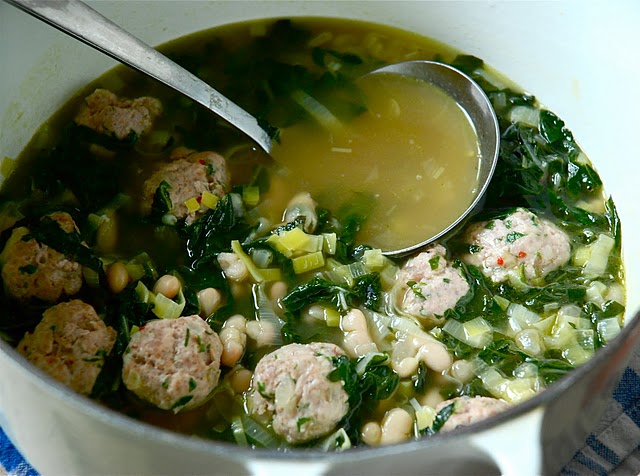 It is once again the season for soup! I must confess that I am not a lover of soups in summer. Chilled cucumber soup, Vichyssoise, even gazpacho most often leave me… cold (sorry, bad pun). The soups that I love and long for are cool weather soups that are warming, filling and comforting with ingredients that reflect the season. I also love the versatility of soups: they are great for a solo lunch, an after school snack or for a simple supper rounded out with a loaf of crusty bread, a hunk of cheese and maybe a salad.
I'm thinking that this year I might start Soup Kitchen Mondays here at my house. I will spend some time on the weekend making an aromatic stock and then make a huge pot of soup on Monday afternoon, enough to feed 12 or 14 people. Then whichever friends happen to be free can stop by, perhaps with a bottle of wine or a loaf of bread or something edible to share, and we can all have a low-key, unfussy meal, talk and enjoy an evening together. What a nice alternative to a more formal dinner party. Anyone in?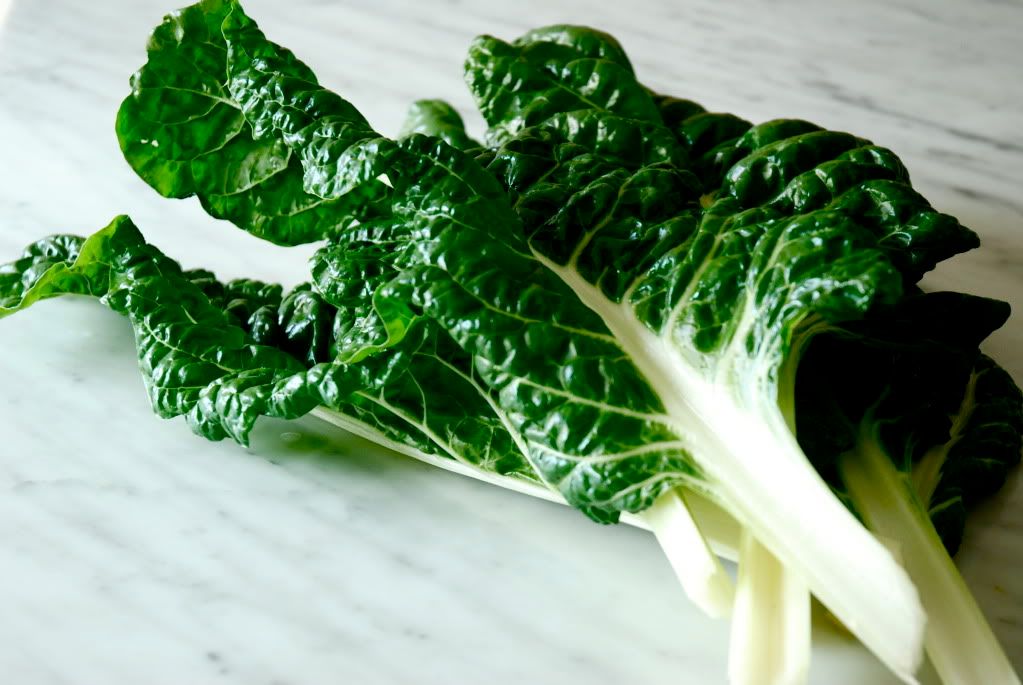 I have a surplus of swiss chard in my front garden and with the weather turning a bit chilly in the mornings and evenings the re-introduction of leeks and white beans feels right. I added in the turkey meatballs for Max in hopes that he would overlook the chard and at least be willing to give this soup a try. Success! He came home from school today, and before he started in on his homework he had TWO bowls. His only addition was hot sauce (the kid is crazy about Valentina hot sauce) and even ate some of the chard.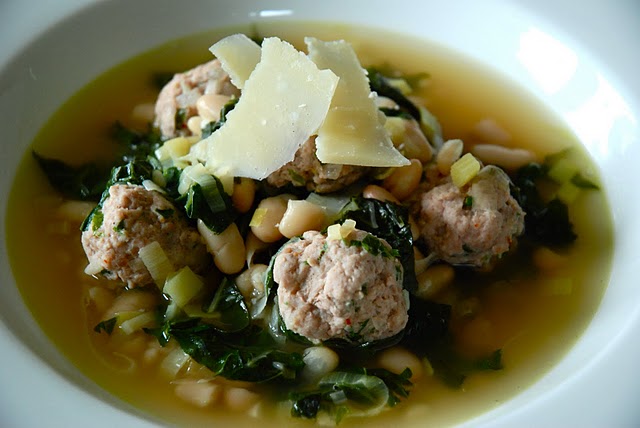 White Bean and Swiss Chard Soup with Spiced Turkey Meatballs
A bit of parmesan, thinly shaved with a vegetable peeler, is a nice addition to this soup but purely optional. Also, if you don't have the time to cook the beans from scratch you could always just open up a can or two. Just remember that 1 cup of dried cannellini beans equals 2 1/2 cups of cooked beans. If you end up using canned beans just add an additional 2 cups of chicken stock to replace the bean liquid.
For cooking the beans:
1 cup dried cannellini beans
1/2 tablespoon fine grain sea salt
1 bay leaf
1 sprig of thyme
For the meatballs:
1 pound ground turkey
1/4 teaspoon red chilli flakes
1/4 teaspoon coarse sea salt
pinch of cayenne
2 tablespoons minced yellow onion
1 tablespoon chopped parsley
For the soup:
1 tablespoon olive oil
1 tablespoon
1 medium leek, sliced and cleaned well of any grit or dirt
2 cloves of garlic, minced
1 bunch of swiss chard, tough stems removed and sliced into thin ribbons (about 6 cups)
1 litre of chicken stock
Fine grain sea salt and freshly ground pepper
Thinly shaved pieces of Parmesan cheese to garnish (optional)
Put 4 litres of water into a large pot and add the beans, 1/2 tablespoon of salt, the bay leaf and sprig of thyme. Bring to a boil and then reduce to low and simmer the beans, partially covered for approximately 2 hours, until the bean are tender. Remove the beans using a slotted spoon and set aside. Remove and discard the bay leaf and thyme sprig. Reduce the bean liquid down until you have about 2 cups.
To make the meatballs place the turkey meat in a medium bowl and add the minced onion, and parsley. Using a mortar and pestle grind the 1/4 teaspoon of chilli flakes with the coarse sea salt and the cayenne until the chilli flakes are well ground. Add the spice mixture to the ground meat, onion and parsley. Season with some more salt and pepper and mix gently. In order to check the seasonings take a tablespoon of your turkey mixture and fry it in a pan until cooked through. Taste this cooked portion to determine whether more salt, pepper or spices are needed. Once you are satisfied with the seasoning form the turkey mixture into small meatballs about 1 inch in diameter. Set aside.
In a medium soup pot heat the butter and olive oil and add the sliced leeks. Sauté leeks over low heat until soft and fragrant but take care not to allow the leeks to brown. Once the leeks are cooked down, add the minced garlic and sauté for a minute or so before adding the sliced swiss chard. Cook the mixture until the chard is wilted, about 2 to 3 minutes. Add the chicken stock and the reduced bean liquid, salt and pepper to taste and bring to a simmer. Add the meatballs and cook in the simmering soup for 8 minutes or until the meatballs are cooked through. Stir in the beans and cook for 5 minutes longer. Check and adjust seasonings. Garnish with Parmesan cheese if desired. Serve hot!
Serves 4.