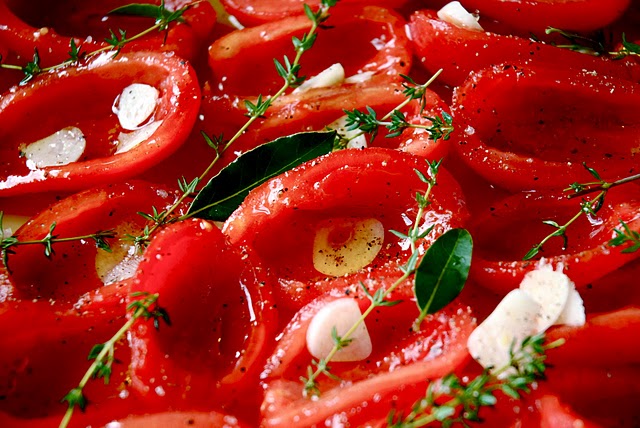 I am hosting a dinner party tonight to celebrate the birthdays of my Mom and Dad. My Dad turned 70 (!) last Wednesday and my Mom was right behind him with her 69th on Friday. They have invited three couples to join them for a low key dinner at my house.
Happy birthday Mom and Dad!
Here is the menu that they have asked me to cook for them:
Assorted Hors D'oeuvres
Onion Tarts with Tomato Confit, Goat Cheese and Basil
Mixed Greens with Oranges, Dried Cranberries and Toasted Pecans
Pork Tenderloin with Fig Sauce
Roasted Potatoes and Asparagus
Chocolate Caramel Tart with Fleur de Sel
I'm pleased that they want to celebrate here at our house and am just going to run out a pick up a few last minute ingredients before I spend the rest of the afternoon leisurely doing the prep for dinner. The table is set, the house is clean so I can just focus on doing my mise en place, which I always love.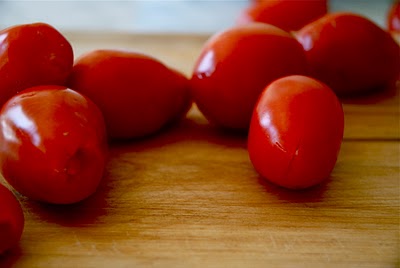 One thing that is already done is the tomato confit for the tarts. I am going to share that recipe today and then in the next couple of days I will post the tart recipe itself.  These tomatoes are so versatile and can be used to enhance any dish from a sandwich, to a pizza, to an omelet or be used as a vegetable accompaniment to a main course like fish or chicken. This recipe takes the humble Roma tomato and concentrates the flavour, elevating it to something that bursts with tomato-ness in your mouth.  When I worked at the restaurant I used to make trays and trays of these every two or three days. When I was making these yesterday the blanching and peeling and seeding of the tomatoes totally transported me back to those days.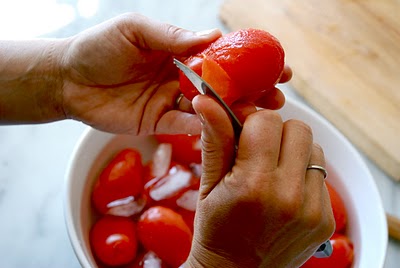 The only thing that takes a bit of time is the peeling and seeding of the tomatoes but this is easily accomplished by blanching them quickly and then submerging them in an ice bath. The skins then peel off in no time. In order to remove the seeds from the tomatoes I use a melon baller which works like a charm.
Don't be afraid of the amount of olive oil used it this recipe. It works to turn the texture of the tomatoes into what feels like velvet on your tongue but is is drained off after the long slow cooking time. I used this leftover tomato oil,  scented with garlic and herbs in vinaigrettes or when making mayonnaise or when cooking fish, or drizzled on a tomato and fresh mozzarella salad or to dip some crusty bread into.
Tomato Confit
14 Roma tomatoes
2 garlic cloves, peeled and thinly sliced
6 sprigs of thyme
2 large or 4 small fresh bay leaves
3/4 cup of extra virgin olive oil
Coarse sea salt and freshly ground pepper
Preheat the oven to 200 degrees.
Place a medium pot, filled with water on high heat and bring to a boil. Core the tomatoes and with a sharp pairing knife cut an X into the base of each tomato. This will aid in the peeling of the tomatoes once they have been blanched.
Prepare and ice bath and set aside.
Once the water is boiling blanche the tomatoes (you may need to do this in two or three batches depending on the size of your pot) the tomatoes for 5 to 10 seconds. You don't want to cook the tomatoes at this stage just heat them enough that the tomato skins easily slip off. Remove the tomatoes into your prepared ice bath and allow to cool. If the skins don't come off easily you can re-blanche them until they do.
Peel the tomatoes and then cut them lengthwise. Using a melon baller remove the seeds from the tomatoes and place in a oven proof dish, in a single layer, cut side up. Season with coarse salt and pepper and sprinkle the sliced garlic on top. Place the bay leaves and thyme sprigs on top and pour the olive oil over the top of the tomatoes.
Place in the pre-heated oven and cook for 1 1/2 to 2 hours until the tomatoes are soft but not falling apart.
The tomatoes can be stored for up to one week in the oil in the refrigerator. The leftover oil can be used in vinaigrettes, for dipping bread into, on salads etc.