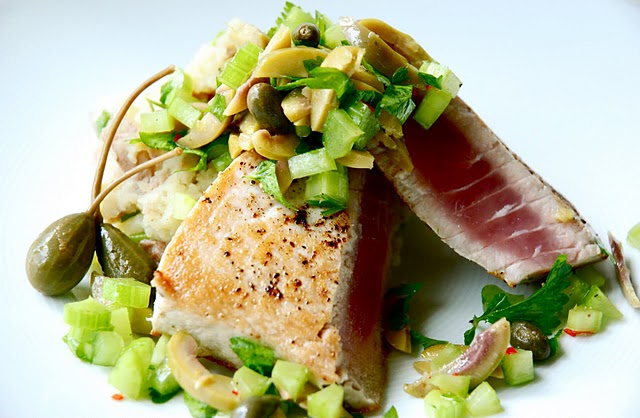 Last weekend was the first weekend in months that we were actually in the city and had no outside commitments. On Saturday it was great to start getting caught up on things around the house and in the garden as well as take care of a whole bunch of errands. By 5:00 pm we were finally on our way to the grocery store to pick up something for dinner. It needed to be healthy, not too pricey and quick to prepare as we wouldn't be home until after 6 pm and by that time the three of us would be starving.
I think it is always good to have a few stand-by recipes, stashed in your head, that are so straightforward and simple to make you can shop and cook without needing to consult a recipe .  I'm not a huge advocate of every meal being a super simple "30 minute meal" as I believe that good food often takes some time but sometimes I need something quick and easy to prevent me from pulling out my file of take-out menus!
One of my go-to sources for simple, beautiful, flavourful and often quick menu ideas is Bill Granger. He is an Australian self taught cook/restauranteur/food writer. He has a number of cookbooks out and they all feature lots of recipes that take a handful of ingredients and a straightforward cooking method and turn it all into something delicious to eat and lovely to look at. The green olive relish and tuna combo comes from his Bills Food cookbook and my copy is dog eared and splattered from its very frequent use in my kitchen. I changed this recipe a tiny bit by using lemon juice instead of some vinegar, more lemon zest and I added a few capers, just because I love them.
I think the scallion smashed potatoes really go well with the herby relish and the fish. As the potatoes are made with olive oil and chicken stock instead of the usual milk/cream and butter they taste lighter yet more earthy and the sliced scallions add a freshness that compliments the herb relish on the fish. They are also a snap to make: just coarsely mash the potatoes, leaving some lumps, add your stock and some good olive oil, scallions, salt and pepper. No potato ricer to wash!
We enjoyed this on Saturday night and from the time we got home it was just under 40 minutes before we were all sitting down at the table.
I had some leftover fish and relish and the next day, as I was going through the fridge, I wondered how I could possibly use up the little bit that was left. Then I thought how the fish and relish might just make a nice little canapé. I sliced the leftover tuna into squares and topped it with some of the salsa and garnished it with a whole parsley leaf. Here is the result. The great thing is you can make the components ahead and just assemble these when you are ready to serve. Christmas cocktail parties here we come…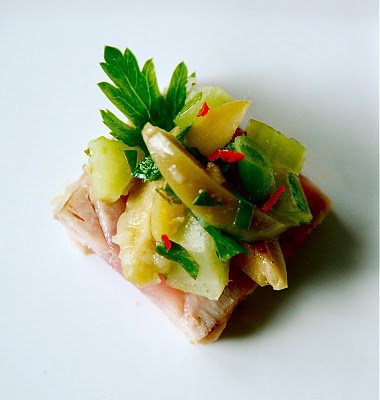 Seared Ahi Tuna with Green Olive Relish and Smashed Scallion Potatoes
For the tuna:
4 Ahi tuna steaks, about 6 ounces each
2 tablespoons of extra virgin olive oil
Fine grain sea salt and freshly ground pepper
Caper berries for garnish (optional)
For the relish:
7 ounces green olives, pitted and sliced
2 celery stalks, finely diced
2 garlic cloves, finely minced
1 fresh chilli, seeds removed and minced
Zest from 1 medium (unsprayed) lemon
3 tablespoons, chopped flat-leaf parsley
1 tablespoon capers, drained
1/3 cup good extra virgin olive oil
1 tablespoon lemon juice
Fine grain sea salt (you may not need this depending on how salty the olives and capers are)
Freshly ground pepper
For the potatoes:
1 1/2 pounds of red (or white) nugget potatoes or Yukon Gold potatoes cut into chunks
2 cups chicken stock
1/4 cup good extra virgin olive oil
1 bunch of scallions, washed, trimmed and thinly sliced
Fine grain sea salt and freshly ground pepper
Season the tuna steaks with salt and pepper and set aside.
Bring a large pot of salted water to a boil. Add the potatoes and cook for 20 minutes or so until the potatoes are cooked through. While the potatoes are cooking heat the stock in a small saucepan and keep warm.
Meanwhile, stir all of the relish ingredients together in a medium bowl. Check for seasonings and then add salt (if needed) and pepper.
Once the potatoes are cooked, drain them and add them back into the same pot. Add 1 cup of the stock and the olive oil and salt and pepper and using a potato masher coarsely mash the potatoes. Continue adding the last 1 cup of stock as needed. Fold in the sliced scallions. Check and adjust seasonings. Keep warm, covered until ready to serve.
Heat a large sauté pan over high heat and once it hot add the olive oil. Immediately add the tuna steaks and sear them for 2 minutes on each side. Remove the steaks from the pan and slice each of them into two smaller pieces.
To serve divide the potatoes onto 4 warmed dinner plates, top with the seared tuna (2 pieces each) and spoon the green olive relish over the top. Garnish with caper berries if desired. Serve.
Serves 4.
Seared tuna with green olive relish recipe adapted from Bills Food by Bill Granger.