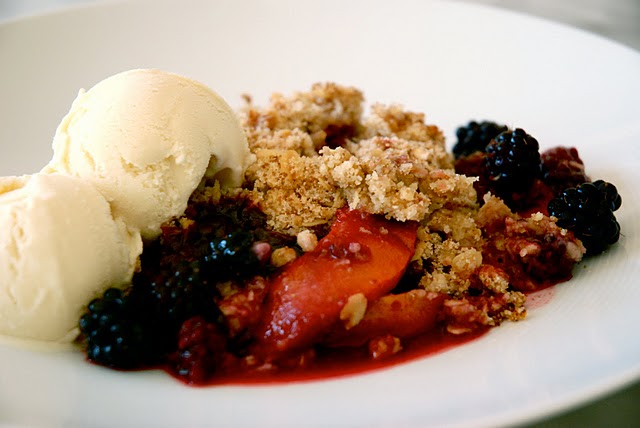 I know, I know, I know what you are thinking. "Can the woman please just move on from the peaches already!" I am painfully aware that this is my third consecutive recipe to showcase peaches and I am sorry, but I just can't help myself. I have been enjoying the peaches so much this year and have been eating a ton of them out of hand but am also enamoured as to how they are cooking up in both sweet and savory recipes. But I promise that this will be the last one for the season. And, to be fair, this time I have paired the peaches with blackberries and a crumble topping and some ice cream…
I have been making this recipe a lot this summer thanks to the amazing abundance of blackberry bushes on Keats Island where we have a cabin. It is our first summer on the island and I am astounded and delighted by the sheer number of beautiful, small, flavourful blackberries I can pick about 40 feet from our front door. My mind is racing with the multitude of possibilities as to what I can make with this many blackberries that are so close at hand. So far we have made this crumble more than a couple times, along with a blackberry pie, blackberry cordial (fresh blackberries slowly steeped in some good vodka with a few cardamom pods) as well as sampling an amazing blackberry streusel cake made by my sweet neighbour Sandy. Whenever I go for a walk on the island the air is scented by the smell of blackberries warmed by the sun, which is pretty magical.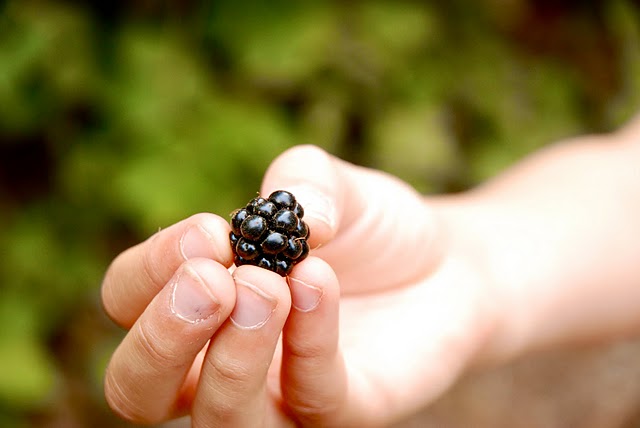 I have also discovered that you can learn a lot about a person by the way they approach blackberry picking. My husband is a very focused berry picker, very determined to secure the best area and fill his bucket quickly and quietly with only the best quality fruit. Unsurprisingly, my son Max is, well… somewhat unfocussed, more interested in the dragonflies drifting by or what the dogs are doing or what might be happening at the beach or how close we are to lunchtime. You basically have to bribe the kid to pick a yogurt container of blackberries…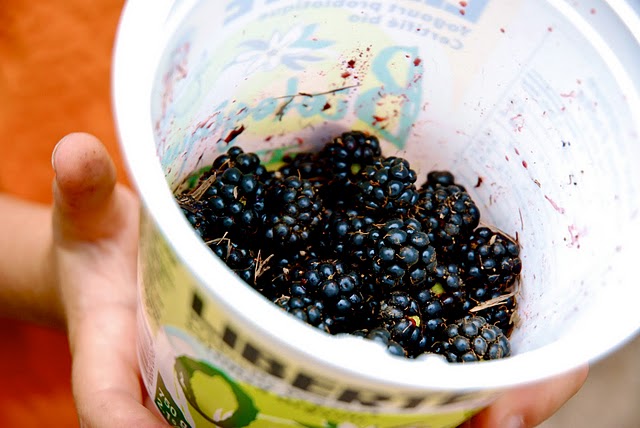 No matter. There are plenty of blackberries and plenty of time to pick them and plenty of people to help. And, of course, everyone always seems very ready, willing and able to eat the end result. And when these sweet, hand-picked blackberries are paired with some ripe, fragrant peaches and sugar and lemon zest and a crumb topping what could possibly be better. A sweet farewell to summer…
Peach and Blackberry Crumble
This is best served just slightly warm with some good vanilla ice cream!
For the fruit:
6 medium peaches, peeled, pitted and sliced
3 cups fresh blackberries
1/3 cup of granulated sugar
1 tablespoon of cornstarch
Zest of 1 lemon
1 teaspoon of vanilla extract
For the crumble topping:
2/3 cup of all purpose flour
1/3 cup of granulated sugar
1/3 cup of light brown sugar
1/2 teaspoon fine grain sea salt
2/3 cup of oats
1/2 teaspoon ground cardamom
1 stick plus 1 tablespoon of cold, unsalted butter, diced
Preheat the oven to 425 degrees.
Place the sliced peaches, blackberries, lemon zest, sugar, vanilla and cornstarch in a large bowl and mix very gently to combine. Transfer to a 9 x 14 baking dish.
To make the crumble topping, combine the flour, sugars, salt, oats and cardamom. Add the diced butter and using a couple of forks or a pastry cutter (or even you fingers in a pinch) work the butter into the dry ingredients until it is the size of peas. Scatter the crumble topping over the prepared fruit in the baking dish and place in the preheated oven for 25 to 30 minutes until the top is beginning to brown and the fruit is bubbling.
Remove and allow to cool slightly before serving.
Serves 8.