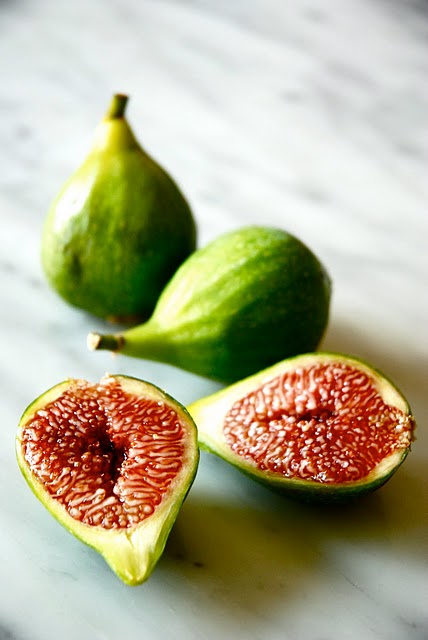 The figs are ripe! I have been watching with a wee bit of envy as all of the east coast bloggers write of the beautiful figs that they have been enjoying for well over a month. Here, in Vancouver, we must wait a little longer but finally the figs are beginning to ripen.
I live in a neighbourhood known as Commercial Drive that is often referred to as "Little Italy" due to the large number of Italian families that settled here after WW II. There are many, many coffee shops along the Drive and you can hear the old Italian guys arguing over espressos or on the bocci courts in Victoria Park. You can see the Italian mamas picking through the escarole, baby artichokes and fennel at Norman's Market or picking up their Prosciutto and Genoa salami at Santa Barbara Market and their Pecorino and Parmigiano Reggiano at La Grotta del Formaggio.
There are some really impressive backyard vegetable gardens and there are many, many fig trees in the neighbourhood.The house we bought did not come complete with the ubiquitous Commercial Drive backyard fig tree but that did not stop me. I marched right down to Figaro's Garden (3rd and Victoria Drive) and promptly bought a tree to plant in the garden. Sadly, I did not do due diligence on my research and decided that I would purchase a Brown Turkey Fig. This fig tree produces wonderful, lush, fragrant, delicious figs and is a prolific producer, as long as you live in…California. Summers in Vancouver are just not long enough or hot enough to give this variety what it needs for a really good, abundant fig harvest. My tree has been in the ground for 5 years now and I do get a decent amount of ripe figs if the weather is right but I have learned that it is the green Italian fig that thrives in my neighbourhood. Last year a neighbour offered me a clipping from his tree and while it is still small this year, it did leaf out and with some careful pruning and watering it should be bearing fruit in a year of so. I also found a free fig tree this past spring at a house demo and dutifully carted it home but cannot yet say whether it will make it. Fingers crossed.
The figs used for the following recipe came from my neighbour's tree and are pictured above. This is the same neighbour who gave me the rooted tree clipping and so I am hoping that one day I too will have abundant figs from which to make jam, sweet fig tarts on puff pastry with Sambuca ice cream and this easy, delicious fig sauce that goes so well with pork or chicken.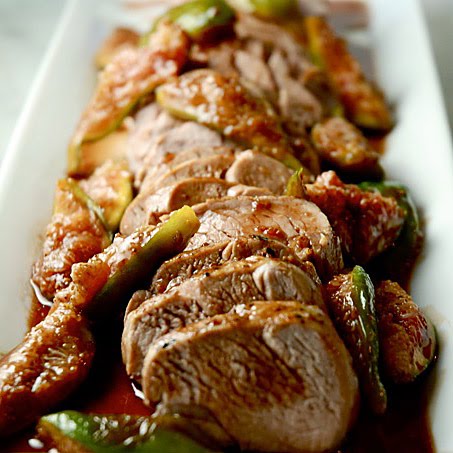 Roasted Pork Tenderloin with Fig Sauce
This is great served with mashed potatoes and some sautéed green beans on the side.

1 20-ounce pork tenderloin, cleaned of silver skin and halved
2 tablespoons canola oil or grape seed oil
Fine grain salt and freshly ground pepper
1 tablespoon of butter
6 fresh, green Italian figs or Brown Turkey figs, perfectly ripe and cut into quarters
3 tablespoons of balsamic vinegar
2 tablespoons of brown sugar
1/3 cup of chicken stock
Preheat oven to 400 degrees F. Season the pork well with salt and pepper. Heat a large sauté pan over medium high heat. When hot add the canola oil and the tenderloin. Sear off on all sides 2 minutes per side. Remove from heat and place on a wire rack placed over a cookie sheet and place in the preheated oven for 25 minutes.
Meanwhile, heat the butter in a medium sauté pan until melted. Add the figs to the pan and cook for 2 minutes, until golden. Remove the figs from the pan and set aside. Add the balsamic vinegar, stock and sugar to the same pan. Bring the mixture to a boil and simmer for 4 to 5 minutes until the sauce has reduced and thickened. Return the figs to the pan, heat through and keep warm.
Remove pork from the oven and allow to rest for 5 minutes. Slice the pork and place on a platter. Spoon figs around pork and pour sauce over and around the pork. Serve.
Serves 4.
Adapted from The New Cook by Donna Hay.
Printable recipe