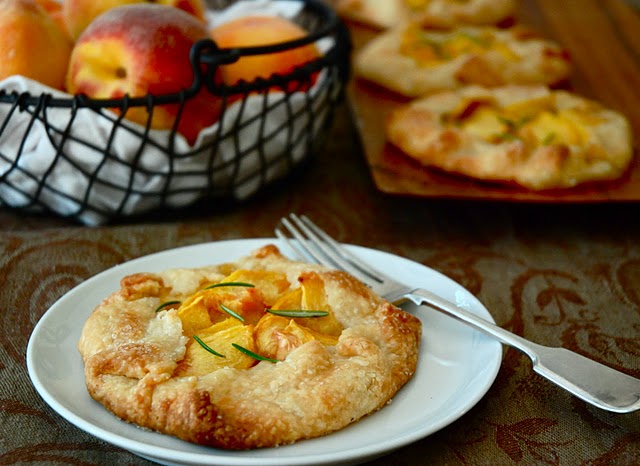 With the peaches in season and so perfectly ripe I couldn't resist another recipe that features them. This time in the form of rustic peach galettes with the addition of some fresh rosemary. It may sound a bit strange to incorporate a herb usually associated with lamb or chicken or savory sauces but you need to trust me on this one as a bit of rosemary really works well here. The key is to use the rosemary in judicious quantities so that it doesn't overwhelm the sweetness and perfume of the peaches. A sprinkling of sugar and a tiny drizzle of honey balances the herbal/savory quality of this potent herb. And it really must be fresh rosemary, the dried stuff just won't work here. The other key: beautiful, ripe fragrant peaches. These organic beauties came from the Okanangan Valley via Granville Island.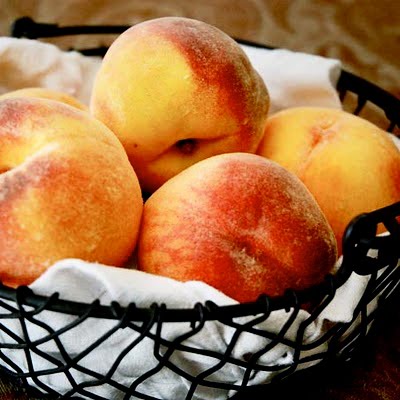 I wish I could take full credit for this unusual/delicious combination but in fact I first tasted these at a local artisan bakery in Vancouver called Terra Breads. The bakery has several locations around the city but in terms of their baking they tend to keep it fairly simple. No massive array of multi-tiered cakes or dozens of cookies to choose from but a thoughtful selection of delicious breads, a handful of cookies, one really good brownie, a grape and pine nut fougasse and some lovely rustic tarts of which the rosemary peach is one.
Simple to make, beautiful to plate and delicious to eat this is a great recipe to have on hand during the busy entertaining months of summer. A dusting of icing sugar and a scoop of ice cream or a dollop of whipping cream works wonderfully here. I took these to a potluck barbeque on Saturday and they disappeared in no time and I even had a few people seek me out to say how much they enjoyed them which is always music to my ears.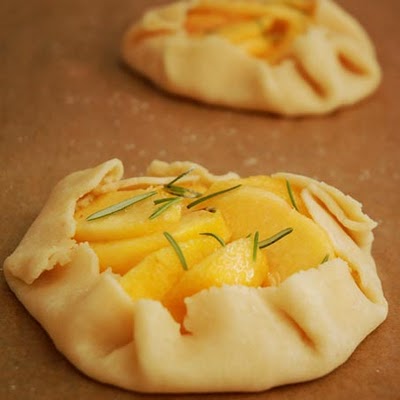 Before we get to the recipe I want to share some happy news. Somehow, someone at Saveur.com found my blog and will feature a previous post for Roasted Pork Tenderloin with Fig Sauce in their Daily Fare Section on their website on Tuesday, August 31st. I was pretty thrilled to find this out as I love this magazine and have been reading it since my cooking school days. They also added me onto their "Sites We Love" blog roll which totally made my day. Funny thing is that when I cooked that recipe I photographed it as a rushed afterthought and so I was unsure as to whether I should post the recipe at all as the photos were not that great.  For a second opinion I sent them through to my dear friends Ross and Sarolta who just happen to be real photographers and have their own photo studio called Pink Monkey Studios. These two have been huge supporters of my blog and I am becoming increasingly dependent upon them for their opinions on what photos to feature from the myriad that I take for each post.  Ross has also been editing many of the photos seen here and when he saw the work from my rushed shoot he helped me with resizing and generally fixing them up so that I was able to post them after all. Thanks guys! Peach galettes (and wine) are coming your way!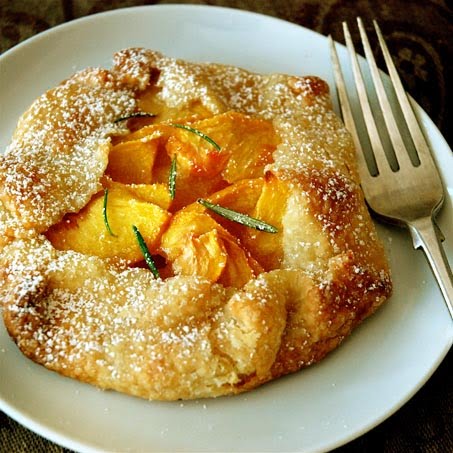 Peach and Rosemary Galettes
The pastry for this recipe comes from Ina Garten's Barefoot Contessa Parties. It makes enough pastry for 16 individual size galettes. Only need 8 galettes for your party/dinner? Freeze half the dough for the future.
For the pastry (16 individual galettes):
2 cups all purpose flour
1/2 cup granulated sugar
1/2 teaspoon fine grain sea salt
1/2 lb butter, diced and chilled
1/4 cup ice water
For the filling:
12 medium, ripe but not mushy, peaches
4 tablespoons plus 1 tablespoon of sugar
2 tablespoons of honey
2 tablespoons of rosemary "leaves", 1 tablespoon minced the other tablespoon leaves left whole
Icing sugar to sprinkle (optional)
To make the pastry:
Place the flour, sugar and salt in the bowl of a food processor and pulse a few times to combine. Add the chilled butter and pulse 12 to 15 times or until the butter is the size of peas. With the motor running add the 1/4 cup of ice water all at once through the feed tube. Pulse until the dough just comes together.
Turn the dough out onto a floured work surface. Form into 16 small disks and wrap each in plastic wrap. Place disks in the fridge and allow to rest for at least one hour. If you are only making 8 galettes place remaining 8 wrapped disks in the freezer for future use.
Preheat the oven to 400 degrees.
Peel the peaches, cut in half to remove the pits and slice into thin slices. Place in a bowl and toss with the 1 tablespoon of minced rosemary. Set aside.
Once the pasty has had a chance to rest and is cold roll out the disks on a lightly floured board or even better on a piece of marble (this helps to keep the pastry cool). Roll the dough into 4 inch rounds and arrange some of the  peach slices in a circular patterns in the centre of each pastry round. Sprinkle with a bit of the sugar and then a drizzle of honey. Gently fold the border up and over the peach for each of the galettes, pleating the dough to make a circle.
Brush the top of each of the tarts with a bit of whipping cream (or even water) and sprinkle with some of the remaining sugar. Now you have a choice to either add a few of the whole rosemary leaves on top before you place the tarts in the oven or wait until after the tarts have been baked. You get a more pronounced herbal flavour if you put the leaves on after the tarts have baked. But both ways work. Your choice.
Bake in a preheated oven for 25 minutes or so until the pastry is golden brown and the peaches are bubbling a bit. If you are putting the remaining rosemary leaves on after baking put them on now while the tarts are hot from the oven. Let the galettes cool for 5 minutes or so and then using a large spatula transfer to a wire rack.
Once cool, sprinkle with icing sugar and serve alone or with vanilla ice cream or whipping cream.
Makes 16 individual galettes.