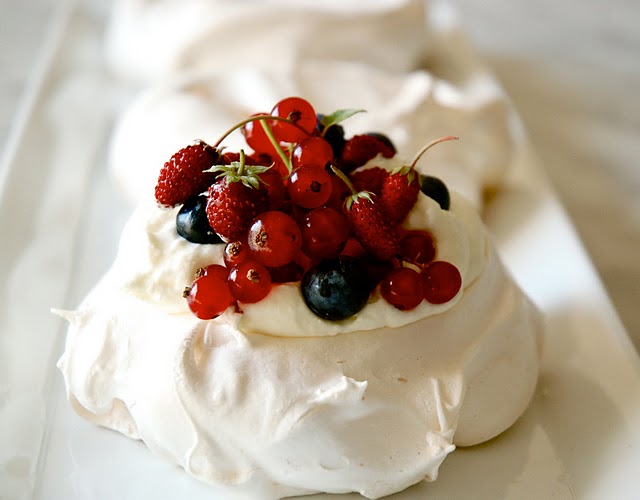 Funny thing about seasonality… We all anticipate the ripening of our gardens, the ripening of the summer season, but then bang (!) there are a whole lot of summer fruits and vegetables and we struggle to utilize them during their peak ripeness.
This highlights the blessing/curse of having a cabin get-away. I can't help but plant a garden every year but this is the first year that I have not been around to water and tend my beloved and labour intensive plot. And for reasons that currently escape me, I actually increased the size of my vegetable/fruit/herb garden this year. What the heck was I thinking!?
Luckily for me, my parents live relatively close by and my sweet Dad willingly comes by to water the garden, pick up the mail and generally keep an eye on things. We also have great neighbours with eagle eyes that give a quick call if anything seems untoward around the garden or homestead. I do love being away but there is always a small price to pay…
I came back from the island on Saturday and spent Sunday morning watering, pruning and harvesting the garden. I have had to sacrifice the fruits of some of my labour to the birds/insects but still managed to harvest an abundant crop from the red currant bushes, the fraise de bois strawberries, the blueberries and a good deal of raspberries as well. What better way to showcase the abundance of the summer berry season than to make some mini pavlovas and then top them with a dollop of whipping cream and all of the lovely fruits from the garden. It was the perfect end to a lazy, hot, summer, Sunday dinner…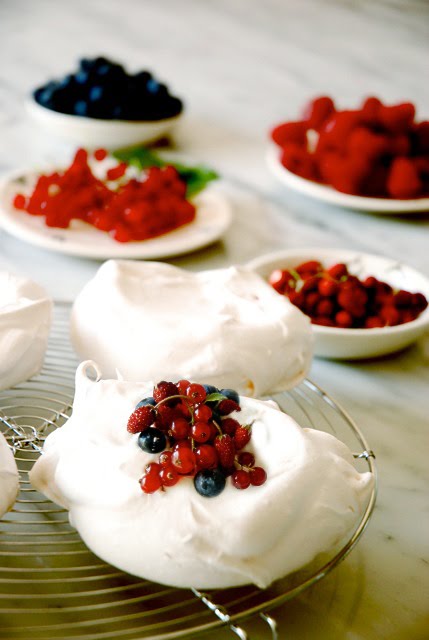 Mini Pavlovas with Garden Fruit
I used the red currants, fraise de bois, raspberries and blueberries from my garden but any summer fruit would be great here. Think sliced peaches, kiwis, cherries or even a raspberry sauce made by mashing raspberries with sugar and a squeeze of lemon juice.
Meringue:
1 1/2 teaspoons pure vanilla extract
1/2 teaspoon cream of tartar
1 1/2 tablespoons cornstarch
1 1/2 cup granulated sugar
6 ounces egg whites (from about 6 large eggs) at room temperature
1/8 teaspoon of salt
Topping:
2 pints of fresh berries such as raspberries, blueberries, red, white or black currants, strawberries…
500 ml whipping cream
1/4 cup icing sugar
Preheat the oven to 275 degrees. Line two baking sheets with parchment paper or silpat sheets. Stir the cornstarch into the sugar and whisk to combine in a medium bowl.
In the bowl of a heavy-duty mixer fitted with a whisk attachment, whip the egg whites, cream of tartar and salt, starting on low and increasing to medium speed until soft peaks form, approximately 2 to 3 minutes.
Increase speed to medium-high and slowly and gradually add the sugar cornstarch mixture. After these have been fully incorporated slowly add the vanilla. Increase the speed to high ad whip until the meringue is glossy and stiff peaks form. This should take 4 to 5 minutes.
Spoon the meringue into 10 rounds that measure 3 inches wide over the two prepared baking sheets. With the back of a spoon, create an indentation in the middle of the mound to accommodate the whip cream and fruit once the meringues have been baked.
Place the baking sheets in the oven and reduce the temperature to 250 degrees. Bake for 50 to 60 minutes but ensure that you check the meringues every 25 minutes or so to ensure that they are not becoming tan coloured or cracking. If they appear to be taking on colour of cracking reduce the temperature by 25 degrees and rotate pans.
Once the meringues have baked, gently lift them from the baking sheet and cool on a wire rack. The meringues will keep well if individually wrapped and sealed in a container at room temperature for up to a week.
To serve:
Whip the cream with the 1/4 cup of icing sugar until soft peaks form. Place a dollop of cream on top on each meringue and them top with seasonal fruit or sauce. Serve immediately.
Makes 10 mini pavlovas.
Recipe from Simply Recipes by Shuna Lydon of Eggbeater.