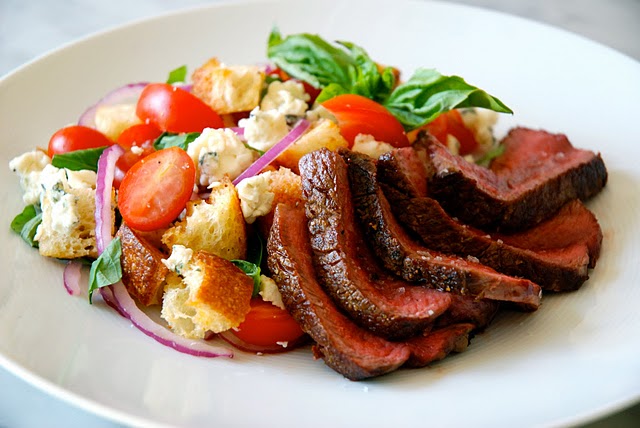 I love bread salad. I love it in the spring (with pea shoots, asparagus, fava beans and shaved parmesan), in the fall (with roasted wild mushrooms, pancetta and leeks), and in the winter (with roasted butternut squash, thyme and a chiffonade of kale sautéed with garlic).
But it is the summer bread salad the I love the very best. With some crunchy, cayenne dusted croutons, ripe tomatoes, a bit of red onion, some torn basil leaves and a bit of cheese, nothing says summer to me like this salad. Plus, it is easy to prep all the components ahead of time and simply toss them together when you are ready to serve it. This makes it perfect for a picnic in the park or to take along to a potluck BBQ at a friend's house or for an impromptu supper at the beach. Every time I take this salad  to a gathering I am assured of an empty bowl to take home and have even see people verbally sparring over who deserves the last crouton.
When all of the beautiful heirloom tomatoes start arriving at the farmer's market I know that it is time to make this salad. But even the plain old cherry tomatoes from the backyard or greengrocer will do. Just make sure that your tomatoes are ripe, as it does make all the difference.
I love to pair this salad with chicken or pork and when I do I usually opt for a cow or goat feta for the cheese. When I splurge a bit and serve the summer bread salad with a beautiful, rare, organic beef tenderloin I lean toward an Italian Gorgonzola but you could easily substitute a French Roquefort or even an English Stilton. I think that the blue cheese really compliments the beef but if you are not a fan of blue cheese feel free to use another cheese that you do enjoy.
I served this salad and beef tenderloin to my friends Steve and Don just last week and they brought a lovely bottle of Malbec from Argentina which proved to be a fantastic match.  I also had a variation of this meal made by my friend Sarolta at a our cabin last weekend and we enjoyed it with a Cabernet Sauvignon from California. A really, really good pairing too.
For me this truly is the quintessential, simple, summertime meal.
Summer Tomato and Gorgonzola Bread Salad with Seared Beef Tenderloin

For the croutons:
1/2 loaf of good, sourdough bread (approximately 8 ounces) cut into cubes
1/4 cup unsalted butter, melted (or a mix of melted butter and olive oil)
Pinch of two of cayenne pepper
Fine grain sea salt and freshly ground pepper
For the salad:
1 lb ripe tomatoes (cherry, campari, grape, green zebra, sungolds etc.)
1/4 medium red onion, thinly sliced
1/4 cup packed basil, torn into pieces
3 to 4 ounces of blue cheese such as Gorgonzola, Roquefort or Stilton, crumbled
For the vinaigrette:
1 tablespoon dijon mustard
4 tablespoons of sherry vinegar,
Fine grain sea salt and freshly ground pepper
1/4 cup of good extra-virgin olive oil
1/4 cup of grape seed oil
For the beef:
4 x 6 ounce beef tenderloins (tied with string for a uniform thickness that helps in even cooking)
1 tablespoon olive oil
Fine grain sea salt and freshly ground pepper
Coarse sea salt for sprinkling on the beef once it has been plated (optional)
Preheat the oven to 350 degrees F.
Place the cubes of bread in a bowl and drizzle with the melted butter or butter and olive oil combo. Season well with the salt and pepper and add a pinch (or two ) of cayenne. Toss the cubes gently with your hands or tongs to coat the bread evenly. Place on a rimmed baking sheet and bake for 12 0 15 minutes until the bread cubes are golden brown, rotating the tray and moving the croutons around on the tray halfway through the baking time. Remove from the oven and set aside to cool. Increase oven temperature to 400 degrees F to cook the beef.
Meanwhile remove the beef tenderloins from the fridge and allow to come up to room temperature, approximately 1/2 an hour of so. Tie with kitchen string to keep a uniform shape to the tenderloins as this will aid in even cooking throughout. This step may have already been done by your butcher. Season well, on both sides, with salt and pepper.
Heat a large, heavy oven safe skillet over high heat until very hot but not smoking. Add the olive oil and then sear the steaks for 3 or so on each side until well browned. Transfer to the preheated oven and to finish cooking the tenderloins, from 5 to 9 minutes, depending on desired doneness. Transfer the cooked tenderloins to a plate and tent with foil to rest.
In a medium bowl, whisk together the vinegar, mustard, salt and pepper. Slowly whisk in the olive oil and grape seed oil to make an emulsion. Taste for proper acidity levels and add more olive oil if the vinaigrette is too tart. Adjust seasonings as well.
Cut the tomatoes and place in a bowl. Add the sliced red onion, torn pieces of basil and the cooled croutons. Season with salt and pepper and add some of the vinaigrette. Toss to coat adding more vinaigrette as needed. You may not need all of the vinaigrette so cover and refrigerate remaining for another use. Top with crumbled blue cheese.
Slice the beef tenderloin and serve alongside on on top of the bread salad.
Serves 4.
Printable recipe