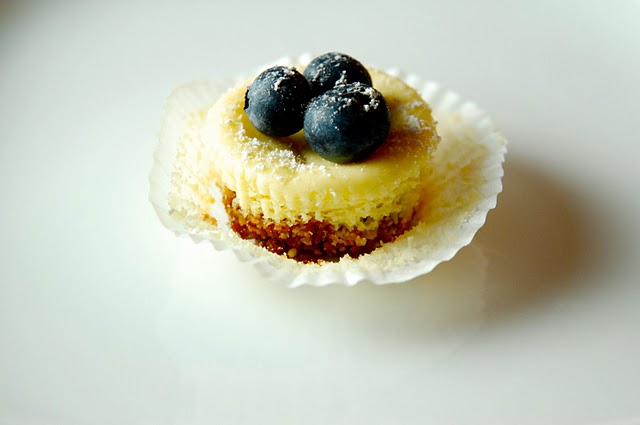 Last Sunday was the final bake sale of the year at Max's school and I was in desperate need of some inspiration. I had a few old standbys up my sleeve but really wanted to make something brand new.  Something unexpected. Something that would be bake-sale appropriate, relatively easy to eat out of hand, but not a cupcake or a rice crispy square or a chocolate chip cookie.
I headed straight over to one of my favourite food sites, Cafe Fernando. Cenk, the creator, writer, cook and photographer of the site was one the very first people to warmly welcome me to the world of food blogging. In addition to being a sweet guy he takes the most gorgeous photographs of inspiring dishes and is a wonderful writer to boot. It took no time at all to find just what I was looking for in these lemon cheesecake cupcakes. Cenk's version uses fresh mulberries from his father's garden but I think blueberries work well here too.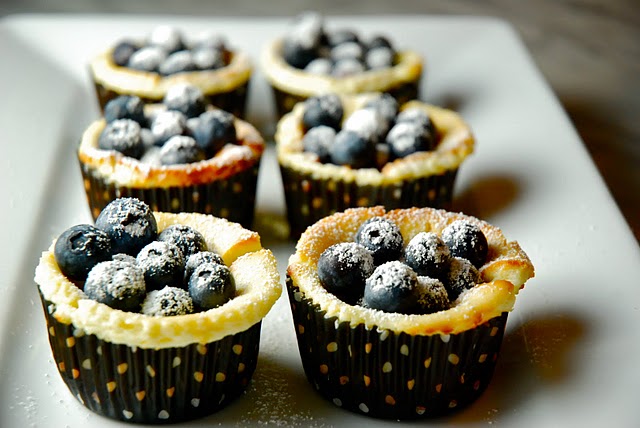 Cenk adapted the recipe from Delicious Magazine and it is very easy to follow. Once I had crushed the gingerbread cookies and almonds for the crust and then whipped the cream cheese, whipping cream, eggs, vanilla and lemon zest and juice together I was ready to slide the muffin tins (with the cutest polka dot liners) into my pre-heated oven. As the cheesecakes baked I realized that I still had some filling left over. Probably about enough to make 2 or 3 more cheesecakes.  Hmmm. I only have one 12 cup muffin tin so I figured I would just have to wait until they were baked and do round two. But wait! I had just purchased some mini, two-bite size muffin liners on a whim a few days before and my mini muffin tin was clean and ready to go. Everyone loves two-bite brownies and two-bite cupcakes, why not a two-bite cheesecake?
| | |
| --- | --- |
| | |
| | |
| --- | --- |
| | |
I made up a bit more of the gingerbread-almond crust and spooned the remaining filling into the liners. I guestimated the cooking time and was thrilled when these emerged from the oven. And I was doubly thrilled when I tasted them. With the blueberries nestled on the top and a dusting of icing sugar these are absolutely delicious! Addictive in fact. So addictive that while 11 of the 12 bigger size cheesecakes did make it to the bake sale on Sunday morning, not a single two-bite size left the house. In fact, I made more of them for a family dinner on Sunday night. A huge hit!
In order to check the yield on the recipe and how it translated to the two-bite size I needed to do more research and that meant baking another full recipe. The thought of having 5 dozen of these addictive, albeit small, treats hanging around the house was a bit of a concern.  Luckily, my sweet friend Aubin is hosting her annual spring tea tomorrow at her Montessori school. I am dropping off the 5 dozen mini-cheesecakes right after I finish this post.
Max attended her school for two years before he went to  kindergarten and learned so much when he was there. He loved Aubin as his teacher, so much so that he introduced her to his godfather Miles and, as fate would have it, Miles loved Aubin as much as Max did. We hosted Miles and Aubin's wedding last summer in our garden. Max was thrilled to be the ring bearer.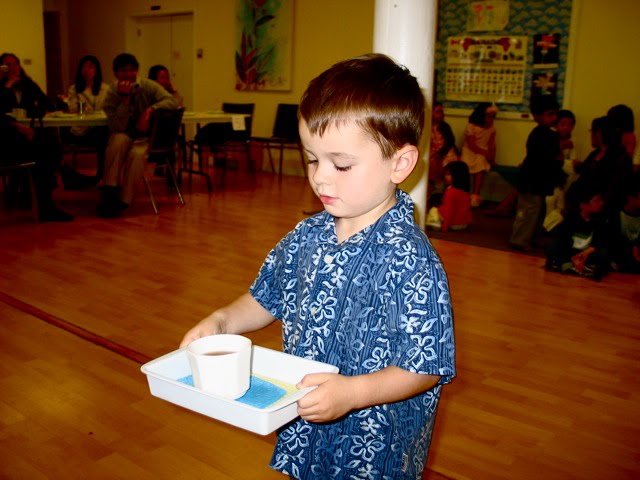 For me, the only thing cuter than these two-bite cheesecakes is this picture from the Montessori Tea 5 years ago when Max was just 3 years old. I love the look of fierce concentration on his little face. I remember this day like it was yesterday. How Max tottered across the floor, gripping the edges of the tray, so proud to serve the little cups of tea. How he had asked us in the most earnest voice "Would you like hot tea or iced tea?" How, after the tea was served, Max and his classmates sang us songs that they had been practising for weeks. Somehow, there is nothing more lovely and funny than hearing a bunch of 3 and 4 year olds belting out "Feelin' Groovy" by Simon and Garfunkle. Sweet memories…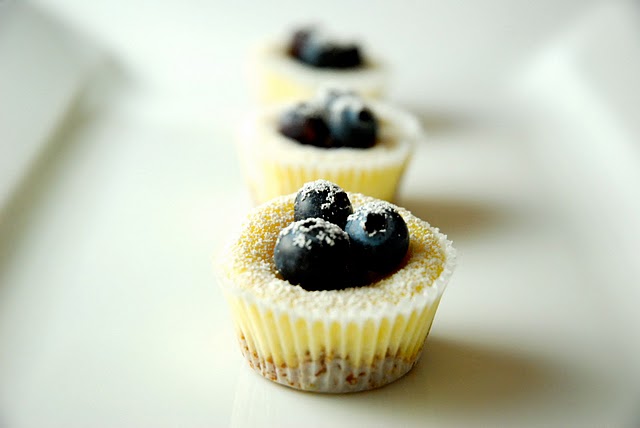 Two-bite Lemon Cheesecakes with Blueberries
This recipe makes 12 regular cupcake size or 5 dozen two-bite mini size. In the original recipe it calls for pushing a few berries into the filling before baking. I did this on the bigger sized ones but liked the look of a plain cheesecake with berries just on the top for the two-bit sized ones.
For a creamy texture it is best if all the ingredients for the filling are room temperature.
For the cookie base:
3-1/2 oz (100 gr) gingersnap cookies
2 oz (55 gr) toasted almonds
1 tablespoon of sugar
3 tablespoons of butter, melted
For the filling:
1 lb of cream cheese
3-1/2 oz of heavy cream
1/2 cup of sugar
2 large eggs
1/2 teaspoon good vanilla extract
1 tablespoon finely grated lemon zest
1 tablespoon lemon juice
5 oz of blueberries or mulberries or raspberries…
2 tablespoon of powdered sugar
Preheat the oven to 325 F. Line a 12 hole muffin tin with paper liners or 2 mini muffin tins with liners (or more of the mini ones if you have them as you are doing 5 dozen here…) and set aside.
Place the almonds in a bowl of a food processor and pulse until well ground. Add the sugar and the gingersnap cookies and pulse until fine crumbs are formed. Mix in the melted butter.
Press 1 heaped tablespoon of the cookie mixture (if making the bigger cupcake size) into the base of each muffin tin or 1 teaspoon (if making the two-bite size). Put in the refrigerator to chill while you make the filling.
Beat the cream cheese, heavy cream, sugar in a mixer until light and fluffy. Add the eggs, one at a time and mix well. Add the vanilla extract, lemon zest and juice and mix until well incorporated.
Remove the bowl from the mixer and rap the bowl hard down onto the counter. This is done to knock out any and all air bubbles that have built up during the mixing process.
Spoon the cream cheese mixture into the muffin cups with the chilled cookie bases. Fill each cup just over 3/4 full. Berries can be pressed into the filling if you would like before they go into the oven.
Bake the cheesecakes 25 to 30 minutes for the cupcake size and 18 to 20 minutes for the mini size. The cheesecakes will puff up and start to brown a bit on the top. Remove from the oven and allow to cool. Chill in the refrigerator until ready to eat. Even overnight.
Remove the cheesecakes from the fridge and decorate with some blueberries on the top. Dust with powdered sugar and serve.
Makes 12 cupcake size cheesecakes or 5 dozen minis.
Recipe adapted from Delicious Magazine June 2009 issue via Cafe Fernando.