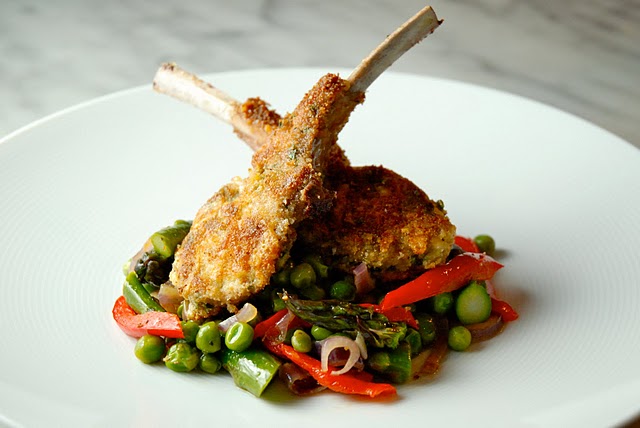 I know I'm not known for my brevity when it comes to these blog posts. Food, for me, is always linked to a person or a place, an event or a story (often longwinded).  But today, I am going to get to the point. I have a couple of upcoming recipes (and stories) to share that are rooted in summer which, I firmly believe, is right around the corner.
I have a great Ahi tuna burger recipe that will be perfect for this weekend, when it is time to fire up the grill, and a fantastic wine pairing to go with it.
I also just cooked through a stellar recipe for honey/garlic/dijon/herb pork skewers with a delicious couscous side dish that I am super excited to share.
I fear this spring lamb with vegetables will get lost in the mix. So here it is. Enjoy.
Parmesan and Herb Crusted Lamb Chops with a Spring Vegetable Ragout
The above photo shows a serving of 2 lamb chops per person. This is just fine if you are having your girlfriends or a small child over for dinner. However, if you have a 6'5″ male who happens to weigh over 200 lbs in your family, like I do, (or a reasonable facsimile) you are going to want to double this recipe. Seriously.


For the lamb chops:
1 rack of lamb, consisting of 8 lamb chops
1/4 cup of finely chopped flat leaf parsley
1/4 cup of finely chopped mint
1/2 cup bread crumbs
1/2 cup freshly grated parmesan cheese
fine grain sea salt and freshly ground pepper
2 large eggs
3 tablespoons of olive oil
For the spring vegetable ragout:
3/4 lb of fresh or frozen peas (defrosted)
3/4 lb of asparagus, cut into 1 inch pieces
1-1/2 tablespoon butter
1 tablespoon of olive oil
1 small red onion, thinly sliced
l large red bell pepper, cut into 1/8 inch strips
1/2 cup of water
fine grain sea salt and freshly ground pepper
Heat the oven to 450 degrees F.
In a medium dish combine the parsley and the mint and set aside. In a second dish beat the two eggs, set aside. In a third dish combine the bread crumbs with the parmesan cheese and set aside.
Cut the rack into 8 individual chops. Season each chop with salt and pepper and press the mint and parley mixture into the flesh of each chop, covering both sides. Dredge the herb crusted chops in the beaten egg and then into the bread-crumb mixture, coating them well.
In a large non-stick skillet heat the olive oil over medium-high heat. Add the chops, this may need to be done in stages as to not over-crowd the pan, and cook 2 minutes per side until well browned. Transfer the seared chops to a wire rack that has been placed over a cookie sheet. When all of the chops are seared off, transfer the cookie sheet to the pre-heated oven and cook for 2 minutes for medium rare, 5 minutes for medium and 8 minutes for medium well. Allow to rest for a moment or two before serving with the spring ragout.
While the chops are being seared on the stove-top heat the butter and the olive oil in a large sauté pan and add the onion and bell pepper. Cook until slightly wilted about 3 minutes. Add the peas, asparagus and salt and pepper. Cook for 1 to 2 minutes. Add the half a cup of water and increase the heat to high, cover and cook for about 3 minutes. Check seasonings and serve immediately with lamb chops.
Serves 4.
Recipes adapted from Martha Stewart's What to Have for Dinner.
Printable recipe