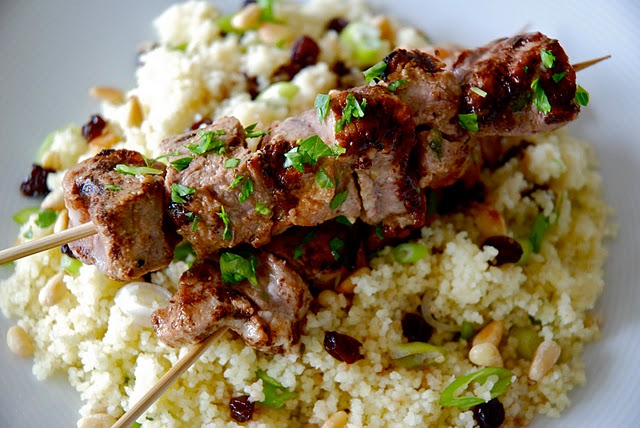 I've been thinking a lot about a blog post written by Michael Ruhlman back in January of this year. It was entitled America: Too Stupid To Cook. Even though it was written almost six months ago it is still generating a heap of passionate debate.
The premise is that we, as a culture, have been convinced that "cooking is so hard that we need other people to do it for us." That we feel that it takes too long and is too much of an effort to prepare a meal for our family. That 30 minutes is the outside edge of time that should be allocated to preparing dinner. It is about how we need to change this.
Some nights it is just easier to order in some sushi or pick up a rotisserie chicken or pop something in the microwave and be done with it.  Sometimes, I feel that with all the training that I have as a cook and the luxury of my current, very loose, schedule I should cook dinner every, single night. But that is not how it always works out and I try not to beat myself up about it.
I really love to cook for my family and friends and am generally not adverse to spending some time in the kitchen, but sometimes I just don't want to make a big production over a dinner. I want to make a meal that feels easy and is relatively quick.  Something that isn't going to have me frantically consulting every step in a complicated or long-winded recipe. Something that is going to prevent me from reaching for my stack of take-out menus. This is where it helps to have a few good techniques up your sleeve. Learning a technique is different than memorizing a recipe. It is about learning a practical method that can be applied to various different dishes and ingredients.  Technique, and some decent ingredients, can carry you through. Is learning a few cooking techniques going to eliminate the need to order in? Of course not but it does make cooking seem less like work and that tends to make me want to cook more.
It is like making risotto. It is always done pretty much the same way. Start with your aromatics which get sautéed in oil or butter, add the rice, stir to coat, then add the wine, then the stock in 1/2 cup increments. Cook and stir until al dente. You can add or subtract everything from garlic to fennel, seafood to meat to cheese to herbs but the basic technique is always the same. So a risotto bianco can become a pea and mint risotto, or a roasted mushroom and pesto risotto or a seafood risotto or a braised lamb shank risotto etc. No recipe needed. And, really, risotto takes about 1/2 an hour once it hits the pan. Quicker than pizza delivery.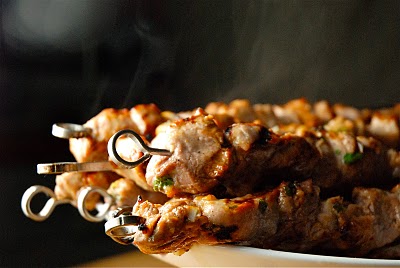 Here is a perfect weeknight recipe that highlights a few techniques (marinating and searing/grilling) and is endlessly adaptable. It is easy and relatively quick to make and the leftovers are great for lunch the next day. I have used pork here but it could be made with chicken or beef or lamb or fish/seafood. A different marinade could be applied depending on your protein and cooking times would vary a bit but the technique is the same and very straightforward. And the couscous is all about a bit of boiling water and a tight lid on the pan.
Or you could just microwave a Lean Cuisine…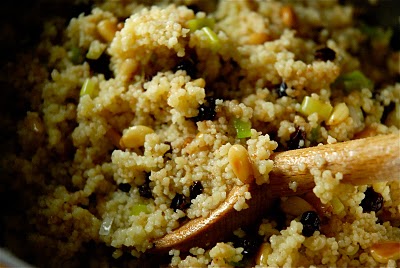 Grilled Pork Skewers with Pine Nut, Currant and Scallion Couscous

For the pork:
1 1/2 pounds of pork tenderloin, trimmed and cut into 1 inch cubes
2 teaspoons Dijon mustard
2 teaspoons of honey
3 cloves of garlic, minced
juice of 1 lemon
1 tablespoon of chopped fresh parsley
3 tablespoons of olive oil
fine grain sea salt and freshly ground pepper
For the couscous:
1 1/2 cups of couscous
2 cups of water
2 tablespoons of butter
1/2 cup of currants
1/2 cup of pine nuts, toasted
4 scallions, trimmed and sliced, white and green parts
fine grain sea salt and freshly ground pepper
For the pork:
In a shallow dish whisk together the Dijon, honey, minced garlic, lemon juice, parsley and olive oil. Season the marinade well with salt and pepper Toss the cubes of pork tenderloin well in the marinade until it is well coated. Cover and allow to sit for at least a half an hour.
Thread the cubes of meat onto metal skewers (or wooden ones that have been soaked in cold water).
Heat a grill or a grill pan until quite hot. Cook the pork until brown on all sides, turning once, about 6 to 8 minutes total. Remove from the grill and tent with foil. Allow to rest a few minutes.
For the couscous:
In a medium saucepan combine 2 cups of water with some salt and the butter and bring to a boil. Stir in the 1 1/2 cups of couscous and the currants and cover.
Remove from the heat and allow to stand for 5 minutes. Fluff up the couscous grains with a fork and add the currants, scallions and toasted pine nuts. Check for seasonings. Mix well and serve.
Serves 4.
Printable recipe