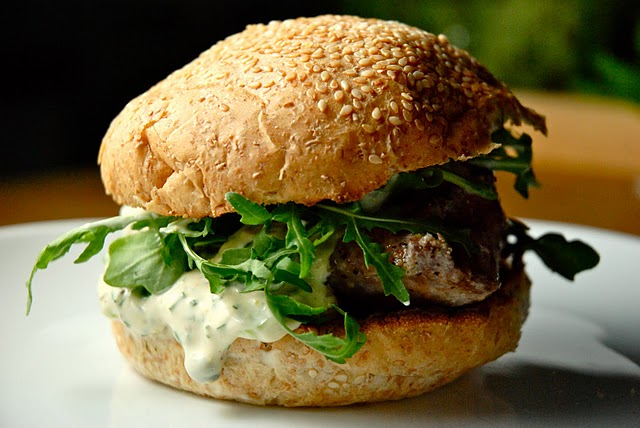 I am convinced that someone, somewhere is experiencing some hot, summer-like weather. It may not be me and it may not be here but I still have the faith. If you do happen to be firing up your grill this weekend the following recipe may just come in handy. A nice, fresh twist on a traditional burger which is far quicker and easier to make. Just sear the tuna, that has been seasoned with a bit of salt and pepper on a hot grill (or a sauté pan if you are grill-less) for 2 minutes or so per side. The rémoulade is a cinch to make too and could be done a few hours, or even a day, ahead and chilled. Then all that is left is to decide whether or not to toast the buns and go out to the garden to snip a few leaves of arugula or lettuce.
I served this with a lovely Alsatian Gewurztraminer and it was a really great pairing. Food and wine pairing is on my mind as I have been asked to provide some summertime recipes and pairing notes for a new TV show that should begin filming here in Vancouver (and in wine regions world wide) in August. It is based on a Australian show and will focus on how to spend your wine dollars wisely no matter what part of the world the bottle may come from. There is even some talk of an episode or two being shot here, in my very own kitchen! I will keep you posted.
| | |
| --- | --- |
| | |
For now, I will be posting a brief wine note or recommendation, every week or so, to pair with a chosen recipe. Sometimes, we will follow classic food and wine pairings etiquette but other times we may break a few rules and talk about why certain pairings work or don't work. All pairings will be tasted/tested first hand by myself and an intrepid team of tasters (Glen and maybe a few friends). For those of you who are rolling your eyes in boredom, don't worry, we will keep it brief. Here is Kitchen Culinaire's first official wine pairing:
Ahi Tuna Burgers paired with Pfaffenheim Gewürztraminer, 2008, Alsace, France, 13.5% alcohol, $19.99.
Gewürztraminer is often paired with spicy foods (gewürz means spice in German), Asian food, sausages or sour pork dishes or even smoked salmon. Here it works beautifully with the creamy yet piquant rémoulade sauce on the grilled tuna. Perhaps not a classic pairing but wonderful in terms of the brightness and spice of the wine cutting the richness of the sauce. A new favourite.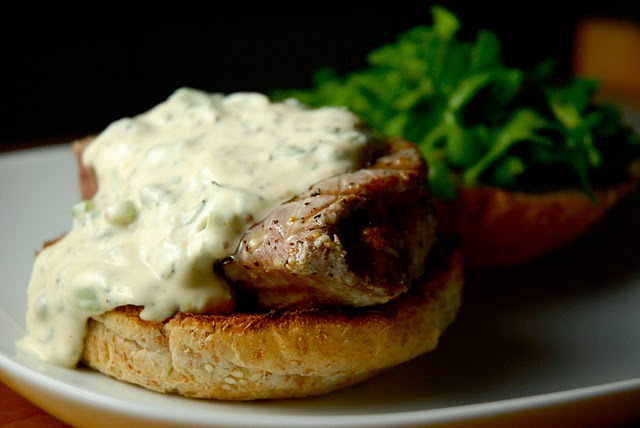 Grilled Ahi Tuna Burgers with Rémoulade and Arugula
Burgers:
4 x 6 oz ahi tuna steaks (about 1 inch thick)
olive oil
fine grain sea salt and freshly ground pepper
4 burger buns (try whole wheat sesame buns, or squares of focaccia or brioche buns)
Rémoulade Sauce:
3/4 cup mayonnaise
2 teaspoons Dijon mustard
2 teaspoons grainy mustard
1 teaspoon tarragon vinegar
1/4 teaspoon Tabasco sauce
2 teaspoons drained, small capers
2 scallions, very thinly sliced
1 tablespoon fresh tarragon, chopped
fine grain sea salt and freshly ground black pepper to taste
To make the rémoulade sauce:
Combine all of the ingredients in a medium bowl. Taste and adjust seasonings.  Set aside, covered in the refrigerator for up to a day before using.
Preheat barbecue to medium-high heat. Season the tuna steaks with salt and pepper. Brush cut buns with some olive oil. Grill tuna 2 to 2-1/2 minutes per side (or more to taste) and allow to rest. Grill buns for 2 minutes or so until golden.
Place tuna atop bun and slather with rémoulade sauce. Top with arugula and bun tops. Serve, passing remaining sauce separately.
Serves 4.
Recipe adapted from Epicurious.com
Printable recipe