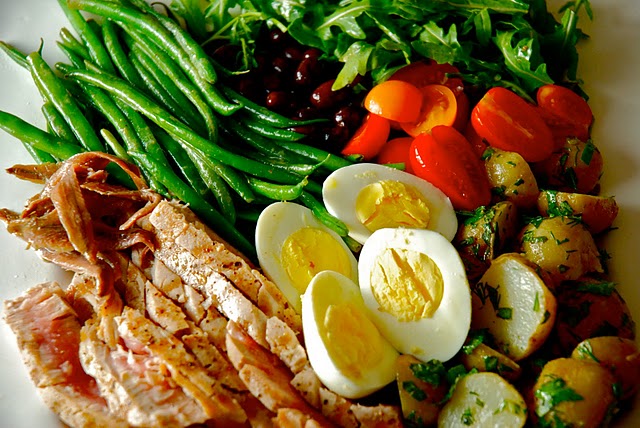 I have been back from Paris for a few days now but have been so busy spending time with my sweet family, fighting the jet lag and editing my photos of the trip (shown in chronological order on my Flickr site – all 664 of them!) that I have not had a chance to post.
The trip was amazing. We walked for miles everyday and saw all the famous sites, visited galleries, ate some great meals, celebrated my parent's 48th wedding anniversary, laughed, talked, got lost, conquered the metro and tasted macaroons for the very first time. We discovered that my Mom has a keen sense of where to find the best bakeries and that she can survive on sweets alone (a vegetable or fruit barely touched the woman's lips), that my Dad prefers the Musée d'Orsay over the Louvre and gets tired of constantly having his picture taken, that my sister is a very good navigator but will sometimes choose to take the long route and that I can't read a map to save my life. We made some very good, sweet, funny memories and did not have a single fight! Next year Barcelona!
But now, it is back to real life here. My suitcase still needs to be unpacked and the laundry done and some meals made.  As a nod to my recent trip here is a food and wine pairing based on the classic Niçoise salad. I have used grilled Ahi tuna instead of the more traditional canned tuna but you could also use salmon here as well. Just don't tell the French. This is perfect for a lunch in the garden or dinner on the deck. A bit of crusty bread and one perfectly ripe cheese followed by some seasonal fruit would happily round out the menu.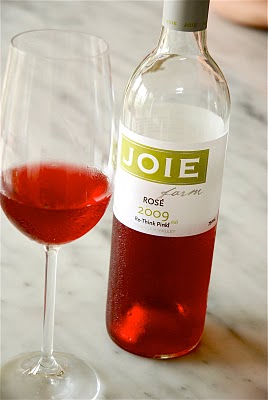 The French love their rosé wine and I enjoyed a few really nice glasses last week. North Americans tend to equate rosé with sweet, syrupy wines, similar in taste to a White Zinfandel. But a typical French rosé and a great many from the new world are dry, with crisp acidity and offer up flavours and aromas of cherry, strawberry and even a hint of fresh herbs. And rosés are some of the most versatile, food friendly wines around.  A refreshing, dry rosé from Provence would be wonderful here but I wanted to try this with a wine that was a bit closer to home. I served this with a rosé from Joie Farm who are located on the Naramata Bench in the Okanagan Valley. The slogan on their rosé bottle is "Re-Think Pink!" and that is some very good advice.
Grilled Ahi Tuna Niçoise

2 pounds small white or red (or a combo) boiling potatoes
2 tablespoons Dijon mustard
6 tablespoons Champagne or Sherry vinegar
Fine grain sea salt and freshly ground pepper
3/4 cup of good extra-virgin olive oil
6 tablespoons grape seed oil
4 scallions, thinly sliced
2  tablespoons of flat leaf parsley, chopped
2 tablespoons of basil, thinly sliced
2 tablespoons of fresh dill, chopped
3 tablespoons of capers, drained of liquid
4 x 6 oz fresh ahi tuna steaks
Olive oil
Fine grain sea salt and freshly ground black pepper
4 cups of arugula, washed and dried well
3/4 pound haricots vert, blanched and trimmed
2 pounds ripe tomatoes, halved if small, or cut into wedges if larger
4 hard boiled eggs, peeled and cut in half
1/2 cup Niçoise olives
8 oil packed anchovies
Bring a large pot of salted water to a boil. Put the potatoes into the boiling water and cook for 20 to 30 minutes until the potatoes are just cooked through. Remove from the water and place in a bowl and cover with a tea towel. Allow to steam for another 10 minutes or so.
While the potatoes are steaming, make the vinaigrette. Whisk together the mustard, vinegar and salt and pepper. Slowly add in the olive oil and grape seed oil stirring constantly to form and emulsion. Check for seasoning. Half of the vinaigrette will be used to dress the potatoes and the other half for the remaining salad components.
Once the potatoes have steamed and are just cool enough to handle slice them in tow and dress them with half of the vinaigrette. We want to add the vinaigrette to the still warm potatoes so that they can soak up the vinaigrette. Season with salt and pepper and add the chopped herbs, scallions and capers. Set aside.
Heat a grill or grill pan over high heat. Season the tuna steaks with salt and pepper and a drizzle of olive oil. When the pan is hot sear the steaks for 1 1/2 to 2 minutes per side. Remove from the heat and set aside to rest.
Toss the arugula with a bit of the vinaigrette in a bowl and season with salt and pepper. Arrange on a platter. Don the same with the haricots vert. Then the tomatoes. Add the potatoes onto your platter and then nestle in the hard boiled eggs. Find a spot for the olives and anchovies. Slice the grilled tuna and place on the platter. Drizzle a bit of the vinaigrette over the fish. Pass the remaining vinaigrette with a spoon so that people can help themselves to more if they wish.
Serves 4 to 6 people.
Printable recipe