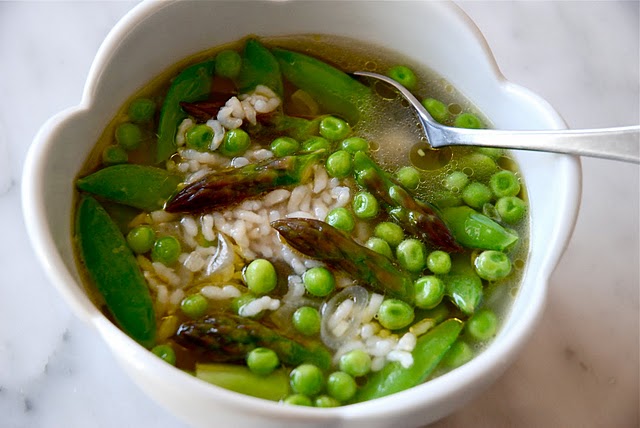 I am officially more than half way through the cleanse (hooray!) and wanted to share a recipe that was a standout from this past week. I promised a brown rice recipe and here it is! Now, I know that for a lot of people (my husband included) the thought of eating a bowl of brown rice with broth and vegetables is hardly something to jump up and down about but… please don't dismiss this recipe out of hand. This is the type of dish that epitomizes simple, with just a few ingredients, but somehow transcends it's own simplicity to become something wonderful and delicious, that also happens to be healthy. This will be a springtime mainstay for me regardless of any dietary restrictions…
It is also a snap to make and utilizes lots of lovely spring vegetables that are starting to arrive at the local farmer's market and stores. I would even go so far as to say this is the perfect spring soup. Substantial from the brown rice but light and flavourful with a bit of crunch from the snap peas and asparagus. Perfect for lunch or a light supper.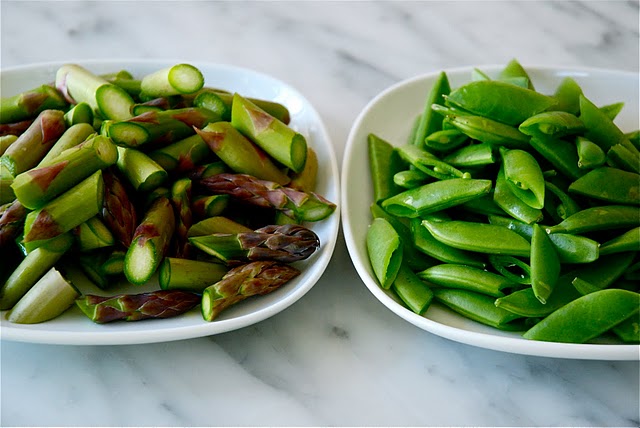 It is no wonder that this soup is a standout as it comes directly from the reigning queen of delicious, simple, healthy food, Heidi Swanson. Heidi is the blogger behind the award winning 101 Cookbooks site and seems to have a genuine love for food that is good for you. Thankfully, she also has a knack for making "good for you food" that is also delicious. Anytime I am feeling nutritionally low I will flip through her cookbook or visit her site and find a bunch of new and inspiring recipes that I can't wait to try.
This bowl of soup graces the cover of her cookbook Super Natural Cooking and deserves this place of honour. With the pretty hues of emerald green, accented by the white (okay brown) of the rice and slices of shallots with a little drizzle of olive oil or toasted sesame oil on top, it is picture perfect. I am pleased to pass Heidi's recipe along, especially to my dear friend Sarolta (who dutifully comments on every blog post I write) as she too is eating healthy these days and I am excited for her to try it. Now, if I could just convince Glen…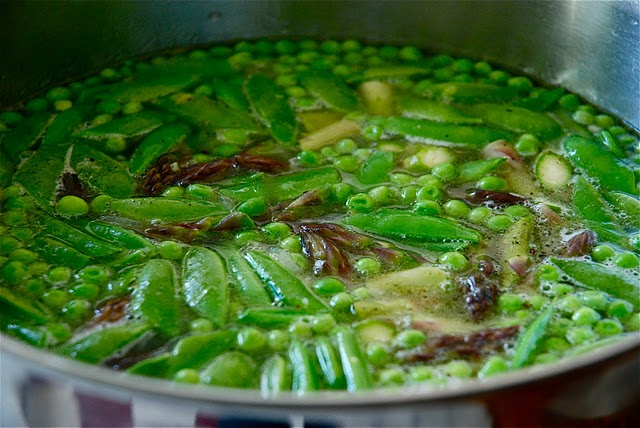 Spring Minestrone with Brown Rice
I used a bit more garlic and short grain brown rice instead of the basmati listed below. I also used chicken stock instead of vegetable stock which worked just fine.
Heidi also suggests, as an option, substituting edamame beans for the peas, with a drizzle of toasted sesame oil or fava beans with basil and some shave Parmesan. Feel free to experiment.
2 tablespoons extra-virgin olive oil
2 shallots, thinly sliced
1 clove of garlic
3/4 cup medium grain brown basmati rice, rinsed
6 cups vegetable stock
1 cup sugar snap peas, cut in half on the diagonal
8 asparagus spears, trimmed of their woody ends and cut on the diagonal into 1 inch pieces
1/2 cup green peas, fresh or frozen
Fine grain sea salt and freshly ground pepper
drizzle of olive oil to serve
Heat the olive oil in a large saucepan over medium high heat. Add the shallots and garlic and sauté for a couple of minutes until beginning to soften. Add the rice and cook stirring for one minute until the grains are well coated in the oil. Add the stock and bring to a boil. Cover and reduce the heat to a simmer and cook until rice is just tender, 40 minutes or so.
Add the sugar snap peas, asparagus and green peas. Season to taste with salt and pepper. Simmer for 2 to 3 minutes until vegetables are bright green and still a bit al dente. Serve immediately with a swirl of fruity olive oil on top.
Serves 4.
Recipe from Heidi Swanson's Super Natural Cooking: Five Delicious Ways to Incorporate Whole and Natural Foods into Your Cooking.
Printable recipe