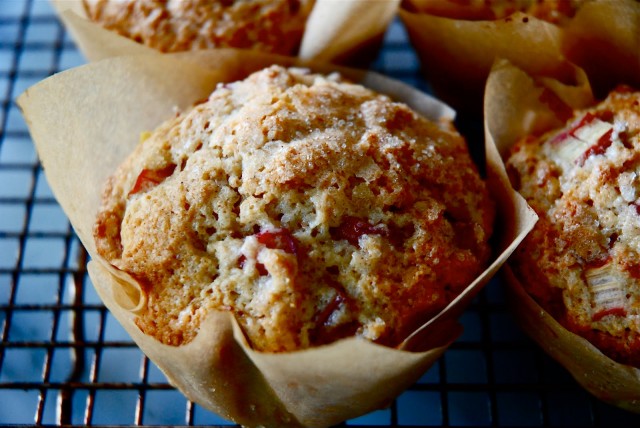 Muffins. Generally, I am not a big fan. I have visions of the massive, softball size muffins I ate during university that were cheap, doughy, and sticky on the top. One friend used to eat one massive chocolate chip muffin for breakfast that would fill her up until dinner time. Perhaps not the best nutritional choice…
My friend Rolti calls muffins "cake in disguise" and I know just what she means. Store bought muffins are so often overly sweet with sticky, clammy tops. Dessert masquerading as breakfast. But with another opportunity to bake for Max's school, this time for Sports Day Morning Bake Sale, I thought that I might revisit muffins and see if I could tweak some old recipes and make something that was seasonal, somewhat healthy and delicious.
For me, the upside of muffins are that they are very quick to pull together and easy to make. The base ingredients are always on hand in our house and the variations in terms of fruit/spices/nuts are endless so they are easy to customize based on the season, your preferences and what you have in the pantry.
As I was making these for breakfast and not, say, for afternoon tea I wanted to up the nutritional value somewhat. The easiest way to do this was to cut the white flour component with some whole wheat flour. One cup of each made for a muffin that was a bit more dense than if you were to use all white flour but it didn't result in a texture that resembled a hockey puck either.
The second adjustment was incorporating yogurt into the mix. I used an organic vanilla yogurt and this yielded some lovely results. Typically milk or sour cream is used to aid in the texture as well as the flavour. Using yogurt does cut down on the springy-ness of the muffin and makes them a bit more dense and wholesome which, I think, is perfect for a breakfast muffin.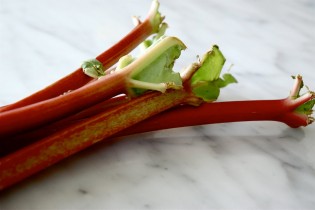 I had some rhubarb in the garden and some cardamom in the spice rack. I skipped the nuts as they were heading to school but next time might add some toasted pecans. I did use a sprinkle of cardamom sugar on the top of each muffin to keep these from being relegated to the total hippie mom realm. I think these are a nice combo of tasty and healthy-ish.
Since I never make muffins I did not have any muffin cups but did have parchment paper. I cut sheets of parchment into 5 x 5 inch squares and pressed them into the tins (thanks Martha!) which worked just fine.
With blueberry season fast approaching I'm thinking that my next foray in muffin making will be blueberry lemon. Stay tuned.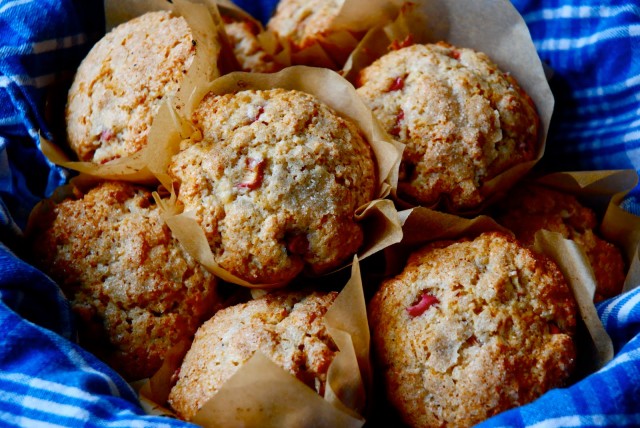 Rhubarb Cardamom Breakfast Muffins

For the muffins:
1 cup all-purpose flour
1 cup whole wheat flour
3/4 cup granulated sugar
1-1/2 teaspoon baking powder
3/4 teaspoon ground cardamom
1/2 teaspoon baking soda
1/2 teaspoon fine grain sea salt
1 cup vanilla yogurt
8 tablespoons unsalted butter, melted and slightly cooled
2 large eggs
1-1/2 cups rhubarb, cut into a 1/4 inch dice
For the topping:
2 tablespoons granulated sugar
1/4 teaspoon ground cardamom
Preheat oven to 400 degrees. Place oven rack in the centre of the oven. Line a 12 cup muffin tin with paper baking cups or make your own by cutting parchment into 5 x 5 inch squares. If using the parchment squares it helps to spray the muffin tins with some vegetable oil cooking spray to help hold the parchment in place.
In a large mixing bowl whisk together the flours, sugar, baking powder, cardamom, baking soda and salt.
In a medium bowl, whisk together the yogurt, melted butter and eggs until smooth.
Lightly stir the yogurt mixture into the dry ingredients until just combined. Don't over mix or tough muffins will result.
Gently stir in the diced rhubarb.
In a small bowl combine the sugar and cardamom and mix well. Set aside. This mixture will be sprinkled on the muffins right before they go into the oven.
Divide the batter evenly into the muffin cups. Sprinkle a 1/4 teaspoon of the sugar and cardamom mixture over each muffin. Bake the muffins until they are golden brown and a toothpick inserted into the centre of a muffin comes out clean, 18 to 22 minutes. Transfer to a wire rack and allow the muffins to cool in the baking pan for 10 minutes or so. Transfer the muffins out of the baking pan to a wire rack and allow them to cool further. Serve warm or at room temperature.
Makes 12 medium sized muffins.
Printable recipe