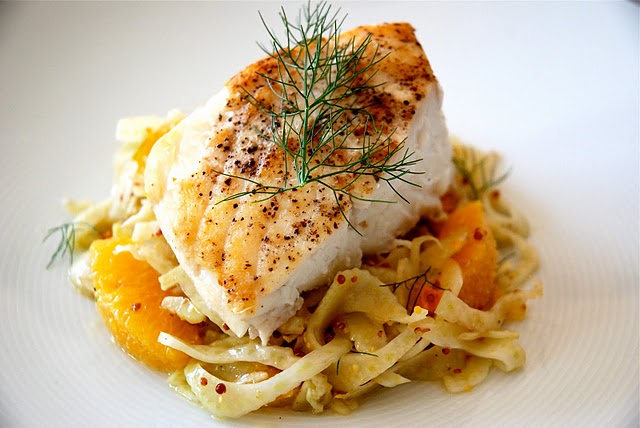 Our dear, sweet, funny friend Jeannot is in town this week. Jeannot was born in Paris and now splits his time between Los Angeles/Vancouver for work and London where his beloved family resides.
Usually, when he is in town, he is in full work mode and so we have to sneak in a dinner or two around a very hectic schedule. This week, however, he was here purely for pleasure before he heads off to spend his summer vacation with his family in Europe.
Jeannot, being French, is passionate about certain things. He loves a good, chilled Brouilly, a beautiful face, a well told story, a great film and perhaps more than anything else, a fine meal surrounded by good friends. Whenever he is in town I try to host what has become known as a "nearest and dearest" dinner.
Sunday's dinner consisted of 12 guests, a five course meal and lots of French wine. The main course was boeuf bourginion à la Julia Child. The weather co-operated, turning windy and chilly, the perfect temperature for a hearty stew, but very little else did. It was just one of those days in the kitchen where nothing turned out quite right and everything took longer than expected.
I had planned a menu days in advance which is something I always enjoy. Putting together the pieces of the puzzle that makes a good meal from the hors d'oeuvres and drinks, (martinis? Champagne?) through the first and second course, a salad course (before or after the main course?) the main, sorbet and/or cheese and/or dessert. Ensuring that there is a rhythm to the meal, that the dishes work together in harmony, that the meal fits the season and also, that it can be accomplished without me being wild-eyed and exhausted by the time that the food hits the table.
But by 5:00 pm, surrounded by dishes, sweat on my brow, my guests set to arrive in a mere 2 hours and still so much to do I realized that a serious miscalculation had been made. At least the table had been set the night before which is my one way of ensuring that, no matter what kind of kitchen chaos may ensue, you at least look like you are ready when your guests arrive.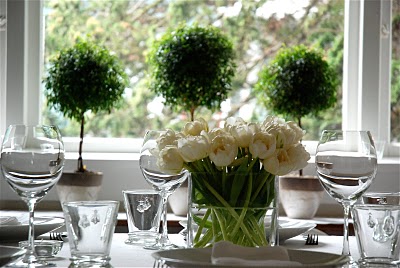 Truth is, however, it had been set by two of the guests themselves, my dear friends Steve and Don, who had stopped by the day before to help me set up the table extension (which Steve had made for me) and to lend a hand with the party prep.  I refer to these guys as my Dinner Party Guardian Angels. I met them through my husband, Glen, and after they attended one of my cooking classes years ago we soon became fast friends. Now, I plan my dinner parties around their schedules. These two are the very best dinner party guests you could ask for. They come early to help (even a day early), bring amazing wine to share, are smart, witty, and can be counted on to make good conversation around the table. They stay late, to sip a final glass wine, re-hash the evening and do ALL of the dishes. I kid you not, my kitchen is cleaner and better organized the day AFTER a dinner party with these two around.
I knew that there were two things that would save my sanity and ensure that I was able to pull off this dinner with some semblance of grace:
1. See if Steve and Don were able to come early and give me some much needed help.
2. Drop one of the courses of my (now apparent) overly ambitious menu.
Roasted halibut with a fennel and orange salad and a citrus beurre blanc was to make an appearance after the salad course and before the main. I still had the fruit to segment, fennel to run through the mandolin, fish to portion, a vinaigrette to make and prep for the beurre blanc. So I let it go, to be served another day, in a calmer state. I immediately felt better.
The Dinner Party Guardian Angels arrived early, the dishwasher was loaded, the floors swept and mopped, my sweet husband put a glass of sparkling wine in my hand and I was sent off to have my shower. I am, sadly, notorious for greeting my guests with wet hair.
Steve and Don assembled the hors d'oeuvres, Glen put on the music and lit the candles and by the time the guests arrived I felt calm, happy, relaxed and ready to entertain.
Jeannot basked in the affection of his nearest and dearest and no one missed the missing fish course.
Sometimes, it takes a village…to host a dinner party.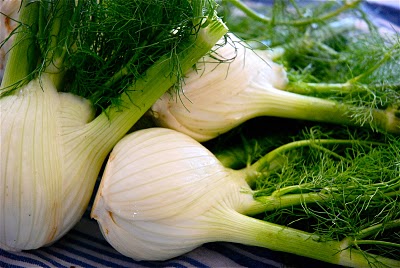 Roasted Halibut with a Fennel, Orange Salad and a Grainy Mustard Vinaigrette
I made this for lunch the following day sans the beurre blanc and it was delicious. This would be great as part of a Mother's Day lunch celebration. You could also easily substitute any white fish or even some lovely spring salmon for the halibut.
If I were going to serve this as part of a multi-course menu I would use a 3 to 4 ounce portion of fish per guest instead of the 6 ounces listed below.
For the salad:
3 navel oranges, peeled and segmented
2 medium fennel bulbs with some fronds reserved for garnish
3 tablespoons of sherry vinegar
2 teaspoons of grainy mustard
1 medium shallot, finely diced
fine grain sea salt and freshly ground pepper
1/4 cup of good olive oil
1/2 cup of grape seed oil
For the halibut:
4 – 6 ounce portions of halibut (or turbot, or salmon…)
2 tablespoons olive oil
fine grain sea salt and freshly ground pepper
Clean the fennel bulbs. Cut the fennel in half and discard the core from each half of the  fennel bulb. Using a mandolin or a very sharp knife thinly slice the fennel. Put in a bowl and add the segmented orange slices.
In a medium bowl, whisk together the vinegar, mustard, salt and pepper. Slowly whisk in the olive oil and grape seed oil to make an emulsion. Add some of the vinaigrette (you may have more than you need) to the fennel and orange segments and gently mix using a spatula. Add more vinaigrette as needed and check seasoning. Set aside.
Preheat the oven to 400 degrees.
Remove the halibut from the fridge half an hour before cooking to allow it to come up to room temperature. Season well with salt and pepper.
Heat a large sauté pan with the olive oil over med-high heat. When almost smoking add the halibut flesh side down into the hot pan. Be careful here not to splash the hot oil. Allow to cook, undisturbed, for  2 to 3 minutes or until a nice, brown crust has formed and the fish easily releases from the pan. Flip the fish over and transfer to a baking sheet. Bake in the preheated oven for 3 to 5 minutes or until fish begins to flake and a knife inserted in the middle of the fillet registers as warm when placed against the inside of your wrist.
To serve:
Place a portion of the fennel and orange salad on a dinner plate and top with the roasted halibut. Garnish with the fennel fronds and a drizzle of the remaining vinaigrette.
Serves 4.
Printable recipe