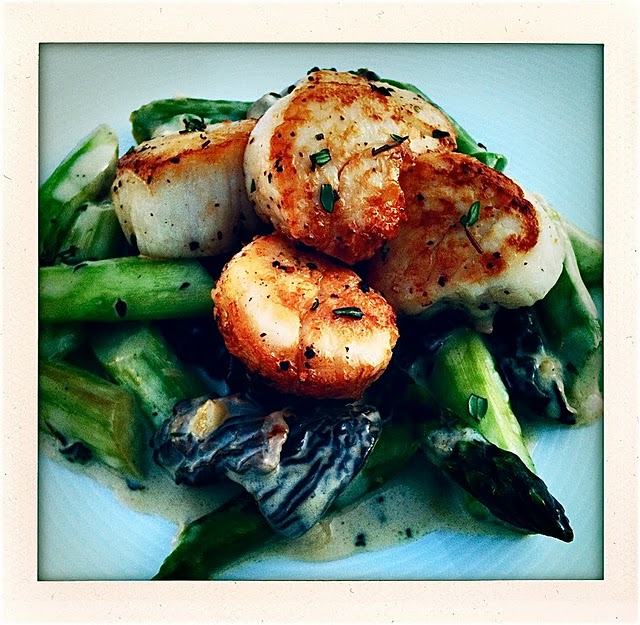 Here is a dish that sings of spring! So many people have their favourite way to cook morels and asparagus. Here is mine. I add some seared local scallops, a hint of garlic and thyme and a touch of white wine and cream. Simple, decadent and delicious! I'm using Qualicum scallops but feel free to use sea scallops or a whitefish such as turbot or halibut or black cod.
Here in Vancouver we are just beginning to see the first of the local morel mushrooms as well as the first stalks of local asparagus poking their heads up through the dirt.
And then there are the local scallops…
We are super fortunate to have access to some of the most amazing fish and seafood here in Vancouver. The main species of scallops in BC are a Japanese-Weathervane hybrid scallop known as the Pacific or Qualicum Scallop. Not only are these scallops dazzlingly delicious but they are also deemed to be environmentally "green" and sustainable. Here's why:
1. The scallops are cultured and grown in mesh bags or trays, suspended from flotation devices in the nutrient rich Straight of Georgia and so do not use a damaging ocean floor dredging system for harvest.
2. Scallops cannot tolerate an environment that contains sewage or toxins and therefore increase awareness and monitoring of coastal waters where they are cultivated.
3. Scallops help to reduce green house gasses by removing carbon dioxide from the ocean for their shell formation.
Wow! So there…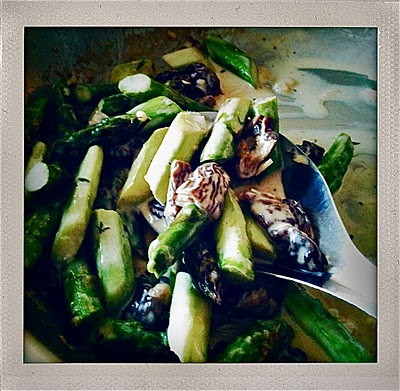 Pair them with a few simple ingredients and sear them off for a minute or so on each side and a lovely spring supper is served.
Seared Qualicum Scallops with Morel Mushrooms and Asparagus
Morels are classically paired with a bit of cream in France. One bite and you will see why this is such a winning combination.
To clean the morels, remove the stems and drop the mushrooms into a bowl filled with cold water. Swirl around to dislodge any dirt and them gently press them between paper towels or clean dish towels to remove the water.

2 tablespoons olive oil
18 stalks of medium asparagus, peeled at the base, woody stems removed and cut into 3-inch pieces
fine grain sea salt and freshly ground pepper
2 tablespoons butter
2 cups morels, cleaned
2 garlic cloves, minced
1 teaspoon chopped thyme
1/4 cup dry white wine
1 cup heavy cream
20 Qualicum Bay scallops
Heat the olive oil over medium heat in a large sauté pan. Add asparagus and season with salt and pepper. Cook for 5 minutes until asparagus is just cooked. Remove to a bowl and set aside.
Heat butter in the same large sauté pan over medium heat and add the cleaned morels, salt and pepper. Add the minced garlic and thyme, reduce the heat to medium low and sauté for 5 minutes. Add the wine and reduce by half. Add the cream and reduce by one-third. Add the cooked asparagus and heat through. Check seasonings and keep warm.
Meanwhile heat two medium sauté pans over medium high heat. Season the scallops with salt and pepper. When pans are very hot but not yet smoking divide the scallops between the two pans, taking care not to crowd the scallops in the pans. Sear the scallops for 1 minute, or so, on each side until just cooked. Remember that the scallops will continue to cook once they are removed from the heat so take care not to overcook. Remove from the heat and cover with foil.
To serve:
Place a portion of the mushroom/asparagus mixture on the base of each plate. Top with 5 seared  scallops per plate. Spoon remaining cream onto the scallops. Serve.
Serves 4.
Printable recipe
This is my neighbour Matt's asparagus patch. Grow asparagus grow!