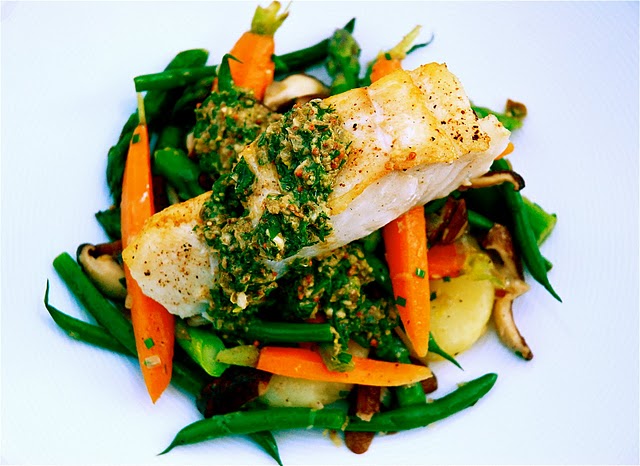 A couple of years ago I had the opportunity to test recipes for local writer Jill Lambert who was publishing her first cookbook.  Jill was a book editor for many years, worked as a co-author on other people's ventures (including the Lesley Stowe Fine Foods Cookbook) and decided that she was ready to put out her own book.  As she descends from a long line of fishermen she decided that her cookbook, A Good Catch, would offer a collection of fish and seafood recipes from Canada's top chefs. Jill, however, was not just into delicious recipes and all-star chefs.
The main focus on her book is about sustainable fish and seafood choices and is a great resource for those who endevour to be environmentally conscious regarding the food that they buy, cook and eat.
I tested about one third of the recipes that are featured in the book and it was truly a great experience. It was wonderful to be able to focus on a recipe and cook it through just as the chef wrote it out. I would often invite friends over to taste the finished product and give their honest feedback. It was fun to cook something that felt like part of a research project, where you really wanted to know if a recipe worked and why/why not. No hurt feelings if someone didn't like a certain dish as it was all in a day's work, ensuring that a recipe worked and tasted good.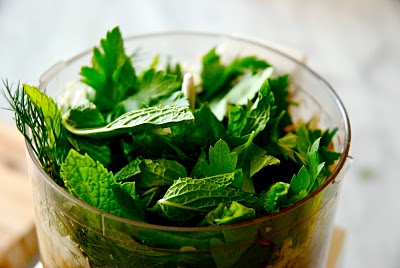 Keep in mind that just because you happen to be a successful (even famous) chef does NOT mean that you know how to write a recipe. Sometimes the method was so vague you would have to be a Master Chef to figure it out and sometimes the ingredient amounts were so out of whack I wondered if there was somehow a typo in the yield amount and maybe a "Serves 4" should have read "Serves 40".
Many recipes, however, were absolutely spot-on and flawlessly written. This is one of those recipes. It was a joy to make this even the first time through and has since become one of my favourite spring-time recipes. It is from chef Lynn Crawford who was formerly the executive chef at the Four Season Hotel in New York and now has her own show on the Food Network.
I love all the different components of this dish but the herb pesto is really, exceptionally fantastic. It is very different from a classic basil pesto as it has no nuts, no cheese, no basil. It does have garlic and pungent herbs and capers and anchovies. Delicious!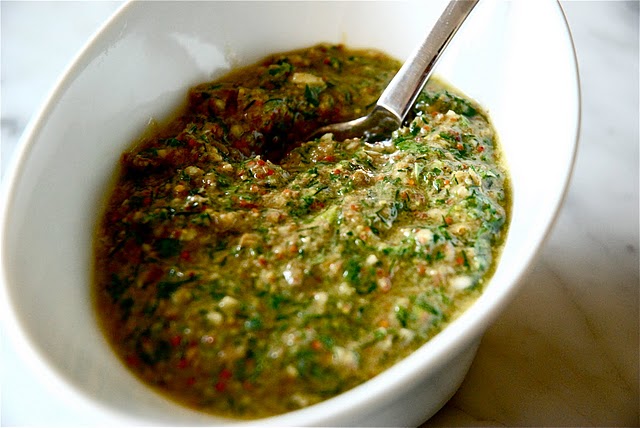 Roasted Queen Charlotte Halibut with Spring Vegetables and Herb Pesto
I always double the pesto recipe so I have extra in the fridge for sandwiches, to throw on some pasta or to use as a dipping sauce for seafood or even with lamb.
For the pesto:
1/4 cup fresh dill
1/4 cup fresh flat-leaf parsley
1/4 cup fresh mint
3 tablespoons capers
2 cloves of garlic, minced
8 small anchovy fillets, minced
1 tablespoon grainy Dijon mustard
1/4 cup olive oil
2 tablespoons fresh lemon juice
For the spring vegetables:
12 baby carrots, cut in half lengthwise
1 bunch of asparagus, tough ends removed and cut into 1-inch pieces
1 cup green beans, end trimmed
1 cup fingerling or baby potatoes
2 tablespoons olive oil
1 tablespoons butter
2 shallots, finely diced
1 cup chanterelle or other wild/mixed mushrooms, cleaned, de-stemmed and slice
2 tablespoons chopped chives
zest of 1 lemon
For the halibut:
4 skinless halibut fillets, about 6 ounces each
2 tablespoons olive oil
4 to 6 ounces fresh pea shoots for a garnish (optional)
To make the pesto:
In a food processor place the dill, parsley, mint, capers anchovy fillets, garlic and mustard. Mix until well combined. With the motor running on high add the olive oil in a steady stream followed by the lemon juice until well combined. Transfer to a small bowl and taste for seasoning. You might want to add a bit of pepper but not salt. Between the anchovies and the capers it will very likely be salty enough. Set aside
For the spring vegetables:
Fill a medium saucepan three-quarters full of water and bring to a boil. Ready an ice bath. Once boiling add some salt and add the carrots. Blanche until just tender, about 2 minutes. Once cooked remove the carrots using a spider or slotted spoon to an ice bath to stop the cooking process. Drain and set aside.
Bring the water back to a boil and add the asparagus. Cook for 1 minutes and remove the asparagus to your ice bath to stop the cooking process. Drain and set aside.
Repeat with the green beans, cooking them for 2 minutes. Discard the cooking water.
Fill the saucepan three-quarters full, add the potatoes and bring to a boil on medium high heat. Cook the potatoes until fork tender, approximately 10 to 12 minutes. Drain the potatoes and allow them to cool slightly, them cut them into 1/2 inch rounds and set aside.
For the halibut:
Preheat the oven to 375 degrees. Season the halibut fillets with salt and pepper. Heat the olive oil in a large frying pan over medium high heat. Once the pan is hot add the fillets, taking care not to crowd them in the pan. Sear the fish on one side for 2 minutes, until golden. Flip the fillets (this is where a fish spatula really comes in handy) and cook for another minute. Transfer the fillets to a baking sheet and bake in the oven until cooked through, 3 to five minutes. You can tell when the fish is done when you insert a knife into the middle of the fillet and it comes out warm when placed against the inside of your wrist.
While the halibut is cooking, heat the olive oil and butter in a large sauté pan over medium-high heat. Add the diced shallots and mushrooms and cook for 2 to 3 minutes. Stir in the potatoes, carrots, asparagus and green beans. Season well with salt and pepper and cook until the vegetables are heated through. Sprinkle with lemon zest and chives.
Divide the warm vegetables among four plates and top with the roasted halibut. Drizzle with pesto and garnish with pea shoots if desired.
Serves 4.
Recipe by Lynn Crawford as printed in A Good Catch by Jill Lambert.