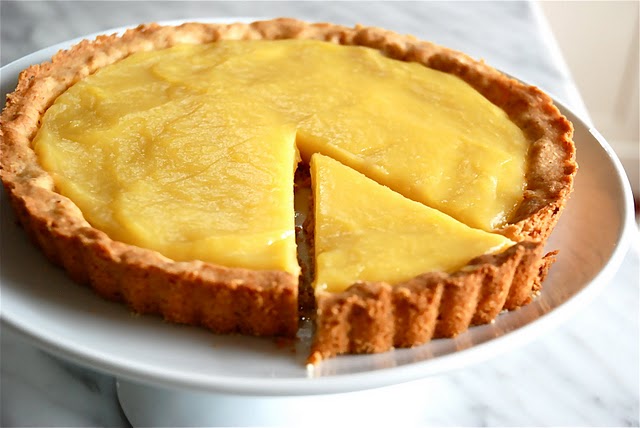 I love lemon tarts. If I am at a restaurant and having dessert, I almost always order the lemon tart. A well made lemon tart seems classic and elegant and always feels light and right to me at the end of a meal.
At home, however, I often hesitate to bake them because:
1. I am somewhat afraid of making pastry.
2. Lemon fillings, and lemon curd in particular, often have a weird, metallic taste to me.
3. Even when the lemon curd/filling doesn't taste strange, it never has the bright, lemony flavour that I am hoping for.
After trying this tart at home, I am elated to report that I have found everything I have been looking for. No big challenges with the almond-flecked tart shell, the filling comes together in a snap AND it delivers a lovely, tart lemony flavour with no unpleasant aftertaste. As an added bonus, it uses a fruity olive oil in both the pastry and the filling which contributes something very ethereal and special, something that you can't quite put your finger on, something wonderful.
In fact, I love this tart so much that I have made it three times since last Sunday and I know that I will be making this frequently in the future as well. It is my new go-to dessert recipe that is perfect for so many occasions. From a springtime Sunday brunch, summer lunch in the garden, a casual dinner with friends in the early fall or with a cup of tea in the deep, dark, dead of winter. It can even get you through these freezing cold spring days that remind you of November. No small feat.
If you can find three or four decent lemons and some fruity olive oil, a handful of almonds and some baking basics you are almost there.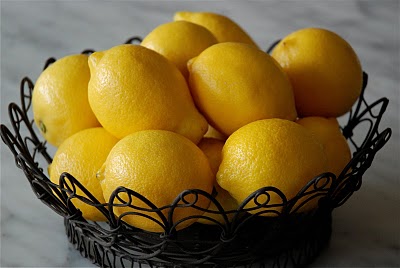 I made Tart #1 on Sunday morning to be the dessert for our Easter Lunch but when my mother-in-law, Anneliese, showed up with the most beautiful fresh fruit pavlova, I realized that the lemon tart would have to wait to makes its debut. It was four hours after lunch (and a walk) before I took my first small slice and I was hooked. With a knife left on the cake plate I snuck a small sliver each time I went by and apparently I wasn't the only one because we polished off that first tart by Monday night.
Tart #2 was made for a few friends who came by for tea on Wednesday.
Tart #3 was made this morning for a dinner tonight with my Mom and sister. Who knows, I may just have to come up with an excuse to bake up another one of these simple, rustic, delicious tarts before the week is through…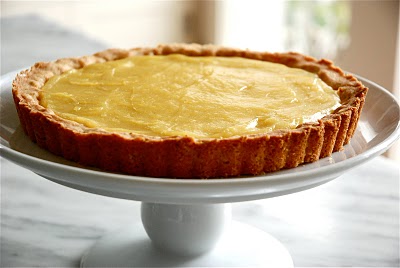 Lemon Curd Olive Oil Tart
I have messed around a bit with the tart shell, adding a few more almonds and olive oil which adds to the flavour but makes the pastry itself a little less delicate. A wee trade off.
You will need a 9-inch round tart pan with a  removable bottom.
For the tart shell:
3 tablespoons of almonds toasted and cooled
3/4 cup all-purpose flour
1/4 cup confectioners sugar (icing sugar)
Pinch of finely ground sea salt
1/2 stick (2 oz) of cold, unsalted butter cut into 1/2 inch cubes
1 large egg yolk
3- 3/4 tablespoons fruity olive oil – the original recipe called for French oil but, of course, any fruity oil will be just fine here
For the lemon curd:
3 large lemons or 5 medium sized ones
3/4 cup granulated sugar
2 teaspoons cornstarch
2 whole eggs
2 egg yolks
1/2 stick of unsalted butter, cut into 1/2 inch cubes
2 tablespoons fruity olive oil
To make the tart shell:
Preheat the oven to 425 degrees and place the rack in the middle of the oven.
In the bowl of a food processor put the almonds, flour, salt and icing sugar and process until the mixture resembles a fine powder. Add the cold butter and pulse 12 to 15 times until the mixture resembles coarse meal and the butter is roughly the size of small peas.
Add the yolk and the olive oil and pulse just until a soft dough has formed.
Put this dough mixture into the bottom of a 9-inch tart pan with a removable bottom. Using an off-set spatula or your hands (or in my case a combination of both) spread/pat the soft dough in a thin layer over the bottom and up the sides of the pan. If the dough feels very soft and is hard to spread around put it in the fridge for a few minutes to allow the butter in the dough to firm up a bit and then continue to evenly spread the dough in the pan.
Place the formed dough in the pan in the fridge for at least 30 minutes until firm.
Bake shell until golden brown all over, about 13 minutes. You need to keep a eye on things here as the tart does brown quite quickly and you may want to rotate the pan in the oven about half way through cooking. All three times I have made this it really only took the 13 minutes and no more.
Transfer to a rack and cool completely. This should take about 30 minutes. You can also make the tart shell a day in advance.
To make the curd:
Grate enough zest from the lemons to measure 1 tablespoon and then squeeze the lemons to get a scant 3/4 cup of juice.
In a medium saucepan whisk together lemon juice and sugar, add the cornstarch and whisk well to eliminate any lumps. Whisk in the 2 whole eggs and the 2 yolks and lemon zest and bring to a boil over medium heat, whisking constantly. Boil, whisking for 2 minutes.
Remove from heat and whisk in butter and olive oil until mixture is smooth.
Pour lemon curd into cooled tart shell and refrigerate until set at least 2 hours.
Makes 6 servings.
Printable recipe
Adapted from Gourmet Magazine, May 2008 via Epicurious and The Kitchen Sink.