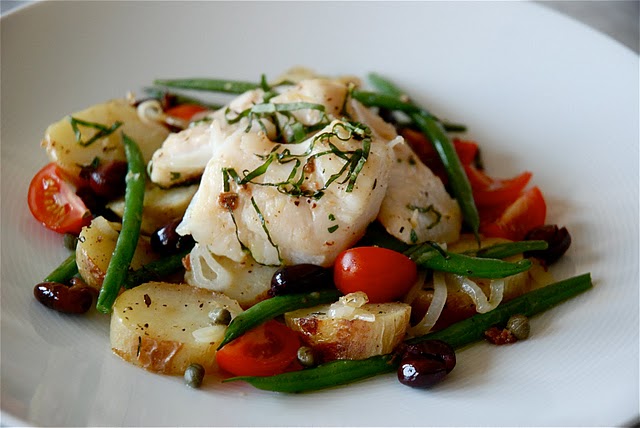 Halibut cheeks. Not super well known and, truth be told, on the pricey side. But here on the west coast they signal spring and their sweet, scallop like flavour and texture make them something to celebrate. Fresh halibut is widely available during the commercial fishing season that runs from mid-March to mid November so it has just been in the past few weeks that I have seen halibut cheeks available at the market. They don't freeze well so fresh really is best here. There are, of course, only two cheeks per fish so the price is a bit more per pound/kg but these succulent, sweet morsels are worth seeking out and trying.  I have a few recipes that either star or incorporate these tasty bites that I would like to share over the coming weeks. I would also love to hear from anyone who has their own special way to prepare them!
Let's start with a recipe that really allows the sweet flavour of the halibut cheeks to shine through. The preparation is easy with some lemon zest, fresh thyme and parsley and a bit of a rest before cooking them in butter or olive oil infused with anchovy. Add a few Niçoise regulars (many of which can be prepared ahead of time) like olives, tomatoes, green beans and potatoes which team up to produce a meal that evokes the south of France with a West Coast twist.
This recipe could easily be made with halibut fillets or salmon or scallops or the more traditional tuna. All would be great but if you do have the chance to get your hands on some fresh halibut cheeks this really is a fantastic way to prepare this seasonal treat! Take care not to overcook halibut cheeks as they will shrink in size and lose their tender texture.
I love the look of the snow white halibut contrasted against the green of the beans, the red of the tomatoes and the black of the olives. This looks equally lovely served on individual plates or piled onto a platter to be passed around the table family style.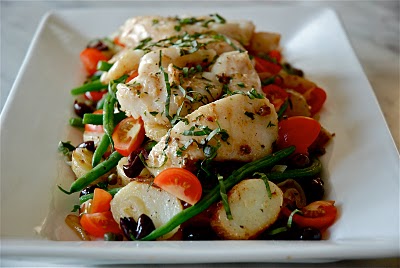 Halibut Cheeks à la Niçoise
There are a few steps involved in this recipe (roasting the potatoes, blanching the beans, cutting the tomatoes etc.) but all can be done ahead of time leaving just a few last minute tasks before plating.


2 lb halibut cheeks
2 lemons
2 tablespoons thyme leaves
3 tablespoons flat leaf parsley
1 lb baby potatoes
1/4 cup plus 2 tablespoons of olive oil
1/2 lb small green beans, trimmed
1/2 cup pitted Niçoise olives
2 tablespoons capers
1/2 cup thinly sliced shallots
6 tablespoons unsalted butter (you could also use olive oil)
2 teaspoons minced anchovy
1 cup small cherry tomatoes, halved or quartered
2 tablespoons of basil, very thinly sliced
Fine ground sea salt and freshly ground black pepper
Place the halibut cheeks in a non-reative shallow dish. Season with the zest of one lemon, 1 tablespoon of thyme and 2 tablespoons of parsley. Cover and refrigerate for an hour or two.
Preheat the oven to 400 degrees F. Toss the potatoes with 2 tablespoons of olive oil, 1 teaspoon of thyme, salt and freshly ground pepper in an ovenproof baking dish. Bake the potatoes for 30 to 40 minutes until you can easily piece with a knife. If the potatoes are a bit bigger they can be sliced when cool enough to handle.
Blanch the green beans in salted water for 2 to 3 minutes until they are tender. Remove the beans from the cooking water and plunge into a bowl filled with ice and cold water to stop the cooking and keep them bright green. Drain and set aside.
Heat a large sauté pan over medium-high heat and add 1/4 cup of olive oil, the sliced shallots and the remaining thyme. Sauté for a minute or two until the shallots soften and then add the green beans and the potatoes. Season to taste with salt and pepper. Keep warm.
Meanwhile, remove the halibut cheeks from the fridge 15 minutes before you plan to cook them to allow them to come up to room temperature. Heat a large sauté pan over medium-high heat and add the butter and the minced anchovies. Sauté for a minute until the anchovies "melt" into the butter. Season the halibut cheeks with salt and pepper and add to the melted butter and cook 2 to 3 minutes per side depending on the size of the cheeks. Remember that the cheeks will continue to cook a little bit after they have been removed from the pan so cook until just barely cooked through.
To serve, place the potatoes and beans on the plate or platter and top with the halibut cheeks. Squeeze lemon juice to taste into the butter anchovy sauce and spoon over the halibut cheeks and vegetables. Garnish the salad with the cut tomatoes, pitted olives, capers and thinly sliced basil and remaining parsley. Check and adjust seasoning. Serve.
Serves 6.
Printable recipe
Adapted from Sunday Suppers at Lucques by Suzanne Goin.