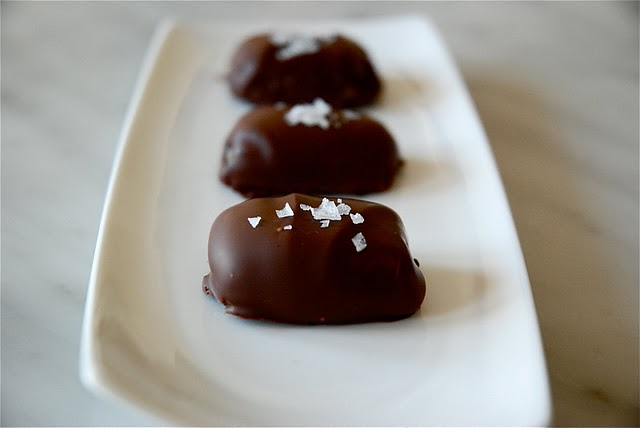 Tomorrow is my friend Ross' birthday.
Ross is the kind of guy who can grow an heirloom tomato from seed, cook an amazing Tuscan stew, explain to you (in great detail) how to build an electric car as well as create a breathtaking piece of art.
He has been an enthusiastic supporter of my blog, explaining the differences between various camera lenses, helping me to choose the right photo for a post and even putting the link to my blog up on his facebook page. (Thanks for all that traffic Ross!).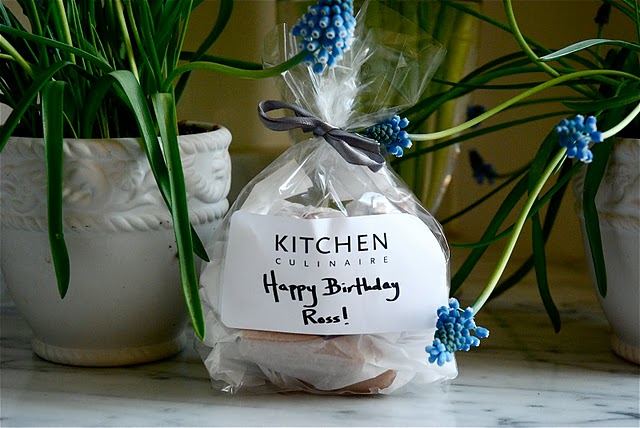 Not only is it his birthday tomorrow BUT he is a part of a group show that is opening tomorrow night at the highly regarded Diane Farris Gallery. Two big reasons to celebrate.
Ross, in addition to all of these attributes, also has a massive sweet tooth. His affinity for chocolate, salt and caramel rivals my own and so I figure these treats might be just the gift. I made these with his wife Sarolta during our Christmas baking extravaganza last year and Ross scarfed down an entire bag. He even willingly ate the ones that turned out a little too hard and lost a filling in the process. Hopefully this batch won't cause any dental damage.
Happy birthday Ross!
Chocolate-dipped Sea Salt Caramels
I tend to dip half the caramels in the chocolate and then just wrap the other half in wax paper plain (no chocolate and no coarse sea salt). Both ways are delicious.
2 sticks (1/2 lb) of unsalted butter
2-1/2 cups granulated sugar
1 cup light corn syrup
1 cup heavy cream
1 vanilla bean, split and seeds scraped
1 tablespoon finely ground sea salt
1 lb bittersweet chocolate melted (optional)
Coarse sea salt (I used Maldon) for garnish (optional)
Line a 9 by 13 inch pan with parchment paper and spray with vegetable oil.
In a heavy saucepan melt the butter and then the sugar, corn syrup and cream and bring to a boil, stirring until the sugar dissolves. Add the vanilla seeds.
Cook over medium-low heat, stirring until a golden caramel forms and the temperature on a candy thermometer reads 245 degrees F. This should take approximately 20 to 25 minutes.
Stir in the 1 tablespoon of finely ground sea salt and pour into the prepared tray. Let cool and then refrigerate overnight.
Line a baking sheet with wax paper and set aside. Turn out the chilled caramel block onto a cutting board and peel off the parchment paper backing. Using a sharp knife cut the caramel into 1 inch wide strips and then into 1 inch squares.
Dip the caramels into the melted chocolate, tap off the excess and transfer to the wax paper lined baking sheet Sprinkle lightly with the coarse sea salt and refrigerate for 10 minutes.
Alternatively wrap the plain caramel squares in wax paper (don't use foil or you will be peeling it off the delicious caramels and cursing the fact that you didn't use wax paper).
Makes approximately 7 dozen caramels.
Printable recipe
Adapted from Food & Wine December 2009.