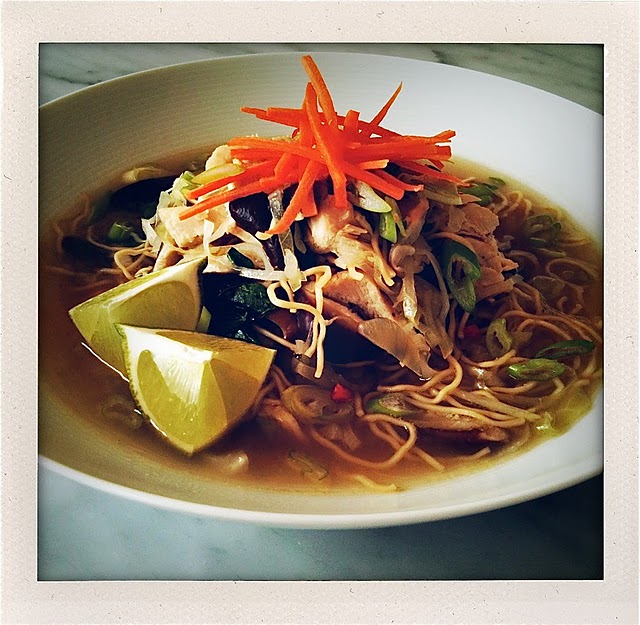 When I started this blog 3 months ago one of my biggest concerns was about taking the photos. I am personally drawn to cooking blogs with beautiful photographs that inspire me to get into the kitchen to cook something new. But making something look good on the plate is one thing and successfully capturing it on film is quite another.
Luckily for me I have a patient husband who just happens to be a cinematographer and spends his days working with light. He has given me a crash course in lighting basics and has lent me the still camera (a Nikon D-80) he uses to document locations, new sets or make-up tests before filming.
I love food, I love cooking and now I love photographing food as well. I am right at the base of a very steep learning curve, and I still need to take a whole whack of photos to get even a few that will work. No matter, I am loving the process and love that I am learning something new.
This week, however, Glen is working on a brand new show and needs the camera to document people and sets for his records. At first, I figured I would just wait until next week to put up any new posts. But, by today, I was missing photographing the food I was making even if that food was only chicken soup.
When I am out at restaurants and want to capture a meal I often use my iphone camera. I recently downloaded an application called Shakit which takes iphotos and transforms them into faux polaroids, complete with a slow developing time and exaggerated colours. Often, I'm very charmed by the effect and so I thought, who cares if this week's blog photos aren't crisp and clear and well lit. Well, I do in fact, but for a week I'm going to suck it up and photograph with a very low tech camera and enjoy the process and I bet I'm going to learn something along the way…
Glen has needed not only the camera this week but the car as well so today I was running around on foot to do errands and arrived home, famished, just before lunchtime. A quick look through the fridge revealed leftover roasted chicken breasts from last night, some fresh Chinese egg noodles, lemon grass, some pantry staples and frozen homemade chicken stock in the freezer. I had lunch.
Chicken Noodle Soup with Lemongrass
2-1/2 tablespoons peanut oil
2 medium boneless, skinless chicken breasts or the equivalent amount of leftover roasted chicken
Fine grain sea salt and freshly ground black pepper
3 medium shallots, peeled and thinly sliced into rings
2 stalks of lemongrass, trimmed, out layers discarded, halved lengthwise and smashed with the side of a chef's knife
1 tablespoon minced fresh ginger
2 teaspoons packed brown sugar
6 cups chicken broth
2 cups thinly sliced Chinese cabbage
1-1/2 cups shiitake mushrooms, stems removed and sliced
9 oz fresh Chinese egg noodles
1 Thai bird chile sliced into rings
8 large basil leaves, torn; plus sprigs for garnish
1 medium lime, half juiced and half cut into wedges
2 teaspoons fish sauce; more to taste
Soy sauce to taste
2 medium scallions, trimmed and sliced for garnish
1 medium carrot, cut into matchsticks for garnish
A drizzle of toasted sesame oil for garnish
Preheat the oven to 400 degrees F. In an ovenproof dish place the chicken and season well with salt and pepper. Drizzle with 1-1/2 tablespoons of peanut oil and roast in the preheated oven for 25 minutes. Remove and allow to rest until cool enough to shred the meat for the soup. Set aside.
Heat the remaining 1 tablespoon of oil in a medium Dutch oven over a medium flame and add the sliced shallots. Season with salt and pepper and sauté the shallots until they begin to soften, about 2 minutes. Add the lemongrass, ginger and brown sugar and cook stirring for about 1 minutes. Add the cabbage and mushrooms and sauté for an additional minute.
Add the stock and scrape up any brown bits from the bottom of the pan. Increase the heat to high and bring the broth to a boil. Add the noodles and cook until tender, 3 to 5 minutes.
Add the chicken to the broth and noodles and simmer over medium heat until the chicken is warmed through. Discard the lemongrass. Stir in the chiles, torn basil, lime juice and fish sauce and check for seasonings.
Divide the noodles among 4 soup bowls and ladle the broth over the top. Garnish with scallions, carrots, basil sprigs and a swirl of toasted sesame oil. Pass the soy sauce, additional fish sauce and wedges of lime for squeezing.
Serves 4.
Adapted from Fine Cooking April/May 2010.