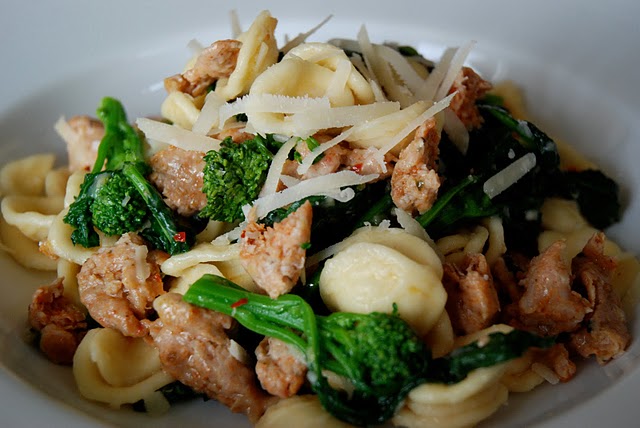 I love that the days are getting longer and we are steadily heading toward spring. It has, however, been somewhat unpredictable on the weather front this week. Daylight savings came on Sunday morning which has helped me feel less light deprived but then it was so cold and rainy for the next days it felt a bit like "one step forward and two steps back".
Yesterday was a bit better but still very much felt like a day stuck between two seasons. I wanted something warming and hearty for dinner but not too rich or complicated. This was perfect. It's adapted from a recipe by Giada de Laurentiis and is based on the classic Italian pasta dish from Puglia. I like to use turkey sausage instead of the heavier pork sausage and add the zest of a lemon which really brightens the flavours.
Glen and I both love the earthy bitterness of broccoli rabe although Max took one taste and then spent a good 5 minutes painstakingly separating the beloved "little ears" pasta, cheese and spicy sausage from the dreaded, evil, green Italian broccoli. Can't win them all…
Orecchiette with Spicy Turkey Sausage and Broccoli Rabe
2 bunches of broccoli rabe, washed well and stalks trimmed
16 oz/450 g of dried orecchiette pasta
4 tablespoons of olive oil
1 lb of spicy turkey sausage, casings removed
6 cloves of garlic, finely minced
pinch of red pepper flakes
zest from one lemon
1/2 cup of freshly grated Parmesan cheese
fine grain sea salt and freshly ground pepper
Put a large pot filled with water on high heat and bring to a boil (this is the same pot you are going to cook your pasta in so make sure it really is large enough). Once it has come to a boil add some salt and then add your broccoli rabe. Cook for one minute and remove from the water into a colander. I use a tool called a spider to do this but you could also use a long pair or tongs too. The point here is to retain the water in the pot to use for cooking your pasta.
Once you have removed the broccoli rabe, return the pot to high heat and bring to a boil. Add a bit more salt and your pasta and cook for 8 minutes or until al dente, stirring occasionally.
Meanwhile, in a heavy skillet over medium heat, add the olive oil and then add the turkey sausage. Break up the sausage using a wooden spoon and cook until browned and the juices run clear. Add the garlic and the pepper flakes and cook for an additional minute or so. Take the cooked broccoli rabe and chop it into large bite size pieces and add into the sausage mixture. Remove from heat.
Drain the pasta, reserving one cup of the cooking liquid, and add the pasta to the sausage/broccoli mixture.  Season with salt and pepper and add the lemon zest. If the pasta seems dry add a small amount (1/4 cup at a time) of the reserved cooking liquid until the proper consistency is achieved. Stir in the Parmesan cheese, check again for seasonings and serve.
Serves 4 as a main course.
Adapted from Everyday Italian by Giada de Laurentiis.
Printable recipe