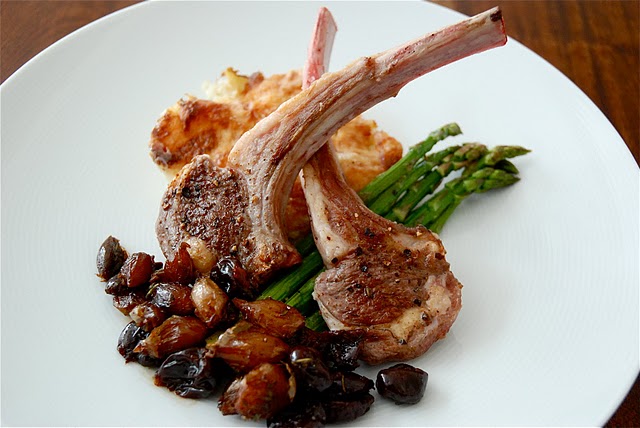 For the past few months my mother-in-law Anneliese, my son Max and I have had a standing dinner date on Wednesday nights. One week we will go to Anneliese's house and the next week she comes to us. It has worked out very well as the three of us (Glen is most often working late) get to spend some time together and catch up on events and my mother-in-law is a wonderful cook so it is great on the food front as well.
It was my turn to host dinner this past Wednesday and as we had missed Anneliese's 75th birthday while we were away I wanted to make our weekly meal a bit more special. Next week the whole family, all 10 of us, will go out for a celebratory birthday evening but still I wanted to make a dinner that I thought she would especially enjoy.
Lamb chops are something that all three of us love and with spring right around the corner it seemed an appropriate choice. I paired the chops with a chutney made from dried cherries, pearl onions, balsamic vinegar and rosemary that was perfect for these still chilly evenings. Three weeks or so from now it will probably feel too heavy, too wintry but for now was just right. I gave another nod to upcoming spring with some roasted asparagus and rounded out the plate with a velvety, rich gratin dauphinois. The gratin can be assembled early in the day and the chutney can be made while the gratin is cooking and the chops just take a few moments to grill making this a perfect, low fuss, yet still special, weekday menu.
Lamb Chops with Dried Cherry and Pearl Onion Chutney

1 rack of lamb with eight chops, each approximately 3/4 inch thick
2 sprigs of fresh rosemary
1 tablespoon olive oil
fine sea salt and freshly ground black pepper
1 tablespoon butter
2 teaspoons sugar
1 cup peeled pearl onions
1 cup of dried, tart cherries
1 tablespoon of balsamic vinegar
1/2 cup chicken stock
1 tablespoon chopped fresh rosemary
salt and pepper to taste
Remove the rack of lamb from the fridge at least half an hour before you plan to cook it. Cut the rack into individual chops by following the line of the bone from top to bottom. Season the chop with salt and pepper, the sprigs of rosemary and the olive oil. Set aside.
Melt the butter in a skillet over medium heat. Add the pearl onions and sugar. Cook until the onions are golden brown, approximately 10 to 15 minutes. Add the balsamic and cook until almost evaporated. Add the dried cherries, chicken stock and rosemary and cook until the pearl onions are tender and the liquid is reduced by two thirds about 5 minutes. Keep warm.
Heat a medium skillet or a grill pan over medium-high heat. Add the lamb chops and sauté until brown, 3 to four minutes per side. Remove from heat and place on a plate, cover with foil and allow to rest for 5 minutes or so.
Serve with dried cherry and pearl onion chutney.
Serves 4.
Printable recipe
Adapted from Martha Stewart's What to Have for Dinner.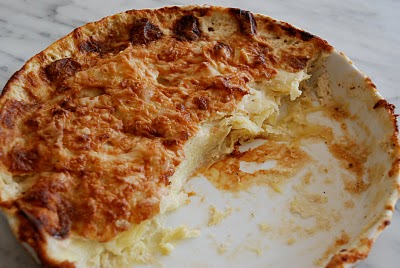 Gratin Dauphinois
The term gratin dauphinois refers to a method of preparing potatoes named after the former french province of Dauphiné  where the dish originated. There is much debate regarding the addition of cheese, nutmeg and the ratio of milk to cream. Here is the version I learned at cooking school and substantiated by Patricia Wells in her Home in Provence cookbook. Much less poetically these would be referred to as scalloped potatoes in North America.
I use a Japanese mandolin for slicing the potatoes extremely thin. But PLEASE be careful with this tool as I know of more than a few people who have taken off the end of their finger while attempting to master the mandolin.

1 garlic clove, peeled and halved
2 lbs Yukon Gold potatoes, peeled and sliced very thin
4 ounces of good Swiss Gruyere, coarsely grated
2 cups whole milk
1/2 cup whipping cream
freshly grated nutmeg to taste
fine sea salt and freshly ground black pepper to taste
Preheat the oven to 375 degrees. Rub a shallow 2 litre gratin dish with the peeled garlic.
In a large bowl combine the thinly sliced potatoes, milk, cream, 3/4 of the cheese, nutmeg and salt and pepper. Mix well. Transfer the potatoes into the gratin dish layering the potatoes evenly in a circular pattern in the gratin dish. Pour the milk and cream over the top of the arranged potatoes and top with the remaining 1/3 of cheese.
Bake on the centre rack of the preheated oven for 1 hour and 15 minutes until the top in golden brown and the potatoes are cooked through.
Serves 4 to 6.
Printable recipe
Adapted from Patricia Wells' At Home in Provence.