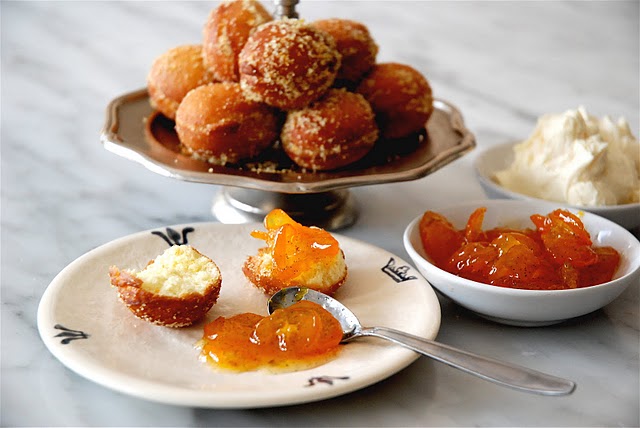 I know I said that the three dishes linked to the kumquat marmalade would be easy… and the other two are. In fact, they are strictly the assembly of carefully purchased ingredients. But when I saw this recipe in the latest Australian Gourmet Traveller magazine I was smitten.
Their version is served with orange jam and so it is just a hop, skip and a jump to kumquats. Same flavour profile but a bit more interesting in my opinion.
This recipe is based on a yeast dough that needs to be refrigerated overnight BUT it really is straightforward and the results are amazing. Don't be afraid to give these a whirl.
Bomboloni are Tuscan doughnuts, without the hole, but these little bites are a far cry from your Tim Horton's special.  The dough is studded with orange zest and is not overly sweet and so works very well with the coating of fennel-orange sugar. A smear of the kumquat marmalade and mascarpone cheese and these are heaven. They would be lovely at breakfast or as a dessert after lunch or dinner. Actually, they would also be perfect with an afternoon cup of tea. I popped so many of these in my mouth over the course of the day they actually became breakfast and lunch for me…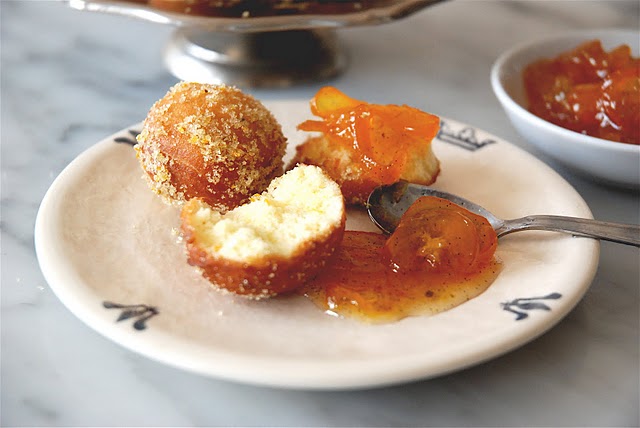 Fennel Bomboloni with Kumquat Marmalade
For the bomboloni:
3 cups all purpose flour, divided
2-1/2 teaspoons dried yeast
1/2 cup lukewarm water
2 tablespoons honey
Zest of 2 oranges
2 tablespoons milk
6 egg yolks
1/4 cup sugar
1 teaspoon of salt
3 tablespoons butter, softened
Vegetable oil for deep frying
For the fennel and orange sugar:
1 tablespoon fennel seeds
1/2 cup sugar (I used organic sugar which has a lovely golden colour)
Zest of 1 orange
To serve:
Kumquat marmalade
Mascarpone cheese (optional but good)
Combine 3/4 of a cup of the flour, the yeast, honey, orange zest from 2 oranges and 1/2 cup of lukewarm water in the bowl of an electric mixer and whisk until smooth. Remove bowl from mixer, cover with plastic wrap and place in a warm area of your kitchen until the mixture becomes foamy (45 minutes to an hour).
Return bowl to mixer and add the milk, egg yolks, sugar, 1 teaspoon of salt and the remaining flour.  Using the dough hook attachment, mix on low speed to combine the ingredients. Add the butter and mix until dough is silky and sticky, about 4 to 5 minutes. Remove the dough and transfer to a lightly oiled bowl, cover with plastic wrap and refrigerate overnight. It will rise slightly.
Remove the dough from the refrigerator and allow to stand at room temperature for 15 minutes. During this time you can make the fennel and orange sugar.
Toast the fennel seeds over a medium flame for 1 to 2 minutes until fragrant and then finely grind in a mortar and pestle. Combine with 1/2 cup of sugar and zest or 1 orange and place in a wide shallow bowl or tray.
Remove the dough from the mixing bowl and punch it down to remove the air. Roll out the dough on a lightly floured surface to 1/2 an inch thick and cut the dough into circles using a 1-1/2 inch cutter.  Try to make the cuts as close together as possible. The recipe I used called for discarding the scraps but I found that when I re-rolled out the scraps and cut more bombolonis they were a bit mis-shappen after frying but still tasted delicious.
Heat vegetable oil in a large deep-sided heavy pot to 340 degrees F. Deep fry in batches of 6 to 8 until golden approximately 2 to 3 minutes. Use a spider or slotted spoon to turn the doughnuts in the hot oil to brown them evenly. While the recipe called for draining the bomboloni on absorbent paper and then rolling in the fennel-orange sugar I found that the sugar didn't stick as well as removing the doughnuts directly to the sugar mixture to coat.
Serve hot or at room temperature with kumquat marmalade and mascarpone.
Makes approximately 50.
Printable recipe
Recipe adapted from Australian Gourmet Traveller Annual Cookbook Magazine 2009.