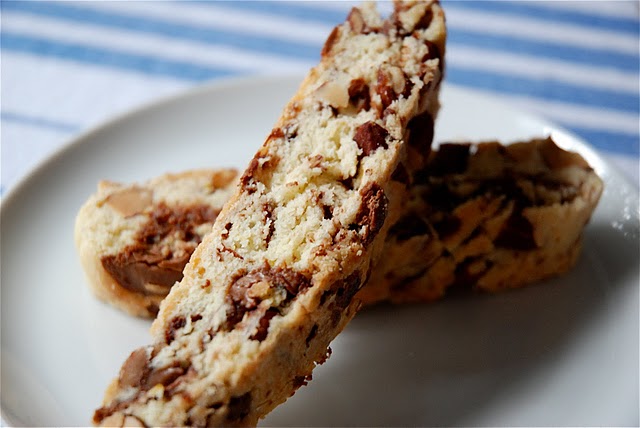 For the last few days we were up at our cabin on a small-ish island that is just 30 minutes by water taxi from West Vancouver. We bought the funny little Quonset hut at the end of last summer and have spent the last 8 months working very hard on making it habitable. Every trip has been filled with cleaning and painting and fixing and installing and on a few occasions hosting friends and family as well.
This past trip was the first time I didn't have a list of things to do or guests to entertain. Max brought his friend Charlie along and so on Saturday after lunch with the two of them running around like maniacs outside I had some time to do whatever I wanted. I could bake! I could make chocolate chip cookies for the boys and some biscotti to go with an afternoon cup of tea. And I could do it without distraction.
I often feel that I have to work a little harder and concentrate a little more when I bake. The measuring needs to be precise and substitutions (hmmm, what can I use in place of baking powder?) are not generally a good idea. When I cook I have the confidence to wing it a little bit but with baking I feel that I really need to pay attention. At home, with a million different things all happening at the same time, baking can be a bit of a challenge. So what a luxury to have a few quiet hours to sift and measure and chop and mix. I had brought along my old hand mixer that has been sitting at the back of the cupboard for years since my KitchenAid stand mixer arrived on the scene. And while it may be way easier to cream the sugar and butter using a stand mixer (my poor arm!),  the hand mixer won hands down for ease and control in beating egg whites to glossy, firm peaks.
I love biscotti and I love this recipe. It makes cookies that are dense with chocolate and almonds and as the second baking time is only 15 -18 minutes they are crisp without being rock hard. At Christmas I make a variation with cranberries and white chocolate and will often add dried cherries to this milk chocolate and almond combination.  I'm not sure, however, where the recipe comes from. I have a photocopy of it pasted in a book and can't remember who the kind soul was that passed it on to me. It has the magical name of Cioccolato Paradiso and when I tried to research it online I came across the same recipe posted on Recipe Zaar by a person named BecR who writes "I got this from a little book full of biscotti recipes [but] I don't remember the name."
Anyone out there know who the author is?
Cioccolato Paradiso
1-1/4 cups almonds
1/2 cup unsalted butter
1 cup plus 2 tablespoons of sugar
3 eggs, separated
1-1/2 teaspoons vanilla extract
Zest of 1 orange
3 cups all purpose flour
2 teaspoons baking powder
1/4 teaspoon salt
1-1/4 cups of coarsely chopped milk chocolate
Preheat the oven to 350 degrees F. Place the almonds on a sheet pan and toast in the preheated oven for 8 to 10 minutes. Let cool. When cool enough to handle cut the nuts into halves or thirds and set aside.
Cream the butter and 1/2 a cup of the sugar until light and fluffy. Add in the egg yolks, the vanilla and the orange zest.
In a separate bowl, sift together the flour, baking powder and salt. Add into the creamed butter mixture and mix until crumbly and just combined.
In a separate bowl whisk the egg whites until soft peaks form and then add in the remaining sugar. Beat until glossy, stiff peaks form but not to the point of dryness.
Fold the egg whites into the crumbly dough mix until it holds together. Mix in the almonds and chunks of chocolate. Place dough on a work surface and divide in half. Form into two logs that measure about 3/4 of an inch thick by 4 inches wide by 14 inches long.  Transfer to a parchment or silicon lined baking sheet. Space the logs a minimum of 2 inches apart.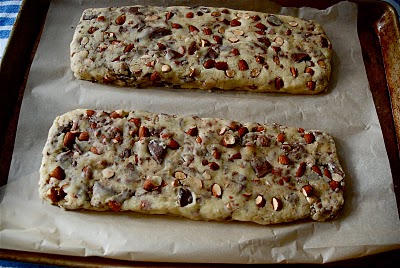 Preheat the oven to 325 degrees F. Bake the logs in the middle of the preheated oven for 25 minutes or until set and golden brown. Remove from oven and transfer to a wire rack and allow to cool for 5 minutes. Reduce oven temperature to 300 degrees F.
Place logs on a cutting surface and cut into cookies about 1 inch thick. Place biscotti slices upright on a baking sheet and return to the 300 degree F oven for 15 – 18 minutes to dry slightly. Cool on a wire rack. Store in an airtight container.
Makes approximately 2 dozen.