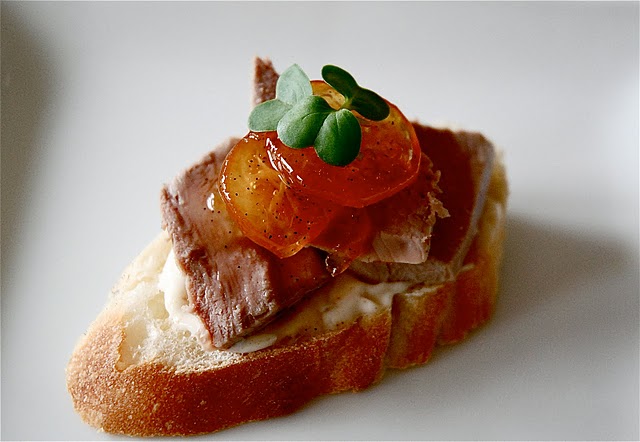 Okay, here is the third and final instalment of "things to do with kumquat marmalade".  I'm feeling ready to move on as I dip into the bottom of the jam jar but I certainly have enjoyed the ride.
This third idea is loosely based on a canapé I made as part of a catered lunch at a beautiful hazelnut farm last fall. The family were avid duck hunters and so the host wanted to incorporate some of their wild duck breasts into one of the hors d'oeuvres. Their wild breasts were quite small in size but huge in flavour with a far more gamey taste than Magret or Pekin ducks.  We seared them to medium rare and served them with the an orange reduction.
This canapé is a similar riff on the duck a l'orange theme but a wee bit more exotic with BBQ Cantonese duck, a base of Chinese Five Spice mayonnaise and a garnish of crunchy, spicy radish sprouts.
Some careful shopping, rather than hunting, is the key here. Most people don't have a bunch of wild duck breasts kicking around and searing off a duck breast just to make canapés might not always be convenient. Here, in Vancouver, a trip down to Chinatown is an easy option but, regardless of your locale, any Chinese restaurant should be able to sell you BBQ duck. I was able to purchase 1/2 a BBQ duck for just under $8 and the flavour really works well with the kumquat marmalade. I used just a small amount of mayonnaise on the baguette slice, seasoned with some Chinese five spice powder, to keep things from being overly dry and then removed the skin and most of the fat from the duck pieces and sliced up the meat. You could also shred it as well.  Feel free to buy the duck the day before you are making these, it keeps well refrigerated.
It may be a cliché but duck really does have an affinity for oranges and these are easy, elegant and very tasty hors d'oeuvres. And with the leftover duck I made Glen a duck clubhouse sandwich with crisp prosciutto, some roasted chicken, arugula and the remaining five spice mayonnaise. It made him very happy..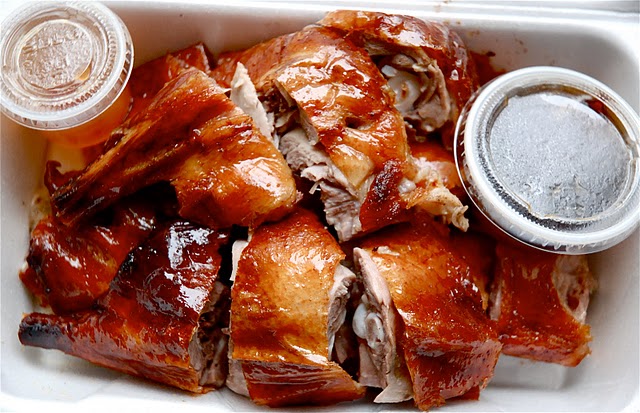 BBQ Duck with Kumquat Marmalade Canapés
This is more a series of directions rather than a real recipe. Feel free to add/subtract/improvise as you see fit.

1 baguette sliced into 24 thin slices
1/2 BBQ duck, meat removed from the bones and sliced or shredded
1/4 cup mayonnaise
1/2 teaspoon Chinese five spice powder (or more to taste)
finely ground sea salt and freshly ground white pepper
Radish sprouts for garnish
Mix the five spice powder into the mayonnaise and season with salt and pepper also.
Place the slices of baguette on a serving platter and lightly coat each slice with a thin layer of the five spice mayonnaise. Top with a small(ish) amount of duck meat and then top with some kumquat marmalade. Garnish with radish sprouts and serve.
Makes approximately 24 canapés.