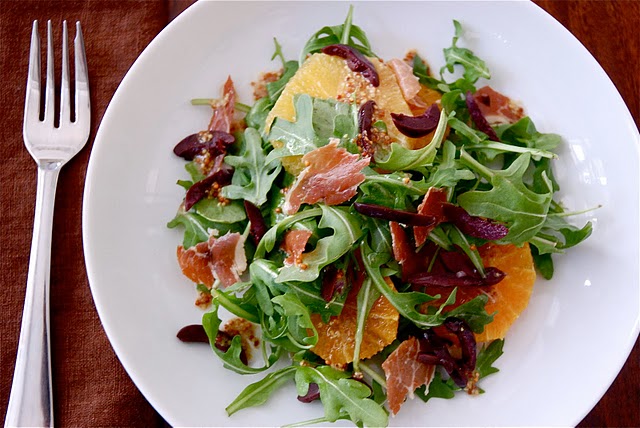 My friend Kathy is leaving for a ski vacation on Thursday. She is going with her family of 5
and
two other families with a bunch of kids that range in age from 2 to 16. On one of the evenings during their trip she needs to make a dinner for the entire brood. Or perhaps I should re-phrase that. Her husband needs to make a dinner for the entire brood. Yes, Kathy is blessed with a husband that loves to cook and from what I hear is very talented in the kitchen as well. But from all accounts Kathy does the legwork, doing the planning and making the lists and doing the shopping and much of the food prep. I think they make a good team.
We spent some time today talking about her/their menu and as they are leaning toward an Italian theme I'm thinking this salad might work perfectly. 
Now is this the most kid friendly salad in the world?
I'm not sure any salad is particularly kid friendly (for the record carrots and ranch dressing do not constitute a "salad") but my son Max does like arugula (sometimes), and oranges and prosciutto and black olives. Maybe not mixed together but he does like all the individual components.  I'm willing to bet most kids would be willing to try this as long as none of the ingredients were actually touching on the plate. Think of this re-plated like a french salade composé. Add some pasta, simply dressed with olive oil and parmesan cheese to appeal to the younger members, and then go back to plan A (lamb and sauced, garlicky pastas with plenty of red wine) for the rest of the group. And since when did an entire dinner have to revolve around the under 6 year old set anyway?
Arugula Salad with Oranges, Black Olives and Crispy Prosciutto
1 5 ounce/142 g container of baby arugula
4 navel oranges, peeled of all pith and rind and sliced
1/2 cup of pitted black olives, thinly sliced
3 tablespoons of sherry vinegar
2 teaspoons of grainy mustard
1 1/2 teaspoons fine grain sea salt
3/4 teaspoon freshly ground pepper
1/2 cup grape seed or vegetable oil
Preheat the oven to 350 degrees F.
Place the slices of prosciutto on a parchment line baking tray and bake in the oven for approximately  8-10 minutes until the prosciutto is nicely crisped. Remove from the oven and set aside. When cool enough to handle crumble the prosciutto into smallish pieces.
Place the arugula in a bowl with the oranges and sliced olives.
In a medium bowl, whisk together the vinegar, mustard, salt and pepper. Slowly whisk in the olive oil and grape seed oil to make an emulsion.
Toss the arugula, oranges and olives with the vinaigrette and season to taste with salt and pepper.
Place on individual plates or on a platter and top with the crumbled prosciutto. Serve.