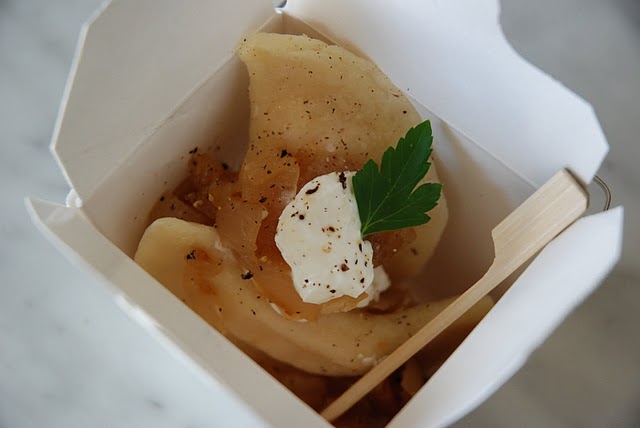 My sister Lisa is up from Los Angeles this weekend. She and her boyfriend Paolo were invited to come up to play music and show some of their films at the Cultural Olympiad which is a part of the 2010 Winter Games here in Vancouver. The theme of their evening is "From Russia with Love" and will feature film footage that they shot while travelling in the Ukraine and Russia, some love songs that the two of them will belt out accompanied by some quiet drumming and ukulele playing with a few rounds of Bingo thrown in for good measure.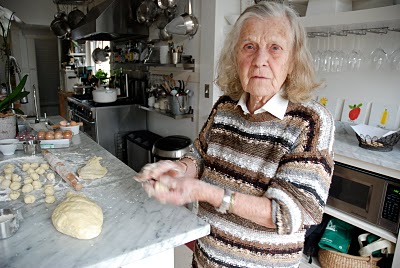 Then there is the food. Lisa decided that we should persuade our 96 year old Baba (Ukrainian for Grandma)  to come over and help us make 100 or so pierogies to give away tonight. Pierogies are made of unleavened dough filled with a savoury or sweet filling and then boiled. Our family version is always made with a filling of boiled potatoes and cheddar cheese and served with fried onions and sour cream. Pierogies are the Eastern European equivalent to Italian ravioli, Turkish manti,  Japanese gyoza,  Nepalese momo etc.
Baba's first response to this plan was "For God's sake, just go out and buy a few bags frozen, no one will know the difference" but of course my sister persevered.
What ensued was a magical few hours watching Baba as she took us through the steps of making pedeha, which is what we called pierogies growing up. I don't think Baba has made them in years but she wrote out a sketch of a recipe and then her hands took over and she showed us how to make the dough, roll it out and make the potato and cheddar filling. We filled them and sealed them and all the while she told us stories of her childhood and the food that she ate as a child and the vegetable garden her family tended. I took a bunch of photos and my sister filmed the event and we finally learned how to make these dumplings that totally remind me of being a kid over at Baba's house. Pedeha and Hubba Bubba bubble gum.
| | |
| --- | --- |
| | |
| | |
| --- | --- |
| | |
Last night after Baba went home I boiled them in salted water and rinsed them in cold water and tossed them with a bit of grape seed oil and covered them and put them in the fridge for today. As kids we would love them fried in a pan until they were almost crispy on the outside.  Tonight we will heat them up and serve them will onions fried in butter and a dollop of sour cream.
Baba's Pedeha
For the dough:
8 cups all purpose flour plus more for kneading and rolling out
5 large eggs
2 cups or water
2 teaspoons of salt
For the potato filling:
5 lbs of Russet potatoes
6 cups aged cheddar, coarsely grated
salt and pepper to taste
To serve:
3 large onion, medium dice
1 cup of butter
sour cream
Place flour on a work surface or in a large shallow bowl . Add eggs and salt and using your hands or a wooden spoon gradually incorporate the flour into eggs. Add water, 1/2 cup at a time, and incorporate into the flour until a soft dough forms. If using a bowl transfer dough to a floured work surface and knead, dusting with flour to prevent sticking, until the dough is smooth and elastic, about 10 minutes.
Meanwhile peel the potatoes and boil in salted water under tender. Drain and return to the boiling pot. Immediately add the grated cheddar and salt and pepper to taste and using a potato masher mash well. The heat from the potatoes will melt the cheese and you will end up with a relatively smooth consistency.
To form the pierogies pinch off pieces of dough about the size of a walnut  and using the palms of your hands roll into little balls. Repeat 100 times.  Then using a rolling pin roll dough into 3 inch round disks. Repeat 100 times. Put 1 teaspoon of filling into the centre of the disk of dough and then fold the dough round in half and seal by pinching the edges of the dough together. Repeat 100 times to fill each of the dough disks. Set aside on floured trays.
Bring a large pot of salted water to a boil. Add 10 or so pedeha at a time to the boiling water and cook for 3 minutes or so until the pedeha float to the surface. Rinse in cold water and put in a bowl with a bit of vegetable oil to prevent sticking. Repeat with remaining pedeha.
At this point the pedeha can be stored, covered and refrigerated overnight.
To serve, fry the onions in butter over low heat until soft and carmelized.  Heat the pedeha by placing in a microwave, re-boiling in water or by frying in butter in a hot pan to crisp the edges.
Serve with the fried onions and a dollop of sour cream.
Makes 100.