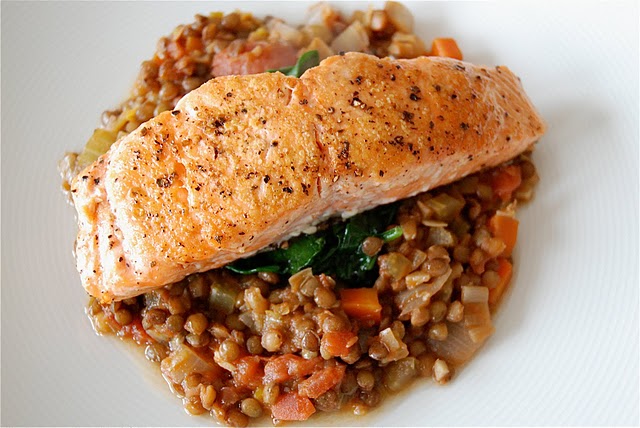 I just made this for dinner last night and I am once again reminded of how much I love lentils. I know the title to this post should read "Roasted salmon with lentils and spinach" but to me, the lentils really are the star of this dish. They are tender, brothy and fragrant with garlic and leeks and sweet from the carrots and a bit spicy from the crushed chilies. And, in addition to being utterly delicious, they also happen to be super healthy as well. The salmon and sautéed spinach are pretty good too though.
It all starts with making lentil soup. Mine is based on a recipe by Bill Granger from his Bills Breakfast, Lunch + Dinner book. This is a great soup on its own or maybe garnished with a little parsley and a parmesan toast floating on the top. My son Max loves this soup and will happily eat a bowl for his after school snack (but he also loves Kraft Dinner so let's not get too excited…). It can be made with chicken stock or vegetable stock or even plain water and it reheats beautifully and even freezes well.
When I want to use the lentils as a base for a more substantial meal I simply reduce the soup down to eliminate the liquid and concentrate the flavours. This is where your choice of lentil becomes important. If you were to use yellow or red lentils they would quickly break down to mush which is quite lovely if you are making a curry or dal. For this recipe I use French Puy lentils which are dark green-brown in colour and hold their shape even after being cooked and then reduced.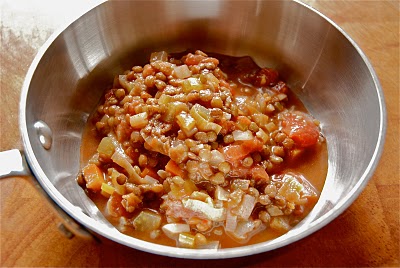 French Puy Lentil Soup
This is a recipe where one of the parmesan rinds that I keep in the freezer could be added for an extra flavour boost. The recipe will make enough for 8 people to have soup or lentils to serve with salmon with some leftovers. You may find yourself eating these cold out of the fridge the next day…
2 tablespoons of butter
2 tablespoons of oil
1 cup of onions, small dice
1 cup of leeks, cleaned well and thinly sliced
1 cup of carrots, peeled and cut into a small dice
1 cup of celery, small dice
8 cloves of garlic, finely chopped
1 pinch of crushed chilies or more to taste
1 28 oz can of whole, peeled, Italian Roma tomatoes
8 cups of chicken or vegetable stock or even water
2 sprigs of thyme
2 bay leaves
1 Parmesan rind (optional)
1 cup of Puy lentils, picked over for small stones and rinsed
salt and pepper
Melt the butter and oil in a large saucepan over medium-low heat. Add the onions, leeks and carrots and sauté, stirring occasionally, for 10 minutes until they are soft and fragrant but not browned. Add the celery and garlic, season with some salt and pepper and cook for an additional 5 minutes.
Add the can of tomatoes and break up the whole tomatoes with a spoon. Add the stock, lentils, thyme, bay leaves and Parmesan rind if using. Bring to a boil and then reduce to a simmer, stirring occasionally, for 30 minutes or until the lentils are tender. Season with salt and pepper.
Serves 8.
Printable recipe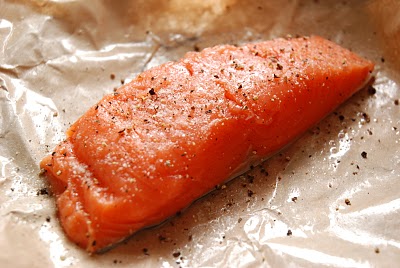 Seared Fillets of Spring Salmon
This is more of a method than a recipe. I tend not to use a lot of sauces in my cooking preferring to allow a beautiful piece of wild salmon to taste like wild salmon. So here it is, just the salmon, some fine grain sea salt, freshly ground pepper and a splash of olive oil.  And of course a hot pan, always a hot pan when searing fish.


4 fillets of wild salmon about 6 ounces each
fine grain sea salt
freshly ground black pepper
1 tablespoon olive oil
Remove the salmon fillets from the fridge 20 minutes or so before you are planning to cook them. This will bring them to come up to room temperature and allows for them to cook more evenly.
Preheat an oven to 400 degrees.
Pat the fillets dry to remove any excess moisture and season well with salt and pepper.
Heat a large sauté pan over medium high heat until very hot. Add the olive oil and carefully place the salmon, skin side down, in the pan being careful not to crowd the pan. Allow to cook for 3 minutes or so without touching, poking or trying to move the fillets at all. After approximately 3 minutes you should be able to easily flip the fillets over.
Transfer the (oven proof) sauté pan to the preheated oven and cook for approximately 10 minutes.
To check for doneness insert the tip of a knife into the centre of the fillet and count to 8. Remove the knife and place it on the inside of your wrist. If the knife feels cool put the fillets back in the oven for a few more minutes. If your knife comes out warm that's great! Allow the fillets to rest for a few minutes and when you serve them they should be a perfect medium/medium rare. If your knife comes out hot your fish will be more medium well to well done which is also great if you are having my Dad over for dinner or someone else who doesn't like to see any pink in their fish. I find that when you cook the fish past the medium rare stage you tend to lose the silky texture of the fish which I love but it really is all about personal preference.
Once you have cooked your fish to your liking allow to rest for a few minutes before serving.
Serve on top of lentils and sauteed spinach.
Serves 4.
Printable recipe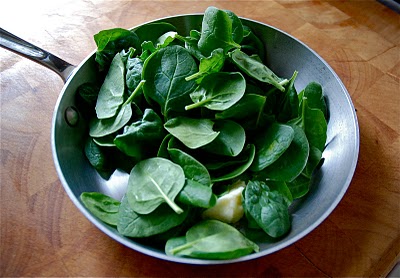 Sautéed Spinach
Once again this is more of a method. And really you don't need to have this with the salmon and lentils but I think it makes the dish look quite pretty with the pink of the salmon and the green of the spinach and the brown of the lentils. I also love sautéed spinach.


1 large bunch of spinach washed well or 1 5 ounce (142 g) box of pre-washed baby spinach leaves
1 tablespoon or butter or olive oil
fine ground sea salt
freshly ground pepper
Heat a large sauté pan over medium heat and add the butter or oil. Add spinach leaves and sauté the spinach using a set of tongs until just wilted. Remove from heat. Season with salt and pepper.  Place the spinach on top of reduced lentils and top with salmon.
Serve!
Serves 4.
Printable recipe