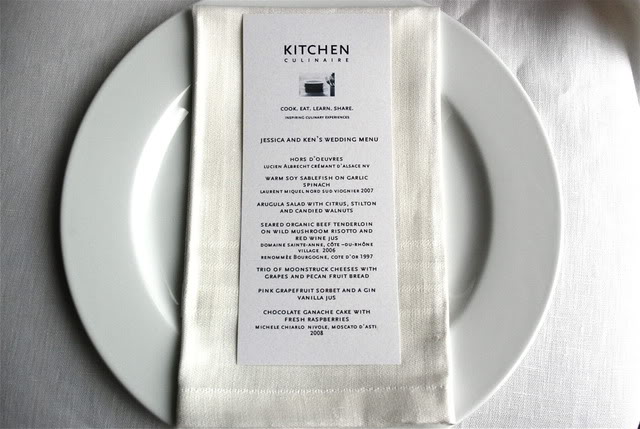 Just a few more wine glasses need to be washed but otherwise there is almost no sign of the big event yesterday. I only have a few photos to post as we were pretty busy with the prepping and cooking and serving so no real time to photograph the food as it was flying out of the kitchen!
Jessica and Ken had invited their six closest friends and hadn't told them they were getting married just that they were going out for a special dinner. Not everyone in the group even knew one another but by the evening's end lots of laughs and stories had been shared.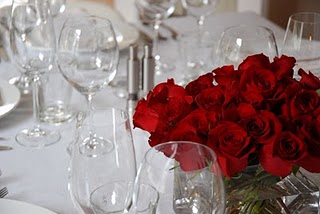 The bride was radiantly beautiful and the groom looked incredibly happy (not to mention stylish) and the group of friends seemed thrilled to be a part of the celebration. The minister was a family friend of the bride and spoke movingly of love and the commitment of marriage.
Once dinner was done an impromptu dance party broke out and afterward each person took their parting gift of a small bag of chocolate truffles and happily headed home in the cabs the groom had arranged for. Both Jessica and Ken seemed to have fun and really enjoy their own wedding which is no small feat.  A sweet and magical night.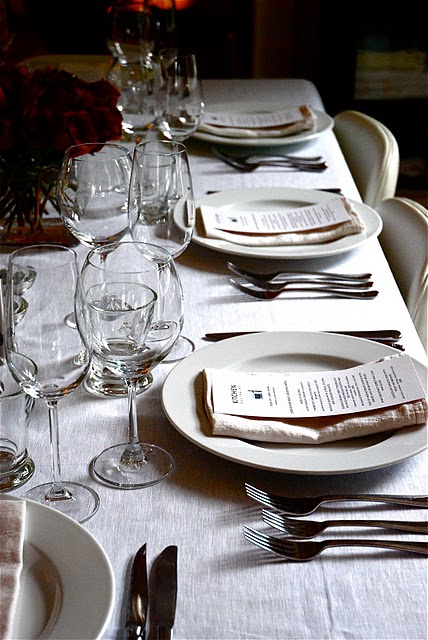 One of the highlights of the meal was the grapefruit sorbet course served after the cheese course and before the chocolate ganache cake. It is a recipe from the Lumière cookbook by Rob Feenie.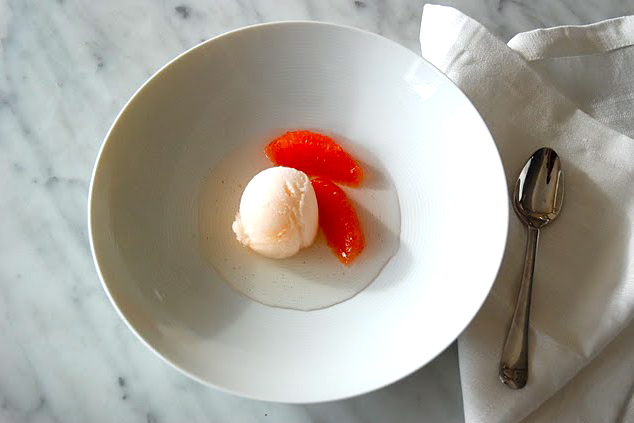 Pink Grapefruit Sorbet with Gin Vanilla Jus

Sorbet
2 cups pink grapefruit juice
1 1/4 cups simple syrup (recipe follows)
Combine chilled juice and simple syrup. Pour mixture into an ice-cream maker and freeze according to manufacturer's instructions. Transfer sorbet to an airtight container and freeze at least two hours or for up to one week.
Gin Vanilla Jus
1 cup simple syrup (recipe follows)
pulp of 1/2 vanilla
gin to tast
Combine the syrup and pulp of the vanilla bean in a saucepan and bring to a boil. Remove from the heat and allow to cool. Add the gin and refrigerate until needed.
To Assemble:
Scoop out sorbet into a glass or bowl and pour the jus around the base of the sorbet. Garnish with pink grapefruit segments. Serve immediately.
Simple Syrup
3 cups sugar
3 cups water
Combine sugar and water and bring to a boil over medium-high heat. Boil for approximately 2 minutes until the sugar has completely dissolved. Remove from heat and cool. Transfer to an airtight container and refrigerate for up to a month.
Serves 8
Adapted from a recipe from Rob Feenie's Lumière cookbook.
Printable recipe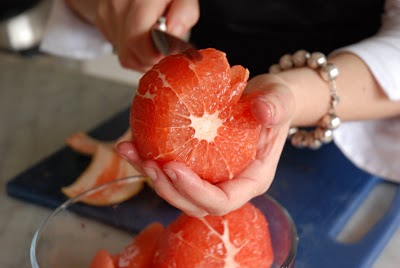 This photo by Sarolta Dobi